Kamala Harris Taking Leading Role in 2024 Campaign
A counterintuitive move.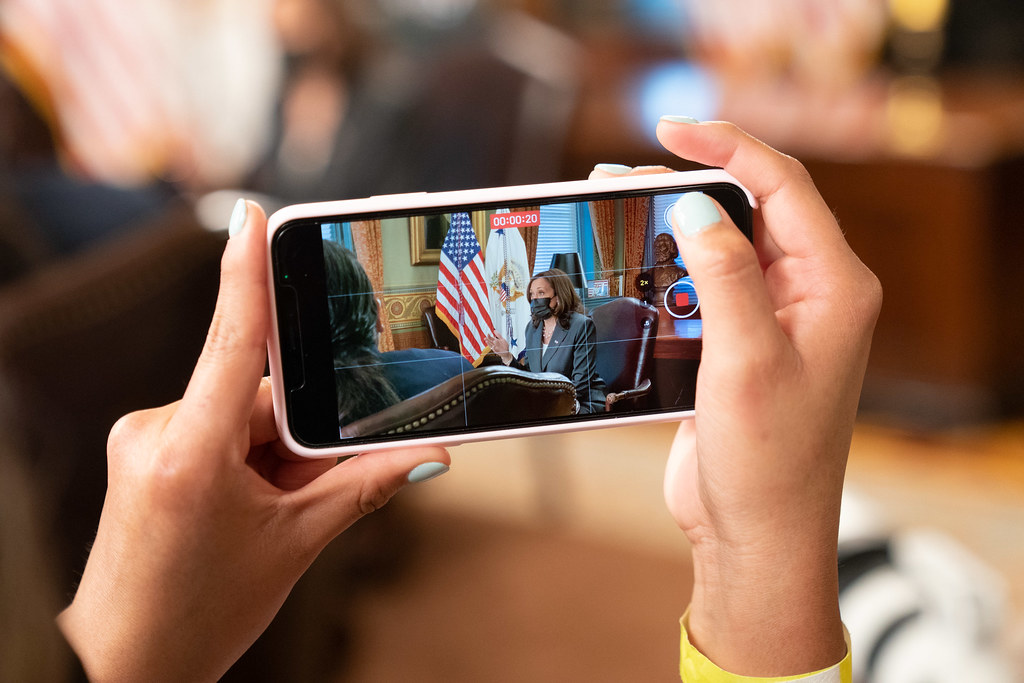 CNBC's Emma Kinnery reports "Harris to play a leading role in Biden's 2024 campaign."
Be prepared to see a lot more of Vice President Kamala Harris.

The central role that Harris will play in President Joe Biden's reelection effort was laid out in a campaign memo Friday, that coincided with the three year anniversary of Biden's tapping Harris to be his running mate.

Harris "remains uniquely popular among several groups of voters that are key to our victory in 2024," wrote Biden reelection campaign manager Julie Chavez Rodriguez and senior adviser Becca Siegel.

Over the coming year, the vice president will be strategically deployed to shore up support for Biden among constituencies that make up the core of the Biden-Harris coalition, including young people, people of color and women.

Calling the vice president "a fearless voice on many of the issues that are most important to the core voters in the Biden-Harris coalition," Chavez Rodriguez wrote that she will be a voice on issues important to the Democratic base, like reproductive rights, voting rights, gun control and climate change.

On Friday, Harris traveled to Chicago to headline an event for Everytown for Gun Safety, a nonprofit founded in the wake of the Sandy Hook school massacre.

The role could provide Harris with an opportunity to redefine herself after a mixed tenure as vice president.

Harris was given a portfolio of notoriously difficult issues to address, like the surge in migration and threats to voting rights, where options are severely limited by a lack of momentum in Congress.

As of Friday, her overall polling numbers remained low: 52.1% disapprove of her, compared to 38.8% who approve, according to the FiveThirtyEight polling average.

But it's not just Democrats who are eager to see Harris on the campaign trail. To Republicans, the California Democrat has proven to be a convenient foil in political attack ads ever since she first entered national politics.
On the surface, the move seems counterintuitive. She has the worst net approval ratings of any Vice President in the history of the NBC News poll (although she has competition in other polls). She's a polarizing figure even in the context of our polarized climate.
Presumably, the Biden campaign team has more targeted polling than I'm privy to. It wouldn't surprise me in the least if she were more popular than 80-year-old President Biden among young voters, Blacks, and women. Then again, Harris didn't win those demographics in the 2020 primaries before flaming out spectacularly.
Regardless of the politics, given that Biden would be 82 at his second inaugural and 86 if he served out a full second term, Harris is rightly going to be under much heavier scrutiny in this campaign than she was in 2020. While Biden is doubtless healthy for his age (and healthier than his likely Republican opponent), it's hardly a great leap of logic to think his vice president could be called upon to finish out the term.
Writing at Daily Beast, David Rothkopf and Bernard L. Schwartz contend, "It's Time to Give Kamala Harris Her Due."
It appears that it is, at long last, time to acknowledge the extraordinary and vital role being played by Vice President Kamala Harris on behalf of the Biden administration and the United States.

Finally, the narratives in the press that had for too long been colored by the political agenda, misogyny and racism of critics, have begun to change to reflect reality.

That said, there is still an aspect to Harris' performance as vice president that remains underappreciated—the substance of her record as a full partner to the president, at the lead on domestic and international issues. That record not only makes her one of the most effective vice presidents in modern U.S. history, it has been part of President Joe Biden's active effort to ensure that no one is better qualified to succeed him as President of the United States.
Honestly, this strains credulity. First, the notion that the only reason she gets criticized is because she's a woman of color is absurd. Second, aside from casting a whole lot of tie-breaking votes, what is it that she's done? Despite recent experience as a Senator, it's been Biden, not Harris, who's managed to wrangle concessions from Joe Manchin and Kyrsten Sinema.
Regardless, they note, she's getting good press lately:
Recently, positive stories about the role being played by Vice President Harris have become much more common in the media. The New York Times ran a major piece entitled, "Kamala Harris Takes on a Forceful New Role in the 2024 Campaign." Bloomberg ran a piece citing the fact that she is now the most in-demand speaker at Democratic fund-raising events. Politico ran a piece arguing Harris "is a better VP than you think."

What is more, you can tell this about-face in the press is real and not just the result of some White House press campaign because of the outsized attention Republican presidential candidates have placed on the vice president. As argued in the Boston Globe, a "re-energized" Harris is living "rent free" in the heads of Republicans. GOP candidates from Florida Gov. Ron DeSantis to former U.N. Ambassador Nikki Haley have targeted Harris. And Harris has proved very effective in responding to those attacks, a factor that has no doubt played a role in the current reappraisal of her.
I'm not sure that a couple of op-eds from Democrats trying to bolster her reputation constitutes a "reappraisal."
The president's faith in Harris is not just offered in the form of public expressions of support. He has made the choice to place her out front and in the lead on a wide array of the issues that will be central to deciding the 2024 election. These include abortion, affirmative action, LGBTQ rights, the right to be safe from gun violence, and voting rights.
Which makes sense. She's certainly a more credible voice on these issues given the baggage that comes from such a long career in politics.
Not long ago, Harris traveled coast-to-coast and played a leading role in the media as the administration commemorated the anniversary of the Supreme Court's Dobbs decision that overturned Roe v. Wade. As EMILY's List president Laphonza Butler characterized it to Vanity Fair, Harris is seen as "the convener, the leader, the empathizer, and the fighter that we need." White House officials have told us that they see this as one of the most crucial issues in the coming election.

Last year, immediately after the Supreme Court decision striking down affirmative action, Harris spoke out, calling the issue "a step backward for our nation." She specifically cited the importance of affirmative action to college students, a group with which she has been actively engaged in outreach. In the past year alone, she has visited a dozen college campuses, and her aides say many more such programs can be expected throughout the next 18 months. Her message, tailored for young voters, has been extremely well-received at all the colleges she has visited.

Another of the hot button issues on which Harris has been leading for the White House is gun violence. This role, of course, draws directly on her strength and years of experience as a prosecutor—two terms as San Francisco's district attorney, two terms as attorney general of California, and her time in the U.S. Senate.

In addition, throughout her time as vice president, Harris been an effective and impassioned Biden administration point person on LGBTQ issues, advancing efforts to enhance equality and fight hate both internationally and in the U.S.—including very recently at gay pride celebrations including at New York's Stonewall Inn, a landmark location in the battle to ensure gay rights in America.
This bolsters the argument that she's effective with at least parts of the base. I don't think she's going to change a lot of minds on any of these issues. Indeed, those who disagree with her are likelier to be more receptive to Biden.
But this may simply be a bet on this being a turnout election rather than an issues election. If she's more effective at rallying turnout among some groups than Biden, it makes sense to lean on her.