Biden Bounces Back, Harris Takes Fire In Second Night Of Second Debate
As was the case a month ago, Vice-President Biden and Senator Kamala Harris were the focus of last night's debate. Things turned out very differently, though.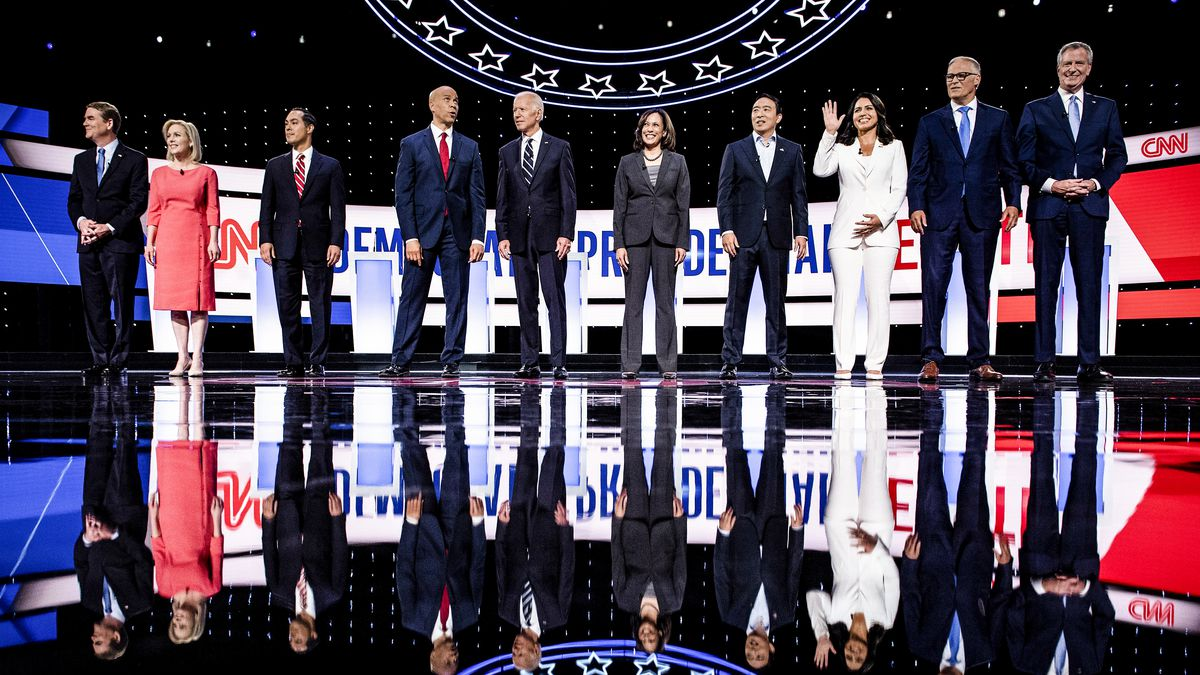 Much like the second night of the first Democratic Presidential debate, the candidates at center-stage for last night's second round of the second debate were former Vice-President Joe Biden and California Kamala Harris. That debate, of course, saw Harris put Biden under the microscope by bringing up his record on a civil rights issue that, quite frankly, nobody has given much thought to for at least twenty years. It also saw Biden seem to shrink from the stage and falter, something that, at least temporary, caused his poll numbers to slip while those of Senator Harris, and Senator Elizabeth Warren, rose to the point where they are now battling with fellow Senator Bernie Sanders for the second slot behind Biden in the polls.
This time around, with 187 days to go before Iowa voters meet in their caucuses to open the primary season, the spotlight was once again on the former Vice-President and the California Senator, but the atmosphere was quite different. Whereas Biden seemed unprepared for Harris's attacks on his record last time, he was clearly better prepared for that, and for more that might come his way from other candidates, especially those near the bottom of the pack who were clearly intent on using what could be there final appearance as a candidate before a large audience to boost there candidates. Additionally, at least to some extent Biden was able to give as good as he got from not only Harris but also other candidates seeking to turn their so-far lackluster campaigns around at least enough to qualify for future debates and potentially to rise in the polls if given the chance. Senator Harris meanwhile learned that her recent rise in the polls meant that she was going to take fire from below, including candidates such as Congresswoman Tulsi Gabbard who are mired below 2%.
I managed to make it through more of this debate than I did the first night, but it still suffered from many of the same defects that Tuesday night's debate did. Put simply, there are still too many candidates on the stage, and most of the ones that are there quite simply don't belong there. Tuesday night, there were three candidates on the stage for whom one could make at least a plausible argument that they could become the nominee; Senators Sanders and Warren and Mayor Pete Buttigieg. This time, there were only two, Senator Harris and former Vice-President Biden.
For better or worse, none of the other candidates is likely to rise sufficiently in the polls to be considered a contender and many of them are unlikely to be in the race by the time the calendar turns to 2020. As a result, the format suffered yet again from the fact that the moderators struggled to ensure that these also-ran candidates got some amount of time, meaning that exchanges were often cut off when they clearly had not gone their full run and candidates were kept on short leashes when it comes to the timing of their responses. (Even with these efforts, it was Biden and Harris who got the most speaking time while the average speaking time per candidate was just over 12 minutes per candidate over the course of roughly two hours.) As I've said before, these debates will be far more helpful to voters when there are fewer candidates on the stage.
In any case, and despite these deficiencies, the stories of the night definitely focused on Vice-President Biden and Senator Harris:
DETROIT — Former Vice President Joseph R. Biden Jr. delivered a steadfast defense of his moderate policies in the Democratic primary debate on Wednesday, striking back at a familiar adversary, Senator Kamala Harris, but facing intensifying attacks on his record from liberal rivals including Senator Cory Booker and Julián Castro, the former housing secretary.

Mr. Biden, the leading candidate in the Democratic presidential race, entered the debate under pressure to articulate a more forceful rationale for his campaign and turn back attacks from his fellow Democrats, after failing to do so in his clash with Ms. Harris in the first debate in June.

In a handful of moments, Mr. Biden did just that, delivering pointed critiques of Ms. Harris and other challengers. But it was unclear by the end of the forum whether he was any closer to allaying liberals' reservations about his candidacy, or inspiring a Democratic Party that is eager to defeat President Trump but has shifted to the left in the years since Mr. Biden served as vice president under Barack Obama. Though he may have won sympathy from Democratic voters for absorbing so many blows, he did not deliver a commanding performance to reclaim firm control of the race.

And in a sign of the party's drift, Mr. Biden was repeatedly forced to defend not only his own record but also was questioned sharply about policies of Mr. Obama on issues such as immigration and trade.

Where ideology framed the conversation, the divisions resembled a mirror image of the dynamics that governed the first Democratic debate this week. On Tuesday, Senators Elizabeth Warren and Bernie Sanders, the populist liberals who have largely defined their party's issue agenda, locked arms to deflect attacks from a gang of moderate underdogs, including Gov. Steve Bullock of Montana and former Representative John Delaney of Maryland. In the second debate, it was Mr. Biden and his relatively centrist values under collective assault.

Taken together, though, the back-to-back debates only threw the party's factions into stark relief while delivering little clarity about the direction of a race that features well-funded candidates from its populist and moderate wings as well as a handful of contenders trying to straddle the divide.

In the opening moments of the debate, Mr. Biden took particular aim at Ms. Harris, accusing her of peddling "double talk" on health care and insisting that a range of liberal plans to displace the private health insurance system were too disruptive and too costly. He chided Ms. Harris for her proposal of a decade-long transition to a version of single-payer health care, urging voters to be skeptical "anytime somebody tells you you're going to get something good in 10 years."

"My response is: Obamacare is working," said Mr. Biden, who has proposed the creation of an optional, government-backed health insurance plan.

Ms. Harris, on defense for the first time against Mr. Biden, insisted that her plan would do far more than his to ensure universal coverage: "Your plan, by contrast," she retorted, "leaves out almost 10 million Americans."

Yet by the end of the debate, Mr. Biden was besieged, attacked from all sides on a plethora of subjects including health care, immigration, trade, criminal justice, climate change, women's rights and the war in Iraq. As he did at times in the first debate, he cut some of his answers short and stumbled over lines. And he flashed his impatience with rivals, like Mr. Booker and Ms. Harris, who he said were harrying him over events that occurred "a long, long time ago."

Mr. Booker, among others, insisted that Mr. Biden's half-century record was entirely fair game. Pointing to Mr. Biden's history of shepherding harsh criminal-justice bills into law, Mr. Booker questioned whether the former vice president could lead the country forward on that and other contentious issues.

"This is one of those instances where the house was set on fire and you claimed responsibility for those laws," Mr. Booker said. "And you can't just now come out with a plan to put out that fire."

While Mr. Biden found himself facing the most insistent attacks, Ms. Harris also came under fire and did not appear as steady as she did in the first debate, which breathed new life into her campaign. On Wednesday, it was Mr. Booker who often appeared to be the more formidable alternative to the front-runner.

If Tuesday's debate defined the philosophical gulf within the Democratic Party, the Wednesday debate played out as a more complicated and personality-driven affair, featuring layers of political feuds and interlocking arguments over policy and electoral strategy.

(…)

The most protracted clashes of the evening concerned criminal justice and immigration, and put several candidates besides Mr. Biden on the defensive. Attempting to pre-empt liberal attacks on his immigration record, Mr. Biden went on offense against Mr. Castro — the most vocal advocate for liberal immigration policy in the Democratic field — noting that he could not recall the former San Antonio mayor criticizing the Obama administration's border policies when he was serving in the cabinet.

"If you cross the border illegally, you should be able to be sent back; it's a crime," said Mr. Biden, rejecting Mr. Castro's plan to decriminalize illegal immigration.

Mr. Castro shot back that "it looks like one of us has learned the lessons of the past and one of us hasn't," and added that the only element missing in border policy is "politicians who have some guts."

"I have guts enough to say his plan doesn't make sense," Mr. Biden retorted.

Still, the former vice president found himself fending off multiple attacks on the aggressive deportation policies of Mr. Obama, forcing him to choose between whether to defend a former president beloved by Democrats or align himself with the more liberal party of 2019. Pressed by Mayor Bill de Blasio of New York City to say whether he had tried to halt large-scale deportations when he was vice president, Mr. Biden evaded the question, saying he would not reveal his private conversations with Mr. Obama.

"You need to be able to answer the tough questions," said Mr. de Blasio, in a jab that became something of a regular refrain throughout the evening.

But Mr. Biden's position grew even more uncomfortable when Mr. Booker, standing just to his right, said: "You invoke President Obama more than anybody in this campaign. You can't do it when it's convenient and then dodge it when it's not."

(…)

Mr. Biden also got a respite when Representative Tulsi Gabbard took aim at Ms. Harris's record as a prosecutor in California.

"She put over 1,500 people in jail for marijuana violations and then laughed about it when she was asked if she ever smoked marijuana," Ms. Gabbard said of Ms. Harris. "She blocked evidence that would have freed an innocent man from death row until the courts forced her to do so."

Ms. Harris defended her record as state attorney general, arguing that her criminal justice overhaul became "a national model for the work that needs to be done."
In its coverage, The Washington Post emphasized the conflicts on stage, even those from candidates who may have been standing before a national audience for the last time in this campaign:
DETROIT — Former vice president Joe Biden, attempting to regain his footing by adopting a more aggressive and combative posture during a Democratic presidential debate here Wednesday night, faced relentless attacks on his decades-long Senate record on race and criminal justice, immigration and health care, and his commitment to women's rights.

The exchange showcased many of the deep divides within the party that are taking on greater urgency as the candidates strive to make gains before the field narrows.

Standing between Sens. Kamala D. Harris (Calif.) and Cory Booker (N.J.), Biden swiveled back and forth as his record on and commitment to issues of race were questioned in increasingly pointed ways. Later, Harris and Sen. Kirsten Gillibrand (N.Y.) teamed up to criticize his positions on working women and abortion.

"Everybody's talking about how terrible I am on all these issues," Biden said at one point. "Barack Obama knew exactly who I was. He chose me and he said it was the best decision he made."

But the former president's legacy also faced frequent scrutiny, as candidates sought to a remarkable degree to distance themselves from his administration's trade policies and record of deporting millions of undocumented immigrants, and to promote proposals that could dismantle his signature health-care law.

Biden was eager to remind voters of the stature he built over nearly five decades of public service — and to shed the image of him as the halting and lackluster candidate he was in the first debate, in June — by vigorously challenging his opponents' records. But they were just as sharp with him, drawing attention to his age — 76 — and to positions he still defends

There's a saying in my community," Booker told Biden amid a discussion about criminal justice. "You're dipping into the Kool-Aid and you don't even know the flavor."

Wednesday's exchange concluded the second round of 12 scheduled Democratic debates, with some campaigns hoping that they did enough to shake up a race that has largely been guided by four candidates: Biden, Harris, and Sens. Bernie Sanders (I-Vt.) and Elizabeth Warren (Mass.).

If the first night was a showcase of the liberal-vs.-moderate split within the party, the second night put on display other divides and a thirst to have a nominee who represents the party's growing diversity. Half of the 10 candidates onstage Wednesday at the Fox Theatre were minorities, making it a historically diverse lineup.

"Mr. President, this is America," Biden said, addressing President Trump, pointing to the diversity in race and experience onstage. "And we are stronger together because of this diversity. Not in spite of it, Mr. President. We love it, we are not leaving it. We are here to stay. And we're certainly not going to leave it to you."

Much like the night before, the debate began with a prolonged — and at times intense — discussion about health care, with candidates sparring over whether to eliminate private insurance as part of a push to provide universal coverage.

Harris, who formerly supported Sanders's Medicare-for-all plan — which would abolish private health insurance and put a government-run plan in its place — released a new proposal Monday that would allow private insurance as long as it followed Medicare's coverage rules. Biden accused her of being inconsistent in her positions, and of not being forthcoming about the costs for middle-class taxpayers.

"This idea is a bunch of malarkey, what we're talking about here," he said. "I don't know what math you do in New York, I don't know what math you do in California."

"Yeah, let's talk about math," Harris responded, calling Biden part of the "status quo" and citing the billions of dollars in profits going to the pharmaceutical and insurance industries. "You do nothing to hold insurance companies to task for what they've been doing to American families."

But the verbal crossfire was perhaps most frenetic during a prolonged exchange about the criminal justice system.

Booker had spent the week before the debate forecasting his lines of attack, with an emphasis on Biden's criminal justice record as a senator, which resulted in harsh penalties for offenders. Referring to Biden's signature 1994 crime bill, and the increase in African Americans put in prison as a result, Booker called him "an architect of mass incarceration."
In the weeks leading up to the debate, Biden released a criminal justice policy that would eliminate the death penalty and reduce punishments for some drug offenses, rolling back aspects of the laws he helped put in place.

"This is one of those instances where the house was set on fire and you claimed responsibility for those laws," Booker said. "And you can't just now come out with a plan to put out that fire."

Biden defended his record while challenging Booker over his handling of the Newark Police Department while he was mayor. Biden said Booker stood by idly while the department engaged in stop-and-frisk policies that disproportionately targeted black men.

"If you want to compare records — and, frankly, I'm shocked that you do — I'm happy to do that," Booker said.

Harris faced criticism for her record as a prosecutor, particularly from Rep. Tulsi Gabbard (Hawaii), who said Harris did not adequately use her power as an insider to protect people victimized by the criminal justice system.

"The people who suffered under your reign as prosecutor, you owe them an apology," Gabbard said.

New York Mayor Bill de Blasio was implicitly challenged for not firing a New York police officer who killed Eric Garner, an unarmed black man, using an unauthorized chokehold in 2014. Julián Castro, who was housing secretary under Obama, and Gillibrand said the officer, Daniel Pantaleo, should have been fired even though prosecutors had not charged him. Some in the audience jumped in with chants of "Fire Pantaleo" early in the debate
As was the case on Tuesday night, the most pointed exchanges of the night came with respect to two issues, health care, and immigration. For his part, Vice-President Biden emphasized his support for the Affordable Care Act and criticized those of his fellow candidates who would trash the ACA and replace it with something like a "Medicare for All" plan. He also made note of the difficulties that the Obama Administration had in getting the PPACA through Congress at a time when Democrats dominated both the House and the Senate, implicitly putting on the floor the fact that none of the advocates of Medicare For All have explained exactly how they plan on getting their plan through Congress given the difficulties Obama faced with a far more moderate plan just ten years ago.
The other big clash of the night was on the immigration issue and the question of whether or not it should be a criminal offense as well as a deportable offense. Vice-President Biden responded to criticism for his rejection of that idea from former HUD Secretary Julian Castro by noting that he doesn't recall Castro bringing that issue up during Cabinet meetings where immigration was discussed. Biden also deflected criticism from New York Mayor Bill DeBlasio regarding the Obama Administration's deportation policy although he oddly neglected to mention the fact that the vast majority of the people deported under Obama were people who were in the United States illegally who had violent or repetitive criminal records.
If there was anything that stood out about last night, it's the fact that the candidates other than Biden seemed to spend more time criticizing the policies of the Obama Administration, whether on health care or immigration, than they did the policies of the Trump Administration. On the one hand, this is odd given the fact that, notwithstanding the misgivings of many progressives, immensely popular among Democrats generally and African-American Democrats specifically. I understand the need to frame one's campaign as a new beginning, but appearing to reject the legacy of the most popular Democratic President in recent memory seems unwise from a political point of view.
By contrast, there was very little discussion of President Trump when it comes to either his policies or his rhetoric. The exchanges over immigration, for example, seemed to brush over the crisis at the border that Trump Administration policies as the candidates fell all over themselves trying to attack the former Vice-President. In doing so, though, they attacked not just Biden but also the former President. There was also very little mention of the President's rhetoric, especially his recent racist attacks on four minority Congresswomen and on Congressman Elijah Cummings. This would have seemed like it would have been a slam dunk for all of these candidates, but they stayed away from it in their eagerness to try to be the next Kamala Harris in their attacks on the former Vice-President, attacks that Biden was far more prepared for this time around.
We'll have to wait to see what the polls have to say to determine who "won" and who "lost," but from the perspective of a viewer it seems like it was pretty easier to figure out. Biden came away from last night a winner simply because he did much better than he did last time in deflecting attacks and getting his message across. He wasn't perfect, of course, but he also didn't stumble and was able to deflect attacks far better than he did last night. For that reason alone, he likely will be perceived as having done very well.
Another candidate who came across well was New Jersey Senator Cory Booker. In addition to getting in some good points against the former Vice-President, he also did a fairly good job of putting forward a positive argument for his candidacy during the time that he had. The question that Booker faces, though, is whether this will be enough to cause voters to give him a first or second root to the point where he rises above the 2-3% margin where he's been mired in the polls. If not, then he may be in danger of slipping into irrelevance.
Kamala Harris didn't do quite as well as she did in her first debate appearance but nonetheless continued to make the case for why she should be considered as one of the top-tier candidates along with Biden, Sanders, and Warren. The one thing she needs to be careful about, though, is her own record as California Attorney General. Vice-President Biden opened the door on that issue last night, and several other candidates took the bait and criticized her on criminal justice and other aspects of her record. She can expect that to continue into the future.
As for the other candidates, I don't really think that any of them made any kind of impression that is likely to give their campaigns the kind of boost needed to even qualify for the next round of debates beginning in September. In order to get into those debates, candidates will need to poll above 2% in a select number of national or state polls and establish that they have a donor base that consists of at least 130,000 individuals. These are arguably arbitrary numbers, but that would be true of any criteria. Once the race heads into the fall, candidates who can't demonstrate at least this level of support most likely aren't going to be contenders come February. Given that, streamlining the debate process is entirely justified. We'll know in the coming weeks if any of those lower-tier candidates have made a breakthrough.
Here's the full debate video:
Update: This post was corrected to reflect the correct criteria for the third and fourth debate. The required number of unique donors is 130,000 rather than 190,000