Biden, Sanders, Buttigieg Come Under Fire On Second Night Of Democratic Debates
WIth the top two candidates in the race on the same stage, the second night of the first Democratic debate was much feistier than the first night.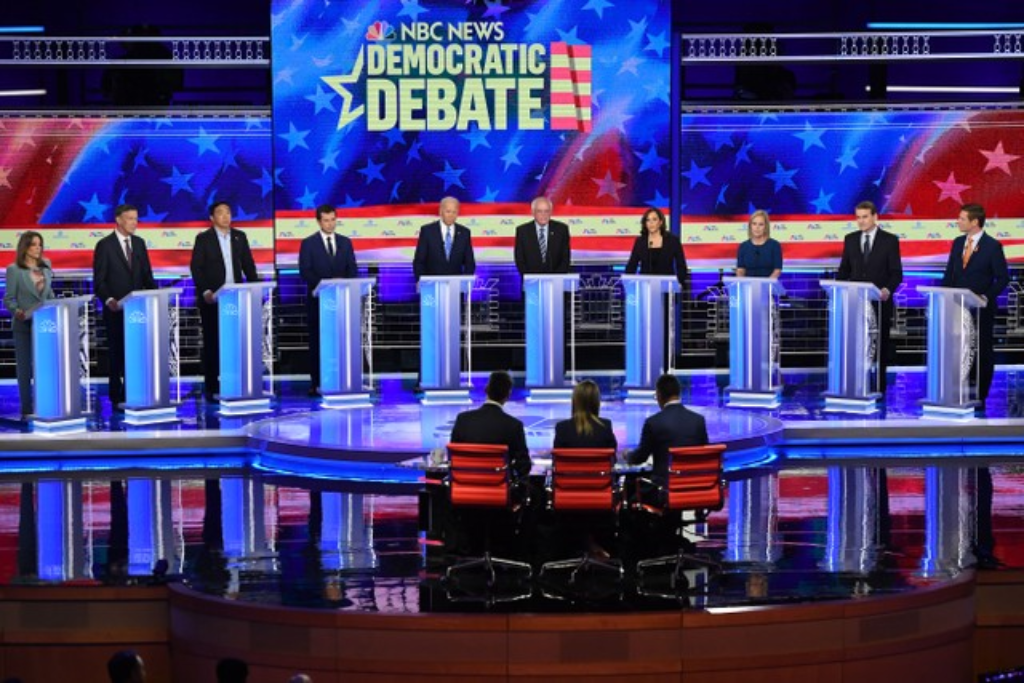 Joe Biden's name was barely mentioned during Wednesday night's iteration of the first Democratic debate. In fact, President Trump's name was dropped more during the course of that proceeding than the man at the top of the field in the race for the Democratic nomination. That wasn't the case last night, though, with California Senator Kamala Harris leading the way in criticism of Biden and aspects of his long record as a Senator that began when he was first elected back in 1972 and even Democrats held positions that are seemingly out of place in the Democratic Party of the second decade of the 21st Century:
MIAMI — Joseph R. Biden Jr. repeatedly found himself on the defensive in the Democratic debate on Thursday over his record as well as his personal views, with the most searing moment of the night, and the primary campaign to date, coming when Senator Kamala Harris confronted him over his comments on working with segregationists in the Senate.

Mr. Biden, the Democratic front-runner who was participating in his first major debate in seven years, was at times halting and meandering, but also forceful in pushing back on criticism of his record. Those attacks included a call for the 76-year-old former vice president to "pass the torch" to a younger generation, as well as questions about his positions on immigration and abortion, and his enthusiasm for working with Republicans.

But the most dramatic exchange was over not only policy — but also personal history. Peering down the stage to look at Mr. Biden directly, Ms. Harris assailed him for remarks he made this month invoking his work in a Senate that included a pair of notorious segregationists. She then went further, recalling that he had also opposed school busing in the 1970s.

"There was a little girl in California who was a part of the second class to integrate her public schools and she was bused to school every day," Ms. Harris said. "And that little girl was me."

Mr. Biden responded indignantly, calling her attacks "a mischaracterization of my position across the board" — and then returned fire at Ms. Harris, who has faced criticism from the left for her record as a prosecutor in California.

"If we want to have this campaign litigated on who supports civil rights and whether I did or not, I'm happy to do that," he shot back. "I was a public defender, I didn't become a prosecutor."

The back and forth was the tensest moment in the first Democratic debates, which were split between Wednesday and Thursday, with 10 candidates each night, to accommodate the party's sprawling field. And it illustrated both Mr. Biden's vulnerability and the urgency his rivals feel to start sowing doubts about his candidacy with voters who mostly view him as Barack Obama's vice president.

At a moment when President Trump has inflamed the country's racial divisions, the clash also went to the heart of the Democrats' debate over whom to nominate. Should they put forward a moderate who could appeal to some of the white voters who elected Mr. Trump but who also carries baggage from an earlier political era? Or would they be more likely to win by energizing younger and nonwhite voters with a candidate like Ms. Harris, a California senator whose father is black and mother was of Indian descent?

Ms. Harris's offensive also represented an effort to jump-start her campaign, which started with great promise in January but has flagged as she has wrestled with whether to run as a progressive or appeal to her party's moderate wing.

Her campaign has for months been privately consumed with Mr. Biden, whose initial advantage in the polls is partly attributable to his strong backing from African-Americans — votes Ms. Harris needs to win to secure the nomination. But it is Senator Elizabeth Warren of Massachusetts who has been gaining momentum of late.

Mr. Biden did not appear as unsteady as he has in some other recent public appearances, but he also may not have fully convinced Democrats that, as their nominee, he would be able to parry Mr. Trump's hectoring attacks next year. Unlike some of the other candidates, he did not try to interject himself into the conversation.

But he did repeatedly recall his service with Mr. Obama, on whom he showered praise. And he flashed his sense of humor when

Representative Eric Swalwell of California urged him to let a new generation of Democrats come forth.

"I'm still holding on to that torch," Mr. Biden responded with a smile.

The former vice president has already faced a handful of other challenges, some of them, like allegations that he inappropriately touched women, before he even formally entered the race. And he has proved resilient, as many rank-and-file voters appeared less concerned about his transgressions than liberal activists were.

But those controversies were not broadcast on live television before millions of Americans.

It was not on matters of race alone that Mr. Biden found himself under biting attack. Rivals on both the left and the center dismissed Mr. Biden's narrative of his political career as a case study in steady leadership, and repeatedly questioned the most fundamental proposition of his candidacy — that he is uniquely well suited to unite the country and wring progress from a sclerotic Washington.

When Mr. Biden delivered a laudatory account of his own skills as a congressional negotiator, boasting that he had coaxed a tax increase out of the Senate majority leader, Mitch McConnell, he earned a swift rebuke from a fellow moderate, Senator Michael Bennet of Colorado.

"The deal that he talked about, with Mitch McConnell, was a complete victory for the Tea Party," Mr. Bennet said, arguing that Mr. Biden had made foolish concessions to Republicans on government spending without getting much in return. "That was a great deal for Mitch McConnell. It was a terrible deal for America."

And without condemning Mr. Biden by name, Senator Kirsten Gillibrand of New York also rejected his deal-making ethos and called attention to his history of taking more conservative positions on abortion rights — including his past support for a ban on federal funding for abortion, known as the Hyde Amendment. Mr. Biden renounced his support for the measure only this month.

"When the door is closed, negotiations are made, there are conversations about women's rights and compromises have been made on our backs," Ms. Gillibrand said. "That's how we got to Hyde. The how the Hyde Amendment was created — a compromise by leaders of both parties."

It was Ms. Harris, however, who did the most to elevate her candidacy: At one point she was the top trending topic on Google in the country.
In addition to confronting Mr. Biden, she repeatedly chastised Mr. Trump, gently criticized Mr. Obama for his deportation policies and generally reminded Democrats why they were so intrigued about her candidacy in the first place.
While Andrew Prokop is correct in observing in his post-debate analysis that this was not the debate that Biden was probably hoping for, it was inevitable that he would face criticism like this in at least the first debate from candidates seeking to break out in a crowded field. Indeed, given the fact that he was the frontrunner in the race for the nomination even before he entered the race, and that he has enhanced that position since he actually entered the race, it was perhaps inevitable that former Vice-President Biden would become the chief target in any debate he participated in. For the most part, Biden seemed well-prepared for those attacks, indeed better prepared than it had been in recent weeks when he came under fire for past support for the Hyde Amendment and his seemingly complimentary comments about his ability work with politicians he disagrees with, specifically mentioning two southern Democrats that Biden served with early in his career who were ardent segregationists in the past.
While he did stumble a few times in the face of the attacks on his record from Senator Harris and other candidates, I don't believe that the former Vice-President made any major mistakes or say anything that is likely to have a significant negative impact on his campaign. There were times when he was off his game, but the fact that we are still some 220 days away and that there will be several more debates and more opportunities to do better than he did. For the most part, Biden entered the night as the overwhelming frontrunner in the race, and he left the stage in basically the same position. We'll need to wait a week or two to see if these debates have any impact on polling, but my guess is that, for the most part, Biden will not see his position undermined significantly heading forward. The night did reveal, though, where Biden's vulnerabilities lie, and they not surprisingly lie in the very same thing that he touts as his biggest asset, his long history of public service as a Senator and Vice-President. The best example of that, of course, came during the sometimes tense exchange with Senator Harris over Biden's record on busing back in the early 1970s:
On the bright side for Biden, he did manage to keep much of the night focused on the necessity of defeating Donald Trump next November and made a strong case for why he is that candidate. He also was successful in focusing on his time working across aisles while serving as Vice-President, although even that came under attack from some of the under-2% candidates who claimed that the deals he worked out often ended up being more beneficial to Republicans than Democrats. For the most part, though, I would say that Biden handled the attacks on him as best as can be expected. What it means for his campaign going forward is still up in the air.
The former Vice-President wasn't the only focus of attacks, though, and Biden often joined in as several of the other candidates took aim at those on the stage representing the seemingly ascendant left wing of the party:
If Mr. Biden spent much of the debate on defense, so at times did the ascendant left wing of the Democratic Party, as a group of moderates led by Mr. Biden raised doubts — and repeatedly expressed something verging on alarm — about Democrats' embrace of the far-left ideas pioneered by Senator Bernie Sanders of Vermont.

Mr. Biden rejected Mr. Sanders's demand for a single-payer health care system and said that seeking to expand coverage more incrementally was the more pragmatic approach. Two lesser known rivals, Mr. Bennet and former Gov. John Hickenlooper of Colorado, introduced themselves to voters with stark warnings that Mr. Sanders and others who espouse his ideology could damage the Democratic Party and the country's economy.

"If we don't clearly define that we are not socialists," Mr. Hickenlooper declared, "the Republicans are going to come at us every way they can and call us socialist."

And Mayor Pete Buttigieg of South Bend, Ind., raised reservations about creating new universal college tuition benefits, suggesting that could end up providing unneeded financial support to wealthy students.

Yet Mr. Sanders had ample company onstage from Democrats aligned with his vision for health care and much more, including Ms. Harris and Ms. Gillibrand, both of whom raised their hands to endorse the replacement of private care with a "Medicare for all" system.

For his part, Mr. Sanders defended his agenda with plain enthusiasm.

From his first comments of the night, he said voters were demanding "real change" from their government, and suggested without naming names that opponents like Mr. Biden were offering paltry half-measures.

Americans, Mr. Sanders said, deserve a president who will "stand up and tell the insurance companies and the drug companies that their day is gone, that health care is a human right."

He did not, however, target the former vice president, and his familiar jeremiads were not met with the sort of enthusiastic applause from the audience as many of Ms. Harris's lines
Going into this debate, there have been several reports focusing on the fact that Sanders seems to have grown frustrated with the fact that he seems to be fading in the polls as other candidates such as Elizabeth Warren come fast on his heels. The frustration, allegedly, lies in the fact that these candidates are hitting themes and taking positions that Sanders basically had to himself in the 2016 nomination fight with Hillary Clinton. Given the fact that Sanders and many of his supporters defended his decision to remain in the 2016 race even when it was clear that he could not win the nomination with the argument was to promote his ideas. Well, he succeeded in that regard and now he's facing the fact that there are many better, arguably more qualified, candidates seeking to appeal to the same group of voters that he is. The fact that he is not enjoying the same advantages he did in 2016 is due, at least in part, to the fact that he succeeded in moving a major part of the party to the left. In the process, he's brought to the forefront a group of candidates that are arguably more appealing, and more viable in a hypothetical General Election.
Sanders also came under attack from arguably more moderate candidates such as Biden, Colorado Senator Michael Bennet, and former Colorado Governor John Hickenlooper who argued that he is dragging the party too far to the left in a manner that could end up helping President Trump in November 2020. Hickenlooper in particular was particularly strong in making the argument that Democrats will lose the election if they assist Trump by advocating things like a Medicare-For-All that would lead to some 180 million Americans to lose employer-provided health care coverage that they're generally pleased with, or the idea, advanced during Wednesday night's debate by Julian Castro, that illegal entry into the country should be decriminalized. While that is unlikely to be a popular idea among the Democratic base, it is the kind of realistic pragmatism that the party would be wise to listen to if it wants to defeat Donald Trump in 2020.
In addition to Biden and Sanders, another candidate to come under fire was South Bend, Indiana Mayor, and rising, star Pete Buttigieg:
Besides Mr. Biden and Mr. Sanders, a third prominent candidate, Mr. Buttigieg, spent a significant share of the debate explaining and defending his record in government. Having risen quickly in the polls as a favorite of educated liberal voters, Mr. Buttigieg has faced a difficult test over the past two weeks after a white police officer in South Bend shot and killed a black man.

Mr. Buttigieg acknowledged in a contrite statement that he had not achieved sufficient changes in the police department to avert similar episodes and to earn the trust of the African-American community there. Multiple rivals pounced, and Mr. Hickenlooper cast Mr. Buttigieg as a laggard in pursuing police reforms.

"We're obviously not there yet," Mr. Buttigieg conceded. "I accept responsibility for that because I'm in charge."
For the most part, Mayor Buttigieg handled the questions about his handling of the police shooting crisis that his city finds itself in. However, it will be interesting to see what impact it has on his effort to reach out to African-American voters that, so far, don't seem to be very receptive to his campaign.
Leaving aside the attacks on people at or near the top of the field, I have to agree with the general notion this morning that Kamala Harris was the runaway winner last night. Using the same skills she learned as a lawyer and prosecutor that she did during the Brett Kavanaugh confirmation fight, Harris managed to put the seemingly untouchable frontrunner on the defensive in a way that arguably was meant to show voters that she could easily take on another septuagenarian in the 2020 General Election. This is likely to give her a boost among the Democratic voters and garner attention for a campaign that has been fading somewhat as attention focused on Joe Biden, Bernie Sanders, Pete Buttigieg, and Elizabeth Warren. Whether that's going to be enough to vault her into the position of being a contender remains to be seen. Currently, Harris is averaging 7.0% in the RealClearPolitics poll average, behind Biden, Sanders, Warren, and Buttigieg. Whether last night helps to light a spark under her campaign remains to be seen.
As for the rest of the candidates, I think the best that can be said is that they pretty much revealed the reasons why they are all basically wallowing in irrelevance. Some of them, like Hickenlooper and Bennet, made good points at various points during the debate but they are ones that the Democratic base are likely to ignore. Others, such as New York Senator Kristen Gillibrand, were rather lackluster with the time that the had. More importantly, none of them did very much with the time that they had that seems likely to lift them out of irrelevance and some of them. such as Marianne Williamson, an author whose previous claim to fame was being a frequent guest on Oprah Winfrey's old talk show to talk about her books about spirituality or something, basically confirmed the reasons why they are wallowing in irrelevance. These candidates will likely stay about where they are in the polls and could find themselves largely locked out of the race after the second debate in a month's time.
Basically then, we walk away from the second night of the first debate with Biden somewhat, but not completely, on the defensive but hardly knocked out of the race. Sanders, meanwhile, will likely continue to have to worry about candidates such as Warren, Buttigieg, and Harris overtaking him to become the chief alternative to the former Vice-President. All that being said, though, there's something worth keeping in mind. As of today, we have 221 days until the Iowa Caucuses, 229 days until the New Hampshire Primary, and 247 days until the South Carolina Primary. What happened at a debate in June 2019 isn't going to matter very much by then.
For those who missed it, here's the full debate. The link should start at roughly the one-hour mark and it lasts for two full hours on its own. If it doesn't you can fast forward through all the pre-debate coverage that NBC included in its YouTube post.