Democrats Clash In First Night Of First Debate
Democrats clashed, to some degree, in last night's inaugural debate of the 2020 season but they clearly agreed far more than they disagreed.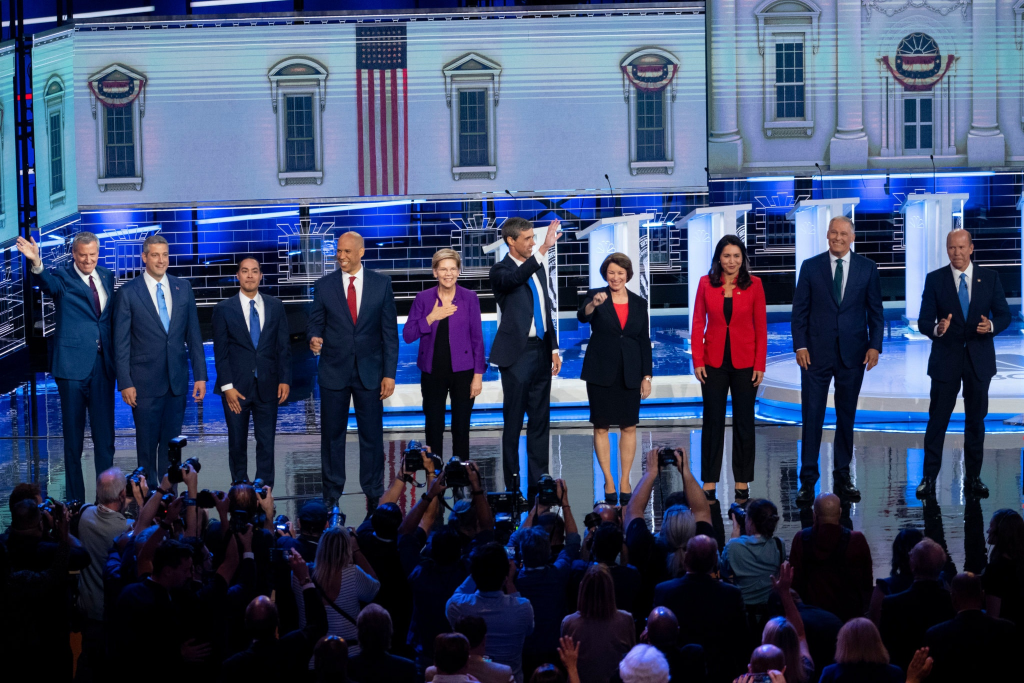 With 222 days to go until the first votes are cast in the Iowa Caucuses, ten of the Democratic candidates for their party's Presidential nomination clashed last night in Miami in the first debate of the campaign season, and it laid open many of the disagreements between the candidates. As a preliminary matter, I should confess that I didn't watch the debate last night, mostly because I was far too tired after a long day and I'm honestly more interested in this morning's final day of Supreme Court opinions. Based on what I have read this morning and seen in the post-debate coverage I've seen since getting up early this morning, it seems unlikely that this first night will have any significant impact on the state of the race:but at the same time seems unlikely to have any significant impact on the state of the race:
Democratic presidential candidates leveled a stark critique of President Trump's immigration policies and the condition of the American working class in the first primary debate on Wednesday, but split in unmistakable terms over just how aggressively the next president should seek to transform the country along more liberal lines.

The strength of the party's progressive wing was on vivid display in South Florida, starting in the first minutes of the debate when Senator Elizabeth Warren of Massachusetts branded the federal government as thoroughly corrupt. Ms. Warren, the highest-polling candidate onstage, called for the government to bring to heel oil companies and pharmaceutical companies, and embraced the replacement of private health insurance with single-payer care.

"We need to make structural change in our government, in our economy and in our country," Ms. Warren said, setting the tone for the handful of populists in the debate.

Joining Ms. Warren in driving hard from the left were two lesser known candidates — Julián Castro, the former housing secretary, and Mayor Bill de Blasio of New York — who sought to jump-start their campaigns by confronting rivals who hesitated to match their progressive demands on immigration, health care and national security policy.

The debate, the first of two featuring 10 candidates each, underscored just how sharply Democrats have veered in a liberal direction since Mr. Trump's election. On issues ranging from immigration and health care to gun control and foreign policy, they demonstrated that they were far more uneasy about being perceived as insufficiently progressive by primary voters than about inviting Republican attacks in the general election.

But there were also several avowed pragmatists who voiced hesitation or outright disagreement over some of their party's most ambitious policy demands. Most prominent among them was Senator Amy Klobuchar of Minnesota, who expressed doubts about liberal plans for single-payer health care and free college education; she instead called for more modest alternatives like the creation of an optional government-backed health insurance plan.

"It's a bold approach, it's something that Barack Obama wanted to do," Ms. Klobuchar said, linking her more moderate views to those of one of the most popular Democrats in the country. She added, of a single-payer bill written by Senator Bernie Sanders of Vermont: "I am just simply concerned about kicking half of America off of their health insurance in four years."

Though Ms. Warren and Ms. Klobuchar did not engage the other by name, Ms. Warren drew loud applause by retorting that politicians who suggest "Medicare for all" is impractical are really telling Americans "they just won't fight for it."

Other candidates tried to chart a middle path between those poles on health care, with Senator Cory Booker of New Jersey saying that he supported single-payer care but would embrace more incremental options as well. "We have to do the things, immediately, that are going to provide better care," he said. '

At times the forum became a free-for-all of cross talk among candidates desperate to wedge their personalities and signature ideas into brief snippets of television airtime. But even the disagreements were squarely over matters of policy substance: There were no personal attacks or criticisms of character, and nothing resembling the Trump-style personal taunts that came to define the last crowded presidential primary, waged among Republicans in 2016.

There were Democrats boasting about their executive résumés — Gov. Jay Inslee of Washington trumpeted the laws he had personally enacted, on matters like health care and abortion rights — and those who focused on sharing aspects of their personal biographies. Ms. Klobuchar, for instance, spoke of her father who attended community college.

Perhaps mindful of the debate's South Florida venue, several took pains to flaunt their Spanish-language skills, particularly when it came time to discuss immigration. Among those were Mr. Booker, Mr. Castro and former Representative Beto O'Rourke of Texas.

"The situation now is unacceptable," Mr. Booker said in Spanish, of the crisis unfolding on the Mexican border. "This president has attacked, he has demonized immigrants. I am going to change this."

After drawing little notice initially, Mr. Booker offered a series of commanding answers in the second hour of the two-hour debate on issues such as guns and L.G.B.T. rights, and he repeatedly highlighted his residency in heavily black Newark.

Mr. Booker is one of two African-Americans in the debate field, along with Senator Kamala Harris of California, who will appear on Thursday. Former Vice President Joseph R. Biden Jr. enjoys an early lead in the polls thanks in part to his support among black voters.

Mr. Castro, the former mayor of San Antonio, dominated the segment devoted to immigration, promoting his proposal to decriminalize illegal immigration — a policy that Ms. Warren has adopted in recent days and that Republicans have gleefully highlighted to argue that Democrats support open borders.

Turning to Mr. O'Rourke, whose unsuccessful 2018 Senate bid and presidential candidacy have overshadowed him, Mr. Castro asked his fellow Texan why he would not support making illegal immigration a civil offense.

"I just think it's a mistake, Beto," said Mr. Castro.

Mr. O'Rourke noted that he had introduced legislation in Congress to decriminalize "those seeking asylum" and said that he had unveiled a comprehensive immigration overhaul.

But Mr. Castro interjected that it was not sufficient to relieve only those seeking asylum from criminal penalty, because many of those charged for crossing the border illegally are "undocumented immigrants."
Mr. Booker made clear that he sided with Mr. Castro on the question, an illustration of the party's shifting center of gravity on perhaps the dominant issue of the Trump era.
Not surprisingly, it was Senator Elizabeth Warren, the candidate on the stage last night who is leading the polls, who dominated the night both when she was being asked questions but also in the responses of other candidates and their efforts to set themselves apart from the others. At the same time, though, there were parts of her agenda that came under scrutiny:
Ms. Warren's repeated denunciations of economic elites and Washington's governing class won repeated ovations. But her unabashed willingness to terminate private health care, a question she had evaded in the past, alarmed some members of her own party who fear that embracing a single-payer system would hand Republicans a political weapon in a country where nearly 60 percent of people are on private plans.

Ms. Warren was less precise when she was asked how she would push through her agenda if Republicans still control the Senate in 2021. And while she never mentioned her rivals by name, it was clear Ms. Warren is building a case for why Democrats should reject Mr. Biden's consensus-oriented politics
This part of the debate arguably laid bare one of the flaws in the format that Democrats have chosen this time around. For the most part, it does not appear that the candidates spent much time paying attention to the candidates who weren't on the stage except, of course, for President Trump. Indeed, it seems clear that they were more interested in highlighting the areas where they agree with Warren in particular than in how they would be different from her and why their ideas are better than hers. The exceptions to that rule seem to have been three of the candidates currently polling at 2% — Senator Amy Klobuchar and Congressmen Tim Ryan and John Delaney — all of whom had pointed criticisms for parts of Warren's agenda such as Medicare-for-all and free college tuition. For the most part, though, it appears that many of these candidates were essentially arguing that they agreed with Warren but failing to differentiate themselves from Warren. In that respect, it's hard to see how those candidates, such as Senator Cory Booker and Beto O'Rourke, are going to make their mark. After all, if Democratic voters want a candidate like Elizabeth Warren, why not just vote for Senator Warren instead of one of the candidates trying to be a carbon copy of her and her ideas? In that respect, it isn't too far of a leap to say that this was a good night for Warren and a not-so-good night for those candidates who are trailing her but basically saying the same thing she is.
What we didn't see was how many of these candidates might differentiate themselves from the proverbial 800-pound gorilla in the room, former Vice-President Biden who is currently dominating the polls and likely just days away from posting what is likely to be some fairly good second quarter fundraising numbers. Indeed, Biden's name apparently barely came up last night. Partly it appears that may have been because the moderators of the debate didn't really focus on Biden per se but the other reason may be that all of these candidates are hoping that if Biden's support starts to collapse for some reason they would hope to attract support from the segment of the party that forms the majority of his base of support. This gloves-off support isn't likely to continue during tonight's debate, which will include not just Biden but also Bernie Sanders, Kamala Harris, and Pete Buttigieg.
The Washington Post's coverage of the debate emphasizes the extent to which the debate revealed divides in the Democratic Party over policy issues:
Deep divides over health care and economic policy dominated the first Democratic presidential debate Wednesday, as 10 candidates jousted in Miami over the best formula for beating President Trump and fixing the economic struggles of the middle class.

The result was a prime-time display — the first national event of the election season — showcasing economic and regulatory differences that have riven the Democratic Party, including transformative plans to eliminate private health insurance, fund free college for most Americans, break up giant corporations and impose sharp tax increases on the wealthiest Americans.

The ambitious slate of proposals highlights the Democrats' leftward shift, a trend Republicans are seeking to take advantage of by linking the party with socialism and government control. The generally sober event also highlighted one of the key dilemmas that Democrats face in their attempt to oust Trump — a bombastic showman whose name was only occasionally mentioned but whose presence loomed large over the proceedings.

Sen. Elizabeth Warren (Mass.), standing center stage with the most early attention from moderators, drove much of the debate with a passionate defense of disruptive plans that would face long odds of passage in Congress. She framed each of the issues as a question of determination, saying she was willing to fight and take on the "corruption in this system" that had created the problems.

"We've had the laws out there for a long time to be able to fight back. What's been missing is courage, courage in Washington to take on the giants," she said. "I want to return government to the people, and that means calling out the names of the monopolists and saying I have the courage to go after them."

Her rivals were forced to respond, though they avoided taking her on directly, trying to explain their plans as different routes to the same goal.

"I do get concerned about paying for college for rich kids; I do," said Sen. Amy Klobuchar (Minn.), a thinly veiled reference to plans supported by Warren to make public colleges free for all Americans.

But the two-hour debate proceeded without a significant viral or humorous moment to rival the kind of spectacle created by Trump during the 2016 debates that were dominated by the real estate developer's shocking comments, off-color jokes and biting attacks on his rivals.

Trump's campaign characterized the debate as "the best argument for President Trump's reelection," arguing that Democrats were proposing "a radical government takeover of American society that would demolish the American Dream so many are gaining access to under the growing Trump economy."

Rather than paint a hopeful vision of the nation's future, the Democrats onstage focused on the grim challenges facing the country — warning of a long list of serious threats to the nation's well-being, such as corporate power, global warming, the humanitarian crises on the southern border and the growing economic power of China.

Perhaps seeking to introduce themselves to a national audience, the candidates only rarely addressed one another directly or strayed from well-rehearsed lines.

When Sen. Cory Booker (N.J.) was asked about previous comments criticizing politicians who pledge to break up specific companies — as Warren has — he seemed to shift in Warren's direction, saying "I don't think I disagree" that corporate consolidation is a problem.

Former Texas congressman Beto O'Rourke gave his first answer in both Spanish and English, but he struggled to respond directly to the question about how high he would bring the marginal tax rate for the wealthy. He spoke instead about ending gerrymandering while bolstering the Voting Rights Act and same-day voter registration.

"I would support a tax rate and a tax code that is fair to everyone," he said, after the question was repeated to him.
Other than Warren, the candidates who seem to have done themselves the most good last night are Cory Booker and Julian Castro. Booker in particular has found himself stuck at the back of the pack and in danger of falling into also-ran territory. Therefore, he came into last night needing to find a way to get the kind of media attention he's been lacking in recent months and to perhaps set a spark underneath his campaign that will push him forward even a little bit. In that respect, he seems initially to have succeeded in that regard but it's unclear if this will be enough for him to regain the momentum he had up until about mid-April when Joe Biden entered the race. Castro, meanwhile, has been stuck under 2% in most statewide and national polling and needed this opportunity to try to break away from the lower-tier and become a candidate that at least looks like he has a chance of making a mark. In that respect, it seems as though he did what he needed to do. The question is whether voters and, most importantly potential donors, agree and whether his campaign will be able to rev-up to the point where it survives the summer.
As far as losers go, it doesn't seem as though any of the candidates made any mistakes that are going to haunt them. The one candidate who seems to be getting the most negative post-debate coverage is Beto O'Rourke, who has been slipping behind in the polls in much the same way that Cory Booker has. Unlike Booker, though, the consensus seems to be that O'Rourke did not come across well on camera and at times he appeared to be far too earnest and pandering. Whether that's true or not depends on your perspective, I suppose, but the true test will come in the post-debate polling, which won't really be clear until sometime in mid-July I suspect. If O'Rourke stays where he is, or slips even further toward the lower tier of candidates then he may not be long for this world.
The final group of candidates to talk about are the lower tier candidates, by which I mean those who have been polling at the national and state level below 2%. These are the candidates who seem most likely to be placed in the also-ran categories unless they're able to break away from the field. Seven candidates on last night's stage fall into those candidates and, of those, it appears that only a handful seem to have made an impression that could help them going forward. I've already mentioned Senator Klobuchar and Congressmen Delaney and Ryan, and the other candidate who may have succeeded in that regard is Washington Governor Jay Inslee, who largely stuck with the central message of his campaign, the need to address global climate change and also got some decent audience reaction when he name Donald Trump as the biggest threat facing the United States. The other candidates, such as Mayor Bill DeBlasio and Tulsi Gabbard, don't seem to have made much of an impression at all.
The debate format itself suffered from the same problems that any debate with a large number of candidates would. Even at 120 minutes without commercials (which was not the case last night), that meant that the most any candidate would have to speak were 12 minutes, hardly a sufficient amount of time to lay out the details on any policy issue. As it turned out, this graphic from the New York Times and this estimate from CNN seem to indicate that it was Senator Booker, followed by Elizabeth Warren, Julian Castro, Beto O'Rourke, and Amy Klobuchar who got at least five minutes of talking time. This is hardly useful to make any real judgments about the respective candidates. Because of that, I'm not sure you can say there was anything useful to an undecided voter to come out of the proceeding.
In any case, as I said I didn't watch the full debate last night and I'm not really a member of the voting group that these candidates were speaking to. Therefore, I'll leave it to the readers who did watch to make their own case for "winners" or "losers." That being said, the consensus this morning seems to be that Senators Warren and Booker, along with Julian Castro seem to be the candidates that did the best. Not far behind them, I'd say that Amy Klobuchar, Congressman Ryan, and Congressman Delaney did a good job of setting themselves apart from the rest of the field. Meanwhile, we get to do this all over again tonight in what could be a far more interesting night.
For those who missed it, here's the full debate. The embed should start at roughly the two-hour mark and it lasts for two full hours on its own. If it doesn't you can fast forward through all the pre-debate coverage that NBC included in its YouTube post: