Former HUD Secretary Julian Castro Enters Presidential Race
Former HUD Secretary Julian Castro is the latest addition to the growing Democratic Presidential field.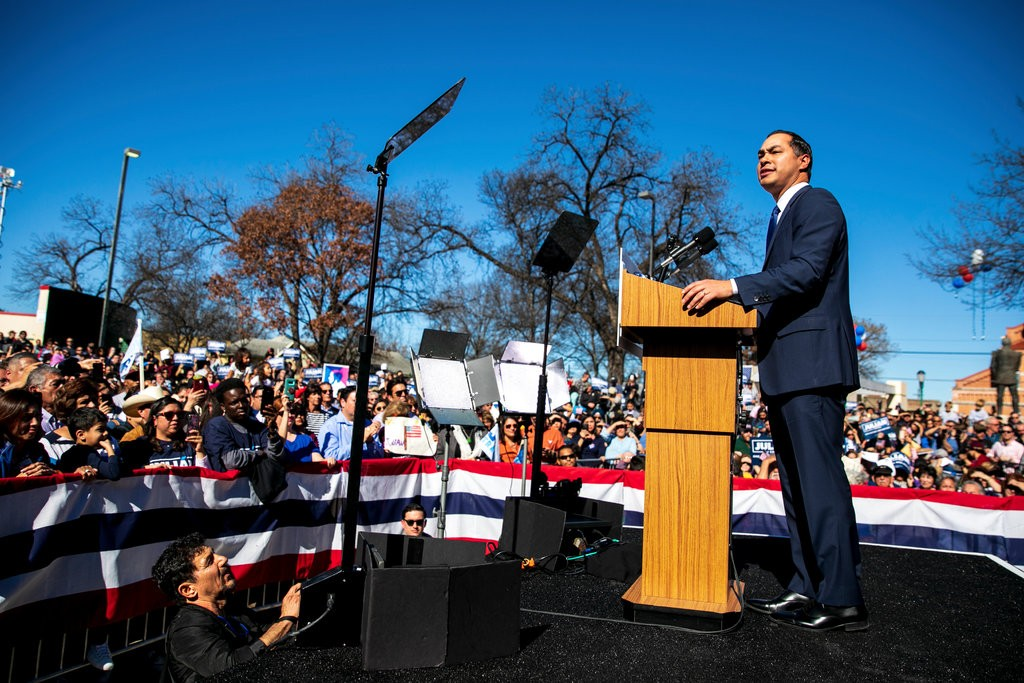 Julian Castro, who served as Mayor of San Antonio and Secretary of Housing And Urban Development under President Obama, has entered the race for President:
Julián Castro, the former housing secretary and former mayor of San Antonio, announced on Saturday that he would run for president, one of the most high-profile Latino Democrats ever to seek the party's nomination.

His first campaign stop will be in Puerto Rico, where he will speak on Monday at the Latino Victory Fund's annual summit and meet with residents still struggling to recover from Hurricane Maria. Later in the week, his campaign said, he will go to New Hampshire.

"When my grandmother got here almost a hundred years ago," Mr. Castro said at the Plaza Guadalupe amphitheater in San Antonio, in the neighborhood where he was raised. "I'm sure that she never could have imagined that just two generations later, one of her grandsons would be serving as a member of the United States Congress and the other would be standing with you here today to say these words: I am a candidate for president of the United States of America."

Mr. Castro's announcement had been expected for several weeks. He established an exploratory committee in December, two months after publishing a memoir, "An Unlikely Journey" — a familiar path for presidential candidates who want to play up their life stories and qualifications and, perhaps, get ahead of their biggest vulnerabilities. This month he also visited two of the early caucus and primary states, Iowa and Nevada.

He joins Senator Elizabeth Warren of Massachusetts, Representative Tulsi Gabbard of Hawaii and former Representative John Delaney of Maryland on the still-short list of Democrats who have said definitively that they will seek for the party's 2020 nomination. That list is expected to grow considerably in the coming weeks and months.

In his speech on Saturday, Mr. Castro emphasized education, calling for a national version of the universal prekindergarten program he established in San Antonio when he was mayor. To fund the program there, he increased the city's sales tax — a politically risky proposition, especially in Texas, but San Antonio voters approved it.

His message was firmly progressive. He called for a higher minimum wage, denounced police killings of African-Americans, which he described as "state violence," and embraced the Black Lives Matter movement. He also condemned President Trump's immigration policy, including the practice of family separation and the proposed border wall, and declared that his first executive order if elected would be to rejoin the Paris climate accords, which Mr. Trump left.

George Rodriguez, a conservative blogger, talk-show host and Fox News contributor whom Texas Republican leaders designated as their spokesman on the announcement, said after the speech that the discussion of immigration had stood out to him. Mr. Castro, he said, did not "seem to be able to distinguish between legal and illegal immigration."

Mr. Rodriguez also argued that the San Antonio pre-K program, which was one of Mr. Castro's chief accomplishments as mayor, had duplicated existing programs like Head Start. "How much of an accomplishment that is is rather dubious," he said.

(…)

Mr. Castro has brushed off concerns that he is not as experienced or as well known as many of the other likely candidates.

"In my whole life, I don't think I've ever started out as the front-runner," he told The New York Times last month. "I grew up in a neighborhood where nobody growing up there was the front-runner at anything. So I'm not going to concern myself with who people think of as the front-runner and who they don't."
Castro is 44 years old and would be 46 on Election Day 2020 and Inauguration Day 2021, which would make him the third-youngest President in American history behind Theodore Roosevelt and John F. Kennedy, who both took office in their early 40s. Despite his youth, he has been involved in politics for most of the past two decades. He was elected to the San Antonia City Council in 2001 and served in that position until 2005 when he decided to run for Mayor instead. As it turned out, though, Castro lost that election in a close race but came back four years later to be elected to the position in 2009. In between those years, Castro had opened his own law practice and became one of the city's most well-known attorneys. He served as Mayor from 2009 until 2014 when former President Obama to become the 16th Secretary of Housing and Urban Development, a position he held until the end of Obama Administration. As HUD Secretary, Castro took action aimed at stabilizing the housing market, rebuilding communities hit by natural disaster, expanding lead safety protections in housing receiving federal assistance, and undertook various initiatives aimed at strengthening the enforcement of the Fair Housing Act.
Politically, Castro has been mentioned as a potential Presidential candidate in the past, as his twin brother Joaquin, who has represented Texas's 20th Congressional District since first being elected in 2012. He was also among the people that were vetted by Hillary Clinton's campaign as a potential running mate and, while he ultimately not selected, it was clear at the time that he was and is well-regarded by both mainstream Democrats and by more "progressive" members of the party, although the second group has often expressed doubts about him based on his close ties to the Clinton wing of the party.
In any case, the potential appeal of a candidate like Castro would seem to be obvious. In addition to his youth, his background would be well in line with ongoing Democratic efforts to excite Latino and young voters to come to the polls, an effort that proved to be at least somewhat successful given the fact that voter turnout among both groups, while it still lagged behind other demographic groups, was higher than it has been in the past, especially in areas where Democrats were hoping that they would be in order to put them over the top in the battle for control of the House. Even if he doesn't succeed as a candidate for President in two years, Castro would obviously be near the top of any candidates list for running mates. This would be especially true if the Democratic nominee ends up being an older candidate such as former Vice-President Biden, Senator Elizabeth Warren, or others.
At the same, though, Castro suffers from some of the same issues that other younger candidates do, namely a relative lack of experience. His only elective office experience comes at the local level, which would make him the first person other than a General and, of course, President Trump, to become President without significant experience in either elective office at the statewide level or Federal office. Given the fact that he's going to be running against a number of candidates with ar more experience, this could be a problem with him going forward.1 Despite this, Geoffrey Skelly at FiveThirtyEight sees a path forward for Castro:
Much of Castro's political career has been built on support from Latino voters. San Antonio's population is more than 60 percent Latino, and in his successful 2009 mayoral race, Castro won the nonpartisan election by 27 points over his closest challenger,1 principally by running up the margins in San Antonio's heavily Latino neighborhoods, particularly in the southern half of the city. In a cluster of precincts northeast of Lackland Air Force Base, for example, as much as 90 percent of the voting age population was Hispanic at the time of the election, and Castro won many of those precincts by more than 80 points. Conversely, in some majority-white precincts north and east of Shavano Park, a small independent city surrounded on all sides by San Antonio, Castro's chief opponent won by more than 20 points.

Castro has also been vocal in his support for a renewed push by Democrats to reach out to Latino voters. Turnout among Latinos is traditionally low, but given how Obama energized turnout among African-American voters in his presidential bids, Castro's candidacy could similarly boost Latino participation. But winning the Latino vote probably won't be enough. Castro will also need to make inroads among millennial voters.

An NBC/Generation Forward poll released in October 2018 found that the personal quality millennials were most likely to say they wanted to see when deciding who to vote for was a candidate could bring about change. And, arguably, what could be more of a change from Trump and his anti-immigrant rhetoric than a Latino candidate of Mexican descent?

As a young Latino man from a San Antonio — a fast-growing, youthful and diverse city — Castro could try to make the case that his experience leading the nation's seventh-largest city could be the right step for America's future. And as a former member of the Obama administration, Castro could also play up his White House connection with Party Loyalists, who tend to be an establishment-friendly group. The former president remains incredibly popular among Democrats, and Castro can use his time in Obama's Cabinet to claim some of that legacy in his own campaign. Among potential Democratic presidential candidates, former Vice President Joe Biden might be the only one with a more obvious connection to Obama than Castro.
As Skelly goes on to note, Castro faces several challenges, some of which may prove to be insurmountable. Among these are differentiating himself from the other progressive-leaning candidates in the race, most of whom will have much more experience, and much more access to fundraising and logistical support that every campaign needs to get off the ground. Additionally, in a time when the President's foreign policy has increasingly become a domestic issue, his lack of experience in that area compared to candidates who have served in Federal office could be a problem. Finally, while Castro comes across well in one-to-one interviews, it isn't clear how well he will come across on the stump or in debates with his fellow candidates. Like so many others, he could end up fizzling out even before the first vote is cast.
In any event, with Elizabeth Warren, Kamala Harris, and Tulsi Gabbard already in the race, and Joe Biden and Bernie Sanders not far behind, Castro is not going to have much time to campaign on his own before the big name candidates start to flood Iowa and New Hampshire with appearances, dollars, and volunteers. If he can match them, he might have a chance at becoming a mid-tier candidate at least. If not, he most likely won't be able to last even until the Iowa Caucuses.
---
1 Two other Presidents, Taft and Hoover, became President without serving in elective office or as a Genera, but they had significantly more experience than Castro.
Hoover served as Director of US Food Administration during World War One, and then as coordinator of post-war aide to Europe after World War One, the first was a Federal position the second was at least quasi-governmental. He also served as Secretary of Commerce under Presidents Harding and Coolidge.
Taft served as Secretary of War under Teddy Roosevelt, Provisional Governor of Cuba, and Governor-General of The Philippines.
This is quite arguably more significant than 2,5 years as HUD Secretary.