2014 And The Latino Vote
Republicans performed better among Latino voters this year than they did in 2012, but that doesn't mean they've solved their problems.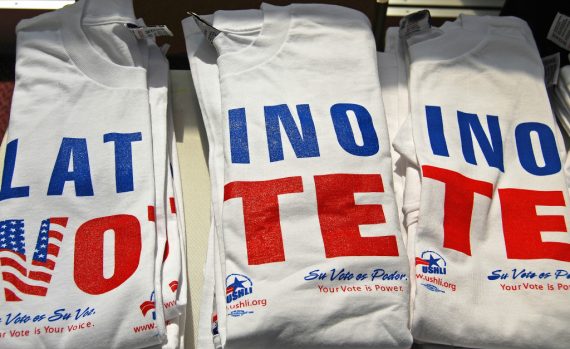 Much has been written, including much here at OTB, about the Republican Party's problems with Latino voters that reached their low point in the 2012 Presidential election when President Obama captured more than 70% of the vote from this fast-growing segment of the population, a stunning change from just eight years ago when President George W. Bush came close to capturing nearly half of that same voting cohort. The reasons for the GOP's problems among Latinos have been failure easy to figure out, but in the end boil down to a combination of the fact that the party has spent the past eight years resisting nearly any kind of immigration reform on the national level, the fact that it has been Republicans at the state level who have been behind restrictive immigration-related laws at the state level in states like Georgia, Alabama, and Arizona that many Latinos have seen as targeted not just at illegal immigrants but at anyone of Latino heritage, and, of course, the rhetoric used by candidates and party leaders which was perhaps best typified by Mitt Romney's assertion that the solution to the problem of millions of undocumented immigrants in the country as to encourage "self-deportation" rather than give them a path to legalization. Because of all of this, many party leaders, such as former Florida Governor Jeb Bush and Florida Senator Marco Rubio have urged their party that it needs to change its position on immigration or risk losing the Latino vote for at least a generation, if not longer.
This past election, though, there have been some indications that, while Democrats still overwhelmingly won the Latino vote nationwide, individual Republican candidates might not be as bad off with the Latino vote as previously thought:
In the Senate race in Colorado, for example, where Latinos make up 14 percent of voters, a conservative Republican, Cory Gardner, took the seat of the incumbent Democrat, Mark Udall, in what analysts from both parties called a Republican playbook on how to blunt the Democrats' advantage with Hispanics. Mr. Gardner generally avoided the contentious issue of immigration but campaigned in Latino neighborhoods with a message of job creation and smaller government.

"We had better candidates this year, who were talking about the issues that people care about and doing it in a way that did not alienate any group," said Luis G. Fortuño, the former governor of Puerto Rico who is a member of the Republican National Committee.

Republicans said the glide to re-election of two Hispanic Republican governors in states with large Hispanic populations — Susana Martinez in New Mexico and Brian Sandoval in Nevada — also showed the party's ability to succeed with those voters when it runs strong candidates.

In Texas, the state with the second-largest Hispanic population — 17 percent of the electorate — Greg Abbott, the Republican who defeated an underdog campaign for governor by Wendy Davis, a Democrat, won 44 percent of the Hispanic vote, while Ms. Davis took 55 percent. In 2010, Gov. Rick Perry, also a Republican, won his race with 38 percent of Latinos.

In Georgia, where a small but rapidly growing population of Hispanic citizens now represents 4 percent of voters, Gov. Nathan Deal, a Republican, was re-elected, winning 47 percent of Hispanic voters while his Democratic challenger received 53 percent. In the hard-fought Senate race in Georgia, David Perdue, a conservative Republican businessman, received 42 percent of the Latino votes while his Democratic opponent, Michelle Nunn, got 57 percent.

In Kansas, Gov. Sam Brownback, a conservative Republican who had been under fire even from some in his own party for sharp tax cuts, received 47 percent of the Latino vote, while his Democratic challenger, Paul Davis, won 46 percent. The exit polls were conducted by Edison Research for the television networks and The Associated Press.
Some analysts suggest that the seeming uptick in Latino support for Republican candidates in the midterms can be attributed more to frustration with the Obama Administration and Democrats, and mistakes by Democratic candidates, than any embrace of the GOP:
In Colorado, Mr. Udall baffled many of his Democratic supporters and Latino organizations in the state by failing to reach out to Hispanics until the final days of the race.

"It was a real miscalculation by the Udall campaign not to make immigration reform and the lack of movement on that issue part of his campaign," said Arturo Vargas, executive director of the National Association of Latino Elected and Appointed Officials, a bipartisan organization. In an election eve poll by Latino Decisions, a research group, a plurality of 45 percent of Latino voters nationwide said immigration was the most important issue for their communities that politicians should address.

Latino strategists and Democrats said the results would place new pressure on President Obama to take broad executive action to give protection from deportation for immigrants in the country illegally. At a White House news conference on Wednesday, Mr. Obama repeated his intention to unveil those measures before the end of the year. Earlier in the fall, he postponed his announcement, responding to the fears of endangered Democrats in Senate races that it could thrust a toxic issue into their campaigns.

The president's delay contributed to the lackluster interest among Latinos in the elections, said Gary M. Segura, a principal at Latino Decisions and a political-science professor at Stanford University.

"The president made a significant bet against Latinos this year, and he lost," Mr. Segura said. Without some action on immigration under Mr. Obama, Democrats would risk greater losses among Hispanics in 2016, Mr. Segura said.

There was some good news for the president in the exit polls. Unlike other voters, a majority of about six in 10 Latino voters approved of his job performance. And among all Americans, 57 percent said they were in favor of providing a way for undocumented immigrants to remain in the country legally, while 39 percent said they should be deported.

Democrats warned that Republicans should not conclude that their gains with Latinos were secure.

"Republicans should not read too much into this," said Maria Cardona, a Democratic strategist. "This doesn't mean their path to the White House in 2016 will be that much easier."
There's much wisdom in this warning, of course. To the extent that Latino voters didn't feel compelled to come out and vote at all either because of frustration with the Obama Administration due to the failure to take executive action as had been promised back in July or because of long-standing Latino concerns about deportation policies under this President that are actually harsher than they were under George W. Bush, it would not be surprising to see to see the GOP share of the vote from this cohort increase to some degree. In that regard, then, it's worth noting that while Latinos constituted 10% of the vote in 2012, preliminary exit poll results from this year indicate that they only accounted for 8% of the vote this year. By way of comparison Latinos also accounted for 8% of the vote in the 2010 midterms and the 2006 midterms, when Democrats won the vote in that cohort by roughly the same amount that they did this year. Given these declines in turnout from 2012, it may be premature to say the results at the state level are indicative of anything other than Latino frustration with the Obama Administration's inaction on an issue that is very important to them, or that it is a sign that the Republican Party is turning a corner with these voters that could provide them with an opportunity going forward.
That being said, the fact that several Republican candidates were able to seemingly breakthrough with Latino voters in a way that the party hasn't been able to do in recent years should be something that Republicans nationwide pay attention to. For example, in addition to the numbers cited above, in Florida Governor Rick Scott, who ended up winning re-election in a close race, managed to get 38% of the Latino vote in a state where that vote accounted for 13% of the vote. Again, turnout could have played a role here, and the fact that Florida's Latino vote includes a sizable Cuban-American population that tends to still have more of a Republican tilt to it than the Latino vote does nationally, but this is still close to 40% of vote that President Bush received nationwide eight years ago. It's also worth noting that the nationwide number, while still overwhelmingly tilted in the Democratic direction at 60% to 38%, was much better than the 71% to 27% that the Latino vote was split between Barack Obama and Mitt Romney just two years ago.
Nonetheless, even leaving aside the fact that lower turnout likely played a big rule in the numbers that we're seeing for Latino voters this year, there seem to be some lessons here for both sides of the aisle, Republican candidates like Cory Gardner who went into Latino neighborhoods and directly campaigned to the voters there on messages about jobs and the economy, which are every bit as important to Latinos as they are to any other American, seem to have seen some payoff in the polls, Gardner didn't win a majority of the vote, of course,but he did much better among those voters than Mitt Romney did two years ago, when he got just 23% of the vote against the President's 71%, That suggests that Republicans can improve their numbers among this important voting group with the right message. Now, if they'd just get their heads straight on immigration reform, they might actually be able to help themselves nationwide among a group of voters that is just going to become more and more important in the future.