Latino Voters Overwhelmingly Favor Clinton Over Trump
Not surprisingly, Latino voters are heavily turned off by Donald Trump and seemingly quite eager to vote against him in the fall.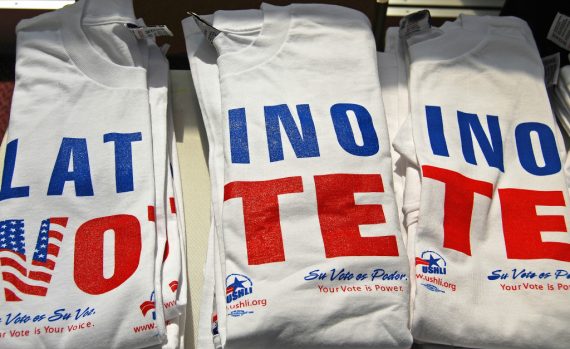 A new Fox News Latino poll shows Donald Trump getting absolutely trounced by Hillary Clinton among America's fastest growing minority group:
With less than four months to go before Election Day, Democratic presidential nominee Hillary Clinton holds a commanding 46-point lead over her Republican rival Donald Trump among Hispanic voters, according to an exclusive poll released Thursday by Fox News Latino.

The poll found that 66 percent of registered Latinos would head to the ballot box to vote for Clinton and her running mate, Virginia Sen. Tim Kaine, compared to only 20 percent who would pick the ticket of Trump and Indiana Gov. Mike Pence.

The gap between the two candidates widened 7 percent since May, when Clinton held a 39-point edge among Hispanics.

"The results are not that surprising given the reaction of Latinos to some of Trump's proposals," Alfonso Aguilar, the executive director of the Latino Partnership for Conservative Principles, told Fox News Latino.

The poll, which was conducted over the phone from August 7-10, surveyed 803 Latino registered voters and has a sampling error margin of plus or minus 3.5 percentage points. The poll was conducted under the direction of Anderson Robbins Research (D) and Shaw & Company Research (R).

When Libertarian candidate Gary Johnson and his running mate Bill Weld were added to the mix, 16 percent of Latinos said they would vote for the third party ticket — just 1 percent less than those who would vote for Trump and Pence. Clinton still easily secured 59 percent of the Hispanic vote when Johnson was factored in.

"I don't think Johnson will make much of a difference in these elections," Joe Trippi, a political strategist and frequent Fox News Channel contributor, told FNL. "He could syphon off Hispanics that don't want to vote for either Clinton or Trump, but not enough to make a difference either way."

The poll also found that Clinton outperformed Trump in a number of issues that are relevant to Latino voters. Hispanics are an important source of support for the Democrat, given that Latinos are among the fastest growing electorate in the country, and the expectation is that their numbers will grow only bigger in future decades

(…)

Hispanics overwhelmingly believe that the former secretary of state represents their views better than Trump (72 percent to 14 percent). They also trust her more than Trump when it comes to making decisions on education (73 to 19 percent), foreign policy (70 to 21 percent), health care (69 to 22 percent) and the economy (61 to 31 percent), among other issues.

On immigration, which has been one of the main points of contention between Trump and the Latino community, Hispanic voters believe that Clinton is better suited to take on the task of improving the country's immigration system by a whopping 52-point spread (71 to 19 percent).

(…)

Analysts on both sides of the political divide, however, warned that it is important to focus on the Hispanic vote beyond just the national level. With Latinos making up a high percentage in certain key battleground states – Colorado, Florida, Nevada and even Arizona, to name a few – the group could play an even more decisive role in determining who will be the next president.

"We have to see at a state level what these numbers look like, especially in key battleground states," Aguilar said. "Those numbers might be more telling."
None of this should be surprising, of course. Previous polling has shown that Latino voters have an overwhelmingly negative opinion of Donald Trump and that the majority of the group was starting to line up behind Hillary Clinton in order to prevent him from becoming President of the United States. Earlier this year, for example, we learned that Latino's who had previously delayed the process of becoming American citizens were applying for citizenship in near-record numbers so that they could have the right to vote against Trump in the fall.  Trump, meanwhile, has done seemingly everything possible to turn away this growing group of voters from the day his campaign started.
Trump began his campaign with insults directed at Mexican-Americans, a pledge to implement mass deportation of anyone not in the United States legally, pledges that he would use whatever means necessary to prevent American companies from moving manufacturing to nations such as Mexico and Central America (even though he has no legal authority to do so), he has attacked a U.S. District Court Judge and accused him of being biased against Trump University because of his Mexican heritage, and a promise to build a wall at the the U.S.-Mexican border, it isn't surprising that Latino voters would react negatively to Trump as the Republican nominee. Indeed, this negative reaction is something we've been aware of for the better part of the past years. Almost immediately after he entered the race, for example, Trump's statements about Latinos caused him to suffer losses to his business empire, including the end of a business relationship with Univision to broadcast the Miss Universe pageant, the decision by several top retailers to discontinue stocking Trump-branded clothing and other items, and even the decision of a Latino restaurateur in Washington, D.C. to break a contract with Trump to build a relationship to a open a restaurant in a new hotel in the nation's capital. It's resulted in negative comments from current and former members of the Mexican Government, and has generally been universally condemned by people of note in the Latino-American community ranging from politicians to entertainers. Given all of this, it's hardly surprising that Latino voters are turning against Trump in record numbers.
If the 20% support that Trump has from Latinos in this poll holds up, it will be the worst that any Republican has done among this group in the past forty-six years according to exit polls. For example, the Reagan/Bush ticket received 37% of the Latino vote in the 1980 election, and 34% in the 1984 election. In the 1988 election, George H.W. Bush received 30% of the Latino vote in 1988, and 25% in the 1992 Presidential election. Four years later in 1996, Bob Dole garnered 21% of the Latino vote even in a loss to Bill Clinton. In 2000, George W. Bush managed to reverse the decline in Republican share of the Latino vote that started with his father's re-election bid, grabbing 35% of the Latino vote in one of the closest elections in American history. Four years later, Bush garnered the highest percentage of the Latino vote ever received by a Republican since exit polls began measuring such things, picking up 44% of the Latino vote in his victory over John Kerry. In 2008, John McCain managed to grab 31% of the Latino vote, less than George W. Bush, but at least comparable to what Republicans were receiving in the Reagan years. Four years ago, though, Mitt Romney saw his share of the Latino vote slip to 27% no doubt largely due to the highly negative rhetoric regarding immigration that had plagued the race for the Republican nomination that year. Now, if this poll is any indication, Trump is likely to get a lower share of the Latino vote than any Republican since 1976, when Gerald Ford received 18% of the Latino vote at a time when that demographic group represented about 1% of the total electorate rather than the 8-10%, or more depending on which state you're in, of the electorate that it represents today.
All of this spells trouble for Trump in particular and Republicans in general in a whole host of states. In addition to it's Cuban-American population, for example, Florida is also home to a Puerto Rican population that seems especially turned off by Trump, including those Puerto Ricans who have moved to the Continental United States to escape the economic chaos of their homeland. Thanks to the fact they are already citizens, they will be able to vote in November, and do so in one of the most important Electoral College states on the map. In addition to Florida, Latino voters are also likely to have a real impact on the outcome of the vote in states ranging from Nevada and Arizona to Virginia and North Carolina, where they have become an increasingly important part of the electorate. And all of this is happening at precisely the time that Republicans have nominated the most anti-Latino nominee possible, Theoretically, it would be possible for Trump to still win the election even with the negative numbers he has among Latinos (and African-Americans), but that would require him to get a record share of the white vote for Republicans, something that the polls currently indicate is unlikely to happen. As always anything can happen between now and Election Day, but with these kind of numbers coming out of America's fastest growing minority group it's not looking good for the 'Trump Train' at all.