Latino Voters Really, Really Dislike Donald Trump
A new poll shows Donald Trump with historically low support for a Republican from Latino voters. That's a recipe for electoral disaster.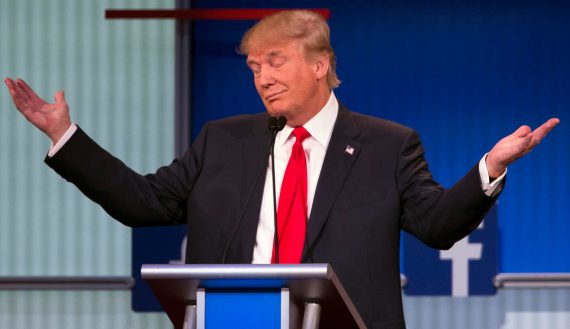 A new poll shows that Donald Trump is viewed overwhelmingly unfavorably by a voting group that is likely to be very important in several swing states that will decide the outcome of the 2016 General Election:
Donald Trump has used the issue of immigration to help make himself the front-runner for the Republican presidential nomination, but his harsh rhetoric also has earned him the highest negative ratings among Hispanic voters of any major GOP hopeful, according to a Washington Post-Univision News poll.

Among Democrats, front-runner Hillary Clinton holds a lead over Sen. Bernie Sanders (I-Vt.) of roughly 2 to 1 among Hispanics heading toward the Super Tuesday round of primaries and caucuses.

Clinton lost the Hispanic vote in last Saturday's Nevada caucuses by eight points, according to network entrance polling. The Post-Univision survey was conducted Feb. 11-18, before those caucuses took place. The poll was a joint effort of the independent firm Bendixen and Amandi International and the Tarrance Group, a Republican firm.

Hispanics clearly prefer the Democratic Party to the Republican Party overall and on a host of important issues, though the poll suggests most are not passionate about Democratic leadership or Obama's presidency.

Strongly negative views of Trump have intensified over the past seven months, as the New York billionaire has repeatedly pressed his call to build a wall along the length of the U.S.-Mexico border and seek to deport undocumented immigrants currently residing in the country.

Today, 8 in 10 Hispanic voters have an unfavorable view of Trump. That includes more than 7 in 10 who have a "very unfavorable" impression of him, which is more than double the percentage of any other major candidate.

Those findings compare with a Univision survey taken around the time of Trump's announcement last summer, when just more than 7 in 10 had a negative view of him and fewer than 6 in 10 said they had a "very unfavorable" impression.

Should Trump become the Republican nominee, his current low standing among Hispanic voters could jeopardize the party's hopes of winning the general election in November. In current matchups with Democratic front-runner Hillary Clinton, Trump scores worse among Hispanics than any of the three other leading Republican candidates — Florida Sen. Marco Rubio, Texas Sen. Ted Cruz and Ohio Gov. John Kasich.

The Post-Univision survey tested those four GOP candidates against Clinton and against Sanders. While all trail badly among Hispanics at this point, Trump does the worst — losing the Hispanic vote to Clinton by 73 to 16 percent. That 57-point gap is little changed from a 54-point deficit recorded last June, but is significantly wider than the 44-point margin by which former Republican presidential candidate Mitt Romney lost Hispanics four years ago and bigger than in any presidential exit poll since the 1970s.

Meanwhile, Clinton leads Rubio by 30 points, Cruz by 38 and Kasich by 43. Matched against Sanders, Trump trails by 56 points. Rubio trails Sanders by 24 points, Cruz by 33 and Kasich by 37.

Republican efforts to win a general election hinge in part on whether the party's nominee can attract a larger share of the Hispanic vote. The alternative is to find additional support among white voters to offset expected losses among Hispanic voters.

The Republican Party and other candidates for the nomination have escaped significant collateral damage from Trump's candidacy thus far. More than 6 in 10 Hispanic voters said Trump's views on immigration are not representative of the Republican Party overall.
Trump also trails badly among Hispanic voters who lean Republican, suggesting that such voters may stay home or even vote for the Democratic nominee if he were at the top of the Republican ticket:
Trump's weaker support against Democrats in general election matchups spans demographic groups but is sharpest among Republican-leaning Hispanics. In a matchup with Clinton, 88 percent of Republican-leaning Hispanics said they would support Rubio and 80 percent would support Cruz, but only 59 percent would support Trump against Clinton
These numbers stand in contrast to the bragadocious claims that Trump has made since his campaign started that he would win the Latino vote in a General Election notwithstanding his comments about Mexican rapists and his promises to round up undocumented immigrants for deportation should he become President. They also stand in contrast to the reports that Trump apparently won the Latino vote among Republican caucus goers in Nevada, with some reports saying he won as much as 44 percent of that vote according the Entrance Polling taken as people were entering the caucus on Tuesday evening. Not surprisingly, Trump is highlighting that number, but there is much less there than meets the eye. For one thing, entrance polling is still a relatively new concept in polling and it's especially unclear in a caucus situation if it ends up accurately reflecting the outcome of a vote. This is especially true when dealing with small subgroups of the larger population of voters, which is a very apt description of Republican-leaning Latino voters in Nevada:
Nevada has a large Latino population, a substantial share of which is undocumented. Among those who are citizens and eligible to vote, the vast — and we really do mean very, very vast — majority of these Latino voters tend to cast ballots for Democrats. In fact, in 2008, President Obama won the Latino vote there 76 percent to 22 percent. He won it by nearly 50 points in 2012. And even that might undersell how much Nevada Latinos lean left.

So, like any election, only some share of this small share of the Latino electorate showed up and participated in the Wednesday Republican caucus to begin with. And, of those who did, Edison's resources and plans allowed them to check with with a grand total of 100 — that is right, 100 — Latino Republican voters inside of a very limited number of precincts around the state, before these individuals went in and cast a vote.

In other words, this survey has a really big margin of error – about plus or minus 10 percentage points. That means that Trump may have earned as little as 34 percent (still a sizable number) of the Republican Latino vote in Nevada or as much as 54 percent. And, as any third-grader can tell you, that's quite a range.

As one Latino voting expert The Fix checked with Wednesday morning put it, "I would be exceedingly careful about reading too much into that 44 percent."
In other words, as Aaron Rupar explains it, the vast majority of Latino voters in Nevada are Democrats or Democratic-leaning independents who will end up voting for the Democratic candidate in the General Election. Given that, the population of Latinos that were inclined to go to a Republican caucus are not really representative of their community to begin with and it would be utterly improper to draw any kind of conclusions from a potentially flawed "Entrance Poll" to begin with. If you're looking for an indication of where Latino voters are headed in 2016, it's far better to look to the poll cited above that shows that nominating Trump would likely be suicidal for Republicans when it comes to attracting Latino voters in the General Election.
Losing the Latino vote by the numbers that are suggested in the Clinton-Trump head-to-head matchup in the Univision poll, 73% to 16%, would likely mean that it would be next to impossible for Republicans to win the Presidency in 2016. As it is, exit polls indicated that Mitt Romney garnered 27% of the Latino vote four years ago and ended up losing the election by some five million votes and 126 Electoral Votes. The exit polls from the 2008 election show John McCain did better than Romney, winning 31% of the Latino vote, and yet he too ended up losing by some ten million votes and nearly 200 Electoral Votes. If Trump does become the Republican nominee and this 16% number is even close to being accurate then the GOP would be headed toward Electoral College disaster. Republicans could forget, for example, about winning a state like Florida, which alone would mean that the probability of getting to 270 Electoral Votes would become incredibly low. That low a share of the Latino vote could also put states such as North Carolina, which Mitt Romney won in 2012, in jeopardy, as well as having an impact on Senate races in states such as Florida, Colorado, which some Republicans hope they could flip in the upcoming election, and Nevada, where the GOP is hoping to win an open seat election created by the impending retirement of Harry Reid. Thanks to the way Congressional Districts are drawn, there's likely to be less of an impact on the makeup of the House of Representatives but the possibility of the GOP losing a handful of seats there thanks to an energized anti-Trump Latino vote shouldn't be discounted. In other words, nominating Donald Trump would most likely be an Electoral disaster for Republicans. And yet the prospect that this is what will happen is becoming more likely by the day.