Latinos Are Becoming Citizens For The Chance To Vote Against Donald Trump
Donald Trump is motivating people! The problem for Republicans is that he's motivating them to become citizens so they can vote against him and, potentially, other Republicans.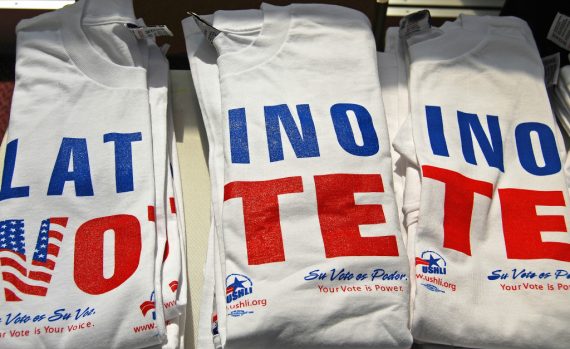 The New York Times reports that Latinos who have been happy to maintain their status as legal resident aliens for some time are taking the steps necessary to become citizens, and that many of them are apparently motivated to do o by the chance to vote against Donald Trump:
Donald J. Trump's harsh campaign rhetoric against Mexican immigrants has helped him win a substantial delegate lead in the Republican primary, but it is also mobilizing a different set of likely voters — six of them alone in the family of Hortensia Villegas.

A legal immigrant from Mexico, Ms. Villegas is a mother of two who has been living in the United States for nearly a decade but never felt compelled to become a citizen. But as Mr. Trump has surged toward the Republican nomination, Ms. Villegas — along with her sister, her parents and her husband's parents — has joined a rush by many Latino immigrants to naturalize in time to vote in November.

"I want to vote so Donald Trump won't win," said Ms. Villegas, 32, one of several hundred legal residents, mostly Mexicans, who crowded one recent Saturday into a Denver union hall. Volunteers helped them fill out applications for citizenship, which this year are taking about five months for federal officials to approve. "He doesn't like us," she said

Over all, naturalization applications increased by 11 percent in the 2015 fiscal year over the year before, and jumped 14 percent during the six months ending in January, according to federal figures. The pace is picking up by the week, advocates say, and they estimate applications could approach 1 million in 2016, about 200,000 more than the average in recent years.

While naturalizations generally rise during presidential election years, Mr. Trump provided an extra boost this year. He kicked off his campaign in June describing Mexicans as drug-traffickers and rapists. His pledge to build a border wall and make Mexico pay for it has been a regular applause line. He has vowed to create a deportation force to expel the estimated 11 million immigrants here illegally, evoking mass roundups of the 1950s.

Among 8.8 million legal residents eligible to naturalize, about 2.7 million are Mexicans, the largest national group, federal figures show. But after decades of low naturalization rates, only 36 percent of eligible Mexicans have become citizens, while 68 percent of all other immigrants have done so, according to the Pew Research Center.

"A lot of people are opening their eyes because of all the negative stuff Donald Trump has brought," said Ms. Villegas's husband, Miguel Garfío, 30, who was born and raised in Colorado and came to the workshop here to help his wife and other family members become citizens this year. His parents came from Mexico in the 1980s and worked hard all their lives, he said, helping him create a construction company in Denver that now employs 18 people. Contrary to Mr. Trump's depiction, he said, none of his relatives have criminal records.

This year immigrants seeking to become citizens can find extra help from nonprofit groups and even from the White House. Last September, President Obama launched a national campaign to galvanize legal residents to take the step. They can now pay the fee, $680, with a credit card, and practice the civics test online. They can get applications at "citizenship corners" in public libraries in many states.

The White House recruited Fernando Valenzuela, the legendary Mexican-born pitcher who naturalized only last year, and José Andrés, the Spanish-American chef, to make encouraging advertisements and to turn up at swearing-in ceremonies. On Presidents' Day, administration officials swore in more than 20,000 new citizens. On Wednesday the administration announced $10 million in grants to groups guiding immigrants through the process.

The majority of Latinos are Democrats, and some Republicans accuse the White House of leading a thinly veiled effort to expand the ranks of the president's party. But administration officials argue the campaign is nonpartisan, noting that immigrants who become citizens improve their incomes and chances for homeownership.

"I certainly don't care what party they register with, I just want them to become citizens," said Leon Rodriguez, director of United States Citizenship and Immigration Services, the federal agency in charge of naturalizations.

Aside from Colorado, naturalization drives are taking place in Nevada and Florida, states likely to be fiercely contested in November where Latino voters could provide a crucial margin. One nonprofit group, the New Americans Campaign, plans to complete 1,500 applications at a session in Marlins Park baseball stadium in Miami on March 19.

Among the groups the White House is supporting are immigrant rights organizations and labor unions, which say their goal in holding dozens of citizenship workshops this spring is to build immigrant voting power. They want to boost support for legislation creating a path to citizenship for undocumented immigrants, which Mr. Obama has long promised but has never been able to push through Congress. Recently naturalized immigrants, after all the effort they must make, are more likely to vote than longtime citizens.

"People who are eligible are really feeling the urgency to get out there," said Tara Raghuveer, deputy director of the National Partnership for New Americans, a coalition that helped put on the workshop in Denver. "They are worried by the prospect that someone who is running for president has said hateful things."

Mr. Trump says he is confident his immigration plans will not hurt him among Latinos, because he has employed many thousands of them over the years in his hotels and other properties.

"They're incredible people," he said in the Republican debate in Houston on February 26. "I'm just telling you that I will do really well with Hispanics."

But in a poll of Latino voters on Feb. 25 by the Washington Post and Univision, the Spanish language television network, 80 percent had an unfavorable view of Mr. Trump, including 72 percent with a very unfavorable view, far more than for other Republican candidates. In the poll, 74 percent of the voters said Mr. Trump's views on immigration were "offensive."
It's impossible to say, of course, that Donald Trump, his position on immigration, and his comments about Mexicans and other immigrants are necessarily solely responsible for the increase in citizenship applications and many of the tales related by the Times are purely anecdotal, there does seem to be some correlation between the increase and the controversies that Donald Trump has unleashed over the eight months that he's been a candidate for President. One reason for this may be the fact that Trump and his anti-immigrant rhetoric have been a very frequent topic in the news and other talk programming on both Telemundo and Univision, the principal Spanish-language television networks in the United States, as well a on Spanish language radio stations. The Trump campaign's rhetoric, including his promise to build a border wall that Mexico will pay for, most notably from former Mexican President Vinencte Fox as well as current Mexican President Enrique Pena Nieto who has recently commented that Trump's rhetoric threatens to harm America's relationship with Mexico. Given the fact that Trump has announced support for policies that would discriminate against Mexicans and other Latinos as well as threaten the entire structure of the two decade old North Atlantic Free Trade Agreement, it's not surprising that Mexican government officials would react this way and that it would have an impact on Mexicans living in the United States legally who have not taken the final steps toward citizenship.
Leaving aside the issue of the citizenship application surge, the issue that this all ultimately raises is what impact this will have on the Latino vote overall in the 2016 election. After seeing Latino's support George W. Bush in record numbers in 2004, with 44% of Latinos voting for the incumbent Republican in that election, Republicans saw their party's support among this growing demographic block fall to 31% in 2008, and then fall even further to 27% in the 2012 elections. Given the extent to which Trump has pushed Republican rhetoric on immigration and other issues of concern to Latino voters even further to the right than they were in 2012, it seems probable that the GOP share of the Latino vote will be even lower this year than it was four years ago, a prospect which makes winning the states the GOP needs to win to get to 270 Electoral Votes even more difficult than it already appears to be. Perhaps the only chance the GOP has to avoid that fate would be to nominate someone like Marco Rubio who has actually tried to reach out to Latino communities, but even Rubio has been forced by the GOP base to renounce his support for common sense immigration reform and compete with Ted Cruz and others for the title of who would deport people faster. Given that, even if Rubio could get beyond the fact that he has demonstrated a singular inability to win any primary of consequence to date, it's unclear that he would change the GOP's fate with Latino voters very much at all.
What all this suggests, of course, is that the Trump campaign is likely to have caused irreparable damage to the GOP in the minds of Latino voters, and if that's true then Republicans could find themselves having increasingly difficult election problems not just in 2016 but in the years that follow.