Republicans, The Latino Vote, And Immigration
Republicans are going to get trounced among Latino voters tomorrow, and they only have themselves to blame.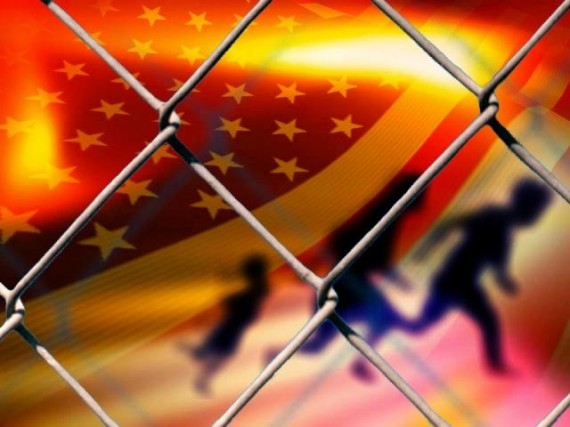 For the past several months, I've been chronicling here at OTB the absolutely dismal performance of Mitt Romney, and Republicans in general, among Latino voters. Far from the days, when George W. Bush garnered 44% of the Latino vote, or even 2008 when John McCain garnered 31%, the numbers we've been seeing this year for Republicans have been positively abysmal. A poll in June found Romney getting only 25% of Latino voters, while the President got 66%. A June poll put Romney's level of support as low as a pathetically abysmal 22%.  Two polls in August put Romney's numbers at 28% and 26% respectfully, slightly better than the low numbers of the early summer. However, by October, things had gotten worse. In that month, three polls showed Romney's level of support among likely Latino voters at 21%, 21%, and 25% respectively. Today, Latino Decisions is out with its final Tracking Poll of likely Latino voters and, once again, it's bad news for Mitt Romney:
During the course of the 11 weeks of tracking, there have been fluctuations in Obama's favorability and attitudes about key issues among Latinos, but overall results indicate the President has retained consistent support and Latinos report they are likely to turn out in record numbers.

Sixteen percent of respondents indicated that they had already voted early, with another 73% saying they were certain to vote, reflecting increasing levels of enthusiasm over the course of this poll.

The President's support continued its steady climb with 64% saying they are certain to vote for him on election day and another 8% leaning towards him. Romney's supporters also remained consistent, but overall he was unable to make significant inroads with Latino voters. Week 11 polling found 22% said they were certain to or might vote for Romney, compared to 24% during Week 1 polling.

Among likely Latino voters, those with consistent vote history or have already voted, 73% say they plan to vote for Obama compared to 24% for Romney and 3% undecided.  If Obama wins 73% or higher of the Latino vote, it would eclipse the 72% won by Bill Clintonin his landslide re-election in 1996, and mark the highest total ever for a Democratic presidential candidate.
More importantly, though, there appears to be an indication that Latino voters have become more enthusiastic about their vote than polls earlier in this election cycle have reflected:
"Voter enthusiasm in this election has increased significantly which is extremely encouraging" said Monica Lozano, CEO of impreMedia. "All indications are that Latinos are motivated and will turn out in record numbers proving once again that this electorate is critical for any national candidate to win."

Among likely voters, 55% say they are more enthusiastic about voting in 2012 than in 2008, with only 22% saying they were more enthusiastic in 2008.  In looking to the Tuesday election, 74% of likely Latino voters say they are "very enthusiastic."
As I've noted before, the biggest caveat about the Latino vote and the Democratic advantage that has developed in that area this year is the fact that voter turnout among this group has been lower than pretty much all other ethnic and racial groups. The fact that the President has a huge advantage among Latinos doesn't help him very much if the voters don't turn out to cast their ballots, especially in states where they have  a potential to make a difference. In recent polling, though, we've seen signs that Latinos have become more enthusiastic about voting this year, an indication that Latino turnout will be high enough to make a difference.
One of the states where this Democratic advantage is likely to make a difference is in Nevada, where Latinos make up some 26% of the population. There are many who believe that it was Harry Reid's ability to rally the Latino vote, and Sharron Angle's dumb statements about Latinos during the closing week of that campaign, that ended up winning the race for Reid. Something similar seems to be happening this year, with the President pulling ahead with a narrow but increasingly comfortable lead and where the Democrats appear to have done very well in the Early Voting battle.  Other states where the Latino vote has a potential to have an impact include Colorado and Virginia, both of which are swing states where the polls remain close enough that a significant advantage in a small demographic group could make a big difference.
The reasons for the collapse in Latino support for the GOP aren't really all that hard to figure out. Indeed, as previously indicated, Bill Clinton garnered 72% of the Latino vote back in 1996. However, after George Bush was able to revive Republican fortunes by getting 38% of the Latino vote in 2000 and, as I noted above, 44% in 2004, there were at least some Republicans who hoped that the party was finally making in roads among America's fastest growing minority group. Then the debate over Immigration Reform began in Bush's Second Term and conservatives dragged the party further to the right on this issue than it has ever been before, further right than even Ronald Reagan was. More recently, they've rejected any chance that they'd support anything like The DREAM Act, which remains highly popular among both Latino voters specifically and Americans in general and instead supported measures such as Arizona's controversial SB 1070 immigration bill. Some Republicans, such as Jeb Bush and Marco Rubio, have tried to warn their party about the consequences of these positions but they've largely been ignored. Now, if Romney ends up losing, there are many in the party who are going to point to immigration as a major reason why it happened:
As early as September 2011, when Romney was running to Rick Perry's right on immigration — Romney's most memorable line on the subject was that illegal immigrants should choose to "self-deport" to their native countries — Republicans privately fretted that Romney was digging himself a demographic hole.

They were right: Romney's likely to lose Latinos by a wider gap than McCain's 36-point margin of defeat. That could push states like Nevada, Virginia, Florida and Colorado into Obama's column, and if Obama wins just a few of those battlegrounds, it will be exceptionally difficult for Romney to win nationally.

Should that scenario come to pass, Republican elites — who have long feared confinement to an aging and white voter base — will be ringing the alarm bells Wednesday morning. Some party leaders haven't waited until after Election Day to raise the hue and cry.

In an interview with New York magazine, former Florida Gov. Jeb Bush compared the party's predicament with Latinos to Monty Python's hapless Black Knight: "We're competing with ninjas, you know, guys with big, sharp knives, and we have no weapon, and we're playing like we're fighting them, and we get an arm cut off — 'Oh, it's just a flesh wound' — and we're down to the trunk.
My personal guess is that Bush's warnings are likely to fall on deaf ears, at least among the conservative base and the activists. The anti-immigration rhetoric, and that's exactly what it is, is quite simply too ingrained in that sector of the party. If the GOP is going to start coming to its sense on immigration, it's going to take the leadership — the Senators, the Governors, and the House Leadership — coming to their senses and realizing that alienating a group that constitutes 16%, and growing, of the population is a recipe for failure.