Obama Leads Romney 70% To 22% Among Latino Voters
Another poll demonstrates the serious problems that the GOP has with Latino voters.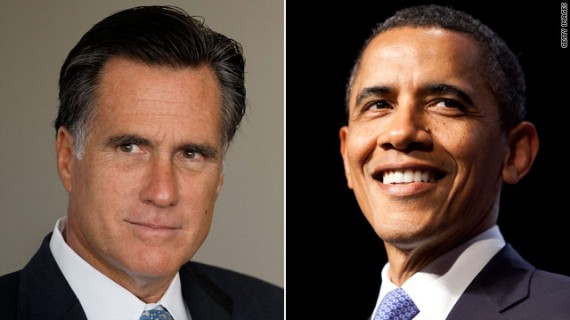 A new Latino Decision Poll shows President Obama leading Mitt Romney among Latino by a greater margin than he won the group in 2008:
Latino Decisions released new national poll of Latino registered voters showing Barack Obama winning 70% of the Latino vote compared to 22% for Mitt Romney.  The poll, commissioned by the Center for American Progress Action Fund and America's Voice,  illustrates an increase in support for President Obama, and comes after a month of outreach to Latino voters, starting with the June 15 Dream announcement, appearances by the President and Vice President at NALEO and NCLR conferences, and comments opposing Arizona's SB1070 immigration law.  This poll marks the first time Obama has received 70% of the vote in Latino Decisions polling on the presidential election over the past 20 months.

Obama maintains a substantial lead over Romney within nearly all segments of the Latino electorate.  Among foreign-born, naturalized citizens Obama leads 72% to 19% and among U.S.-born Latinos he leads 69% to 25%.  Similarly, Obama polls ahead of Romney by a large margin, 76% to 15% among Spanish dominant Latinos, and also has a healthy lead of 66% to 28% from English dominant.  Two concerns for Romney may that 13% of self-identified Latino Republicans say they will cross-over and vote for Obama and 60% of Independents plan to vote for Obama.  In contrast only 2% of Democrats say they plan to vote for Romney.
None of this is new, of course, the GOP's problems with the Latino vote are something we're written about here at OTB several times now, and this chart demonstrates the tremendous gap that has opened up between the parties among an ethnic group that George W. Bush nearly won in 2004: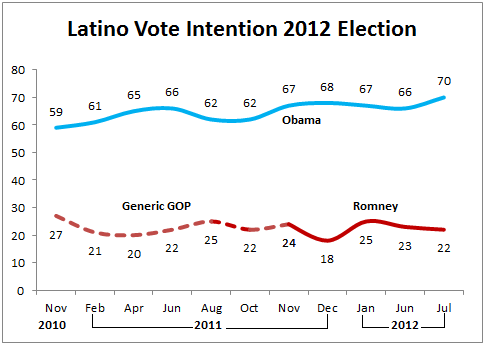 It's worth noting that the sponsors of the poll are both groups on the left side of the spectrum, and that there is always a problem with polling discrete ethnic groups in this manner. However, this poll does seem to have better methodology than others that we have seen:
Latino Decisions interviewed 504 Latino registered voters between July 7-16, 2012 using live telephone callers, sampled across all 50 states, and the Latino population in our sample is proportionate to the actual Latino population across all states. A mix of landline and cell phone-only households were called, and up to 5 attempts were made per number. Latino respondents had the opportunity to complete the survey in either English or Spanish, using fully bilingual callers, and overall 39% of Latinos chose to complete the survey in Spanish.  Overall, the sample has a margin of error of +/- 4.4%.
So there appears to be some reliability to these numbers and, if they are even close to being true, then the GOP has potentially serious problems in swing states like Nevada, Colorado, and Virginia. The one caveat here is that voter participation among Latinos has historically been lower than it is for other ethnic groups, but the Obama campaign will no doubt be doing much outreach in the Latino community to get as many people to the polls as possible in those swing states I mentioned. More broadly, given the gap and the fact, reflected in the chart above, that the "Latino Gap" seems to be a fixed thing, it seems unlikely that Romney can do much of anything to turn this around before November notwithstanding the urging from people like Jeb Bush and Senator Marco Rubio that they do so.
You can't say, though, that the campaign isn't trying, as a new ad featuring one of Romney's sons attests:
That's the beginning of the latest Spanish language television ad from presumptive GOP nominee Mitt Romney, who uses his youngest son to highlight his family's roots in Mexico.

Last week the campaign released another Spanish spot featuring Craig, who is fluent in Spanish, encouraging Latino voters to "get to know" his dad. The campaign said Wednesday's spot is their ninth Spanish language spot since January.

In the spot released Wednesday, called "Nation of Immigrants," Craig says his dad "values very much that we are a nation of immigrants."

He continued, "My grandfather George was born in Mexico. For our family the greatness of the United States is how we respect and help each other, regardless of where we come from. As President, my father will work on a permanent solution to the immigration system, working with leaders of both parties."

George Romney, who served as governor of Michigan from 1963-1969 and ran for the GOP presidential nomination ahead of the 1968 election, was born in Mexico to a Mormon family that fled from religious persecution in the United States. When the Mexican Revolution broke out, George Romney's family moved back to the United States.

Mitt Romney has largely avoided using his connection to Mexico in the 2012 presidential race, though he did make brief mentions of his father during campaign stops in Florida ahead of the state's January primary.
I seriously doubt that a few Spanish language ads featuring a Romney son and emphasizing the Mexican roots of George Romney, who's been dead for a decade, are going to change many minds in the Latino community, especially when the Obama campaign will likely be running ads featuring the statements that Romney made about immigration during the Republican primary race when he talked about things like voluntary deportation and came out emphatically against the DREAM Act, which is highly popular in the Latino community. If Romney had some of the same immigration positions he did before he started running for President, when he was much more open to immigration reform and even citizenship for illegal immigrants then he wouldn't have this problem. Of course, if he did he probably wouldn't have won the Republican nomination, would he?