Mitt Romney In 2007: Citizenship For Illegal Immigrants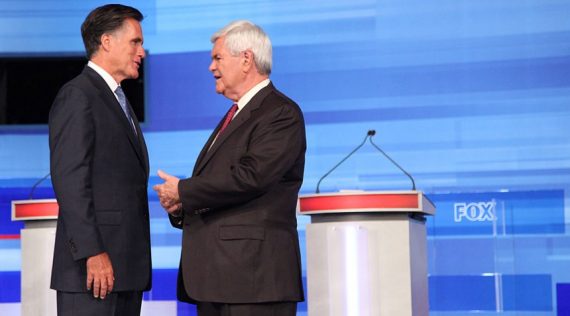 In an obvious, and I must say well-played effort to push back against the criticism he's getting over his immigration comments last night, the Newt Gingrich campaign is sending around this video of Mitt Romney in December 2007 where he appears to endorse the idea of a path to citizenship for illegal immigrants:
The Romney campaign is pushing back on its own with a citation to the full context of what Romney said that day on Meet The Press:
My own view is, consistent with what you saw in the Lowell Sun, that those people who had come here illegally and are in this country, the 12 million or so that are here illegally, should be able to sign up for permanent residency or citizenship, but they should not be given a special pathway, a special guarantee that all of them get to stay here for the rest of their lives merely by virtue of having come here illegally, and that, I think, is the great flaw in the final bill that came forward from the Senate.
So the context of Romney's quote is that he isn't in favor of a "special pathway" for illegals to obtain citizenship, but he also seems to be making clear that, at least in 2007, he didn't favor deportation or massive crackdowns against said immigrants. So, it seems like he's actually saying here that he kind of agrees with the position that Gingrich was taking last night.
Chris Good tries to summarize where this leaves us:
1) Newt Gingrich opposes "amnesty" for illegal immigrants, but he says there should be exceptions. Specifically, Gingrich holds that any "reasonable person" would be hard pressed to tell a taxpaying constituent of 25 years that he has to leave his family and return to the country of his birth, after coming here illegally long ago and becoming a productive member of American society.

2) Mitt Romney opposes "amnesty" for illegal immigrants, and he says Gingrich's idea of allowing exceptions would incentivize foreign nationals to come to the U.S. illegally.

3) Newt Gingrich opposes Mitt Romney's 2007 opinion that illegal residents should be able to sign up for permanent residency or citizenship.

4) Mitt Romney also said in 2007 that he did not believe in a "pathway" to citizenship for illegal residents or a "special guarantee" as part of that sign-up process.
Seems as clear as mud to me, but it might just be enough for Gingrich to blunt any attacks that Romney will try to make based on last night's exchange. Expect this one to come up at the next debate ( which will be held on December 10th in Iowa) and, most likely, to be the subject of a commercial or two before then.