Newt Gingrich On Immigration: A Perry Moment?
Newt Gingrich spoke some truth on immigration last night, and that might hurt him with Republican voters.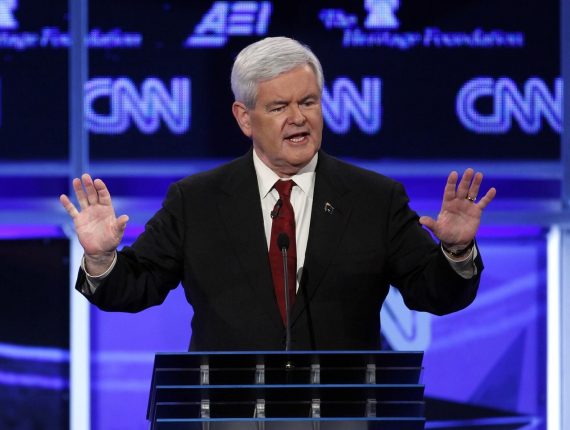 As James Joyner already noted in his wrap-up of last night's Republican Foreign Policy Debate, one of the major eyebrow raising moments came toward the end of the two-hour affair when the subject of immigration came up and Newt Gingrich, the putative frontrunner, went off the conservative ranch:
Did Newt Gingrich have a "heartless" moment on Tuesday night?

In a September debate, Rick Perry, the governor of Texas, drew a furious response from conservatives in his party when he said critics of in-state tuition for illegal immigrants "did not have a heart." The response halted Mr. Perry's momentum amid charges from rivals that he was too soft on the issue of immigration for the party faithful.

Now, Mr. Gingrich — the newest leader in the national polls — has embraced a similar apostasy: the idea that the country should find a way to make many millions of illegal immigrants legal.

"There's a way to ultimately end up with a country where there's no more illegality, but you haven't automatically given amnesty to anyone," Mr. Gingrich said, citing a program from the Vernon K. Krieble Foundation.

That was enough for Mr. Gingrich's rivals to pounce. Mitt Romney, the former governor of Massachusetts, refused to allow Mr. Gingrich to claim that his suggestion was different than amnesty.

"If people who come here illegally are going to get to stay illegally for the rest of their life, that's going to only encourage more people to come here illegally," Mr. Romney said.

Representative Michele Bachmann of Minnestota agreed with Mr. Romney. "I don't agree that you would make 11 million workers legal, because that in effect is amnesty," she said.

Mr. Gingrich responded by pressing his case that the country — and the Republican party — would not be served by forcing the exile of immigrants who had been in the country for years, paying taxes and staying out of legal trouble.

"I don't see how the party that says it's the party of the family is going to adopt an immigration policy which destroys families that have been here a quarter century," Mr. Gingrich said during the debate. "And I'm prepared to take the heat for saying let's be humane in enforcing the law without giving them citizenship, but by finding a way to create legality so that they are not separated from their families."
It's worth watching the exchange in full:
Not surprisingly, the rival campaigns didn't stop their critiques of Gingrich's statements after the debate ended:
Before the candidates left the Washington debate stage, Michele Bachmann's campaign blasted out an email declaring that, while speaker, Gingrich "ultimately failed to secure the border or significantly staunch the flow of illegal immigrants into the United States. In fact, he helped legalize hundreds of thousands."

Bachmann spokeswoman Alice Stewart, in an interview following the debate, doubled down on that criticism.

"Speaker Gingrich [showed] he's wrong on the issue of immigration and amnesty's not the way to deal with it," she said. "Amnesty is certainly not the way to go about doing it."

An adviser to Mitt Romney, who has drilled Perry for weeks on immigration, said Gingrich did himself no favors, particularly in socially conservative Iowa, where the first caucuses will be held.

"Gingrich really hurt himself in Iowa on immigration," said Romney adviser Ron Kaufman.

Romney spokesman Eric Fehrnstrom also played up Gingrich's comments, seeking to draw a clear contrast between Gingrich and Romney.

"Mitt Romney is against amnesty, and Newt Gingrich made it very clear he supported amnesty," he said.
The obvious parallel that people are drawing this morning is to the moment in a September debate when Rick Perry referred to people who were opposed to the in-state tuition program that Texas had extended to illegal immigrants as "heartless," a moment that combined with all his other debate disasters likely led to his final fall from his brief run as a GOP frontrunner. Like Perry's position, of course, there isn't really anything wrong with what Gingrich said last night. Granting incentives to stay in school to students regardless of their immigration status is a good idea, not just for them but for the c0mmunity that they live in. Similarly, we're never going to deport people who've lived here for decades, having families, and are contributing to society no matter how much the most virulent anti-immigrant Republican might want to think we are. In that respect, Perry and Gingrich actually deserve some credit for speaking the truth here rather than pandering the way that Bachmann and Romney, and no doubt other candidates in the days to come, did in response to Gingrich.
Of course, that's what should happen. The question here, really, is what will happen. Gingrich's words are unlikely to play well among Republicans in Iowa and South Carolina, and that's the reason that Bachmann and Romney jumped on him so quickly last night, and the reason that the candidates went after Perry on the tuition thing in September. So, regardless of whether or not Gingrich is right here (and, may lightening strike me dead, but I agree with Gingrich on this one issue) he could still end up paying a political price for what he said.
Commentary's Jonathan Toobin expects Gingrich to suffer the same fate as Perry:
This is the same land mine that Rick Perry stepped on back in September when he was slaughtered by Romney and the other candidates for his willingness to give in-state university tuition discounts to the children of illegals. Perry never lived down his answer that those who opposed him "didn't have a heart." But by actually saying the dreaded "amnesty" word — albeit in the course of a typically professorial lecture about Ronald Reagan​'s own support for such a measure that Gingrich backed when he was in Congress — the former speaker actually went much deeper than Perry did.

Perry made sense on this issue, as did Gingrich tonight. But the consequences for Gingrich should be swift and severe. If Perry's heresy on immigration hurt him badly in Iowa, there's no reason to believe an even more extreme position by Gingrich will not turn his current high hopes in the Hawkeye state to dust.
Allahpundit, however isn't so sure:
What you're seeing here, in fact, is really just a rewrite of the latter's infamous point about heartlessness by a guy who's much slicker at debating. Neither one is endorsing citizenship for illegals, just greater integration of those who have been here long enough that uprooting them would cause great personal disruption. Gingrich's position is arguably more defensible than Perry's since he's not calling for any taxpayer subsidies; Perry's is arguably more defensible than Gingrich's since he's focused on kids who were brought here by their parents, not people who crossed the border illegally of their own volition. I think Newt's going to get away with this partly because of the difference in tone — his answer seems even milder than it is thanks to the standard set by Perry's "heartless" remark — and partly because, as we get closer to the general, the base will tolerate a bit more centrism on immigration in the name of wooing Hispanics in the general. We nominated McCain, didn't we?
Of course, as Conor Freidersdorf points out, the fact that we're talking about someone paying a political price for stating what in essence is little more than common sense says much about how screwed up the GOP has become on immigration issues:
[P]artisans have a tremendous capacity for cognitive dissonance, and many Republican partisans are powerfully attached to the idea that the rule of law demands the deportation of everyone who came here illegally. Those who have spent time reporting on the issue know what the grassroots would say to Gingrich: "What part of illegal don't you understand?" This is, after all, the same crowd that cheers when Herman Cain jokes about an electrified fence on the Mexican border, another policy proposal that they haven't thought through.

The ugliness is mostly rooted in failing to see that illegal immigrants aren't abstractions. They're people. Before damning the restrictionists who don't grasp this, a failure for which they ought to be faulted, remember that most of us are guilty of the same behavior, whether we're brooding about the vehicle ahead of us on the freeway, or cheering the drone strike that killed a terrorist and three unidentified persons, or insulting someone in an online comments section, or doing nothing for decades as prison inmates are raped and assaulted in state run institutions.

(…)

For obvious reasons, telling "deport 'em all" voters that they're thoughtless or cruel is counterproductive. They can't see it. They don't feel as though they're being cruel. Better to somehow convey, "It's people we're talking about!" and hope you get through. But doing so without offending is hard.

Gingrich would be a terrible president, but he deserves credit for trying, for saying what he knows to be true on this issue, even as Mitt Romney treats illegal immigrants as abstractions in order to compensate for his perceived squishyness on other issues. He is exploiting the abstractness.

It's ugly to watch.
Indeed, it is. As I've made clear here many times over the past two weeks or so, I am by no means a fan of Newt Gingrich. I consider him a consummate opportunist who switches policy positions as often as the rest of us switch lanes on the highway, but somehow manages to clothe all of it in an intellectual veneer that makes people think "wow doesn't he seem smart?" Like Conor, I think he'd make a crappy President and that anyone who supports limited government and supports him is fooling themselves. Nonetheless, he's mostly right here, just as Perry was mostly right about in-state tuition for illegal immigrants. The problem that the GOP has on immigration is that they don't see that these are people they're talking about, not just numbers or some faceless class called "illegals." Even when they laws they pass end up having disastrous impacts on the farming industry in states like Georgia and Alabama they still cling to the idea that they are somehow going to be able to pass some laws, put some agents on the border  (or maybe a moat filled with alligators and electrified fence if your name is Herman Cain) and everything will be fine. It won't, of course, but it makes for easy campaign rhetoric and the anti-immigrant voters in places like Iowa and South Carolina will eat it up. That may be smart politics, but it's lousy leadership.
I don't want Newt Gingrich to be President, I think the GOP would be foolish to nominate him, but if he ends up falling from his perch because he told the truth about immigration, that says a lot more about the Republican Party than it does Newt Gingrich.