Alabama Immigration Law Causing Produce To Rot In The Fields
Another case of the law of unintended consequences.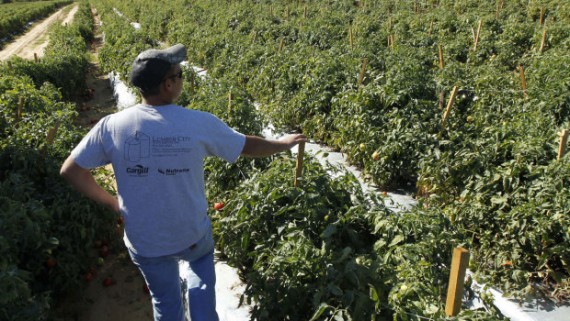 Alabama's tomato farmers are experiencing some of the same problems that Georgia farmers did earlier this year thanks to Alabama's tough new immigration law, but the author of the law says he's not willing to change it:
A sponsor of Alabama's tough new immigration law told desperate tomato farmers Monday that he won't change the law, even though they told him that their crops are rotting in the field and they are at risk of losing their farms.

Republican state Sen. Scott Beason of Gardendale met with about 50 growers, workers, brokers and business people Monday at a tomato packing shed on Chandler Mountain in northeast Alabama. They complained that the new law, which went into effect Thursday, scared off many of their migrant workers at harvest time.

"The tomatoes are rotting on the vine, and there is very little we can do," said Chad Smith, who farms tomatoes with his uncle, father and brother.

"My position is to stay with the law as it is," Beason told the farmers.

Beason helped write and sponsor a law the Legislature enacted in June to crack down on illegal immigration. It copied portions of laws enacted in Arizona, Georgia and other states, including allowing police to detain people indefinitely if they don't have legal status. Beason and other proponents said the law would help free up jobs for Alabamians in a state suffering through 9.9 percent unemployment.

The farmers said the some of their workers may have been in the country illegally, but they were the only ones willing to do the work.

"This law will be in effect this entire growing season," Beason told the farmers. He said he would talk to his congressman about the need for a federal temporary worker program that would help the farmers next season.

"There won't be no next growing season," farmer Wayne Smith said.

"Does America know how much this is going to affect them? They'll find out when they go to the grocery store. Prices on produce will double," he said.

Lana Boatwright said she and her husband had used the same crews for more than a decade, but only eight of the 48 workers they needed showed up after the law took effect.

"My husband and I take them to the grocery store at night and shop for them because they are afraid they will be arrested," she said.

Chad Smith said his family would normally have 12 trucks working the fields on Monday, but only had the workers for three. He estimated his family could lose up to $150,000 this season because of a lack of help to pick the crop.

"We will be lucky to be in business next year," he said.
At the end of the day, Smith was not at all pleased with Beason's response:
After talking with famers at the tomato shed, Beason visited the Smith family's farm. Leroy Smith, Chad Smith's father, challenged the senator to pick a bucket full of tomatoes and experience the labor-intensive work.

Beason declined but promised to see what could be done to help farmers while still trying to keep illegal immigrants out of Alabama.

Smith threw down the bucket he offered Beason and said, "There, I figured it would be like that."
Of course, it shouldn't be a surprise that Beason wasn't all that interested in picking tomatoes. As we learned yesterday, and as Georgia farmers learned earlier this year, picking vegetables simply isn't something that Americans are willing to do no matter what the wages might be. There's nothing wrong with that, really. Standing outside in the hot sun, bending over, and picking tomatoes, onions, or cabbage isn't fun to say the least and doing it for eight or nine hours a day, five or six days a week, is physically and mentally exhausting. There are people out there who are willing to do this work, though. So willing that they're willing to take the risks of immigrating and living under the radar just for the privilege of starting a life in the United States of America. The response of states like Alabama and Georgia, though, has been to respond to the xenophobia that lies beneath most anti-immigrant rhetoric and pass laws that chase these people out of their states, leaving the farming industry high and dry during a period is rough to begin with.
There is an alternative to all of this, and it involves creating the kind of Guest Worker program that President Bush was talking about when comprehensive immigration reform was last being debated in Congress. Such a program would allow farmers to have access to the labor that they need, and do so in an environment where the workers are here legally, and paying taxes, rather than forcing everyone to do business in the shadows and under the table. Unfortunately, the Republican shot down immigration reform back then, and any prospect of such reform being passed any time soon is pretty dim given the current climate inside the GOP on the issue. So, instead, we get stuff like this, and we get tomatoes rotting on the vine because of a stupid law passed in Montgomery. Maybe when people go to the grocery store and see prices increase yet again, they'll realize just how stupid laws like this are.