Alabama State Senators Refers to Blacks as "Aborigines"
Wearing a wire can come back to bite you.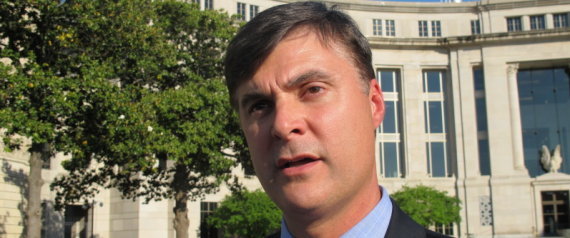 Alabama is currently going through a major federal corruption trial regarding alleged bribes offered to state legislators (four are on trial) by representatives of the state's gambling industry.  The overall issue of gambling in the state is an ongoing political battle.  The state has dog tracks and bingo halls, but the focus of late has been the question of electronic gaming machines.
Part of the investigation was conducted by witnesses wearing wires, including State Senator Scott Beason (R-Gardendale*).  Transcripts of Beason's wiretaps became of issue this week at at the trial in Montgomery.
Via the Birmingham News:  Alabama Senator Scott Beason, witness in State House vote-buying trial, grilled over 'aborigines' remark:
In one conversation, Beason and others discuss their fears that many black voters would turn up at the polls if a constitutional amendment on electronic bingo was placed on the ballot.

"Every black in this state will be bused to the polls," said a person who was not identified on the transcript.

Larry Dixon, who was a Republican state senator from Montgomery at the time, said the voters will be taken to the polls on "HUD-financed buses."

Beason responded, "That's right. That's right. This will be busing extra."

In another conversation, Beason and others are discussing the distressed economy of Greene County, home to Greenetrack.

"That's y'all's Indians," said former state Rep. Benjamin Lewis, R-Dothan.

"They're aborigines, but they're not Indians," Beason responded.
After the remarks became public, Beason claimed he didn't remember the conservations, and indeed, didn't know why he used the term (via the AP):
As a Republican state senator who secretly recorded conversations for the FBI testified Thursday that he couldn't explain why he called black customers of a casino "aborigines," Alabama's Democrat leader called for his resignation and the Republican Party chairman defended his reputation.

"I don't use that term normally. I don't know where it even came from that day," Sen. Scott Beason of Gardendale testified Thursday in federal court, where he is a key prosecution in a statehouse corruption case.
WSFA's Courtroom Chronicles blog adds:
When Segall asked Beason if he meant the people of Greene County were descendants of the Australian indigenous group when he used the word "aborigines." Beason said he didn't recall what he meant. When Segall asked him if he meant it in a derogatory, offensive way, Beason also responded that he couldn't recall what he meant by the remark.
This reminds me of when George Allen claimed he didn't know why he said "Macaca."   Although, I must confess, I do think it unlikely that he uses the word "aborigines" will great frequency, but if this is an example of self-censorship due to the presence of a wire, one does wonder, as defense attorney Bobby Segall asked during testimony over the transcripts: "What must you say, Senator Beason, when you don't know you are on tape?"
Yes, I do understand that of the things that one could say, this is hardly the worst one might conjure.  Still, there is something highly problematic about a politician, especially one from the deep South, finding it necessary to group black voters under a label that is clearly not intended to be a term of affection.  The entire tenor of the discussion comes across as condescending towards a segment of Alabama's citizenry because of the color of their skin.
And there is the irony, of course, that African-Americans are hardly aboriginal to the region (nor are Anglos for that matter) and that the ancestors of most of that segment of our populace hardly came here of their own volition.
Beyond demonstrating that race remains a factor in Alabama's politics, Beason actually helped the defense.  Beason has helped reinforce the notion, that is already part of the discussion in the state, that the heart of the gambling issues in this state is one about politics and, specifically one that targets poorer blacks in the state.  This is because many of the casinos that have been the focus of the ongoing controversy are in predominantly black counties and therefore hire predominantly black employees.
Indeed, Kyle Whitmire blogging at Second Front, makes the following point:  "Beason's testimony was supposed to be the opening chapter of the government's case, but instead, the defense has the beginning of a different narrative."
I think that providing an alternative narrative for the defense to use is likely what Beason has done.  Instead of a narrative about corrupt politicians (and who likes those?) the defense will likely try to weave a narrative about white Republicans trying to, yet again, stick it to black Democrats.  Indeed, it has allowed one of the defendants, State Senator Harri Anne Smith (I-Slocumb**) to call for Beason's resignation (in what comes across as a grandstanding move more than anything else).  The politico-racial angle was going to be an issue in any event, but it seems that Beason may have just help enhance it.
Some background on the trial:  Lawmakers, Casino Owners Face Corruption Charges.
___
*For those unfamiliar with the state, that's the Birmingham area.
**Smith was a Republican, but was booted from the party after she lost the nomination for the AL02 US House seat in 2008 and and ended up endorsing the Democrat (Bobby Bright) in the race.  Bright went on to win (but lost his re-election bid in 2010).  Smith was not allowed to run for the GOP's nomination because she endorsed a Democrat.  She went on to win re-election to her state Senate seat as an independent.