Republican Foreign Policy Debate Post-Mortem
I liveblogged and tweeted my instant, mostly snarky, reaction to the CNN foreign policy debate. Here are some more fully formed thoughts.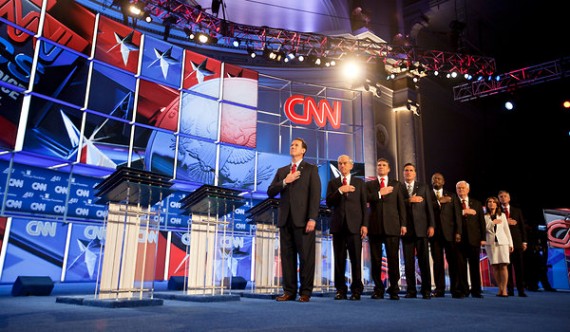 I liveblogged and tweeted my instant, mostly snarky, reaction to the CNN foreign policy debate. Below are some more fully formed thoughts.
It was the first of the debates this year that I actually watched a significant portion of; I generally read about them the next morning. While last night again vindicated that strategy, it also reaffirmed another truism: the media reports of an event I saw live invariably diverge considerably from my own impressions.
The New York Times, for example, thought Newt Gingrich was the main story ("Spirited Foreign Policy Debate Includes a Test of Gingrich's Rise"). My impression was that Gingrich disappeared for large segments of the debate (as did Mitt Romney).
The Republican presidential candidates highlighted their party's lack of a single national security vision a decade after the Sept. 11 attacks, differing on Tuesday night over the pace of withdrawal from Afghanistan, aid to Pakistan and, in an exchange that could resonate dangerously for Newt Gingrich, what to do with illegal immigrants in the United States.

Wading into treacherous territory in Republican primary politics just as he is climbing in polls, Mr. Gingrich said during a nationally televised debate that he would support allowing some illegal immigrants — those who had been in the country for decades, had paid taxes and had raised families here — to remain in the country. Mr. Gingrich, a former speaker of the House, warned that the party could not claim a family-friendly mantle if it was to "adopt an immigration policy which destroys families that have been here a quarter-century."

Similar comments by Gov. Rick Perry of Texas at a debate several weeks ago were viewed as hurting him greatly with many conservative voters, especially in Iowa, which is to hold the first nominating contest, on Jan. 3. This time, Mr. Gingrich decided to enter the fray.

"I'm prepared to take the heat," he said, "to say let's be humane in enforcing the law without giving them citizenship, but by finding a way to create legality so that they are not separated from their families."

Representative Michele Bachmann of Minnesota quickly challenged him, telling the debate moderator, Wolf Blitzer of CNN, "I think the speaker just said that that would make 11 people, 11 million people who are here illegally now, legal."

It was just one point of contention in a substantive debate that brought to the fore differences among the candidates on a variety of foreign policy issues, but it seemed to hold the most chance to affect the race at a moment when Mr. Gingrich has emerged as a leading challenger to former Gov. Mitt Romney of Massachusetts.
The Hill ("GOP debate: Gingrich divides himself from pack on immigration"), Politico ("GOP debate: Newt Gingrich beats back immigration critique"), and The Examiner ("Team Mitt slams Newt for endorsing 'amnesty'") all agreed that immigration was the big story.
Amusingly, while I live-snarked "Gingrich doesn't want to punish people who came here illegally as 3-year-olds. Bye-bye frontrunner status," I was just being facetious. In any case, since I see illegal immigration as mostly a domestic policy issue and only tangentially about our relationship with Mexico–and because this was ostensibly a national security debate–I really didn't think it was the big issue of the night. But for the 98 percent of the population who didn't see the debate–and the 98 percent of those who watched it who aren't foreign policy wonks–it probably is the story.
Otherwise, here are my impressions of the candidates from last night, in order of their current standing in the polls:
Newt Gingrich: He handled himself well but, as is his custom, came across as too wonkish. Several times, he referred to some policy document written by somebody or another and urged people to read it. Considering that I'm a policy wonk and had no idea what he was talking about, that struck me as a boneheaded strategy.
On immigration, he struck exactly the right tone, even if it's not one likely to be popular with wide swaths of the base. Even aside from humanity and decency, the practicalities of the matter require more than a reflexive "secure our borders!" mentality.
He also got off one of the best lines of the night, quite possibly off-the-cuff, in response to Ron Paul's declaration that the criminal justice system works just fine against terrorists, citing Timothy McVeigh: "Timothy McVeigh succeeded!" Now, it's a pander–the PATRIOT Act wouldn't have helped stop McVeigh, since we had no inkling what he was up to ahead of time–but a powerful one. Alas, Paul is much more right on this issue than Gingrich.
Mostly, though, his views were a combination of reliable tropes ("listen to the commanders on the ground") and bizarre notions seemingly concocted in a late-night bull session in the dorm. His notion that, if we were "serious," we'd throw everything we have into oil exploration so as to "collapse the global oil market," for example, seems right out of Dr. Strangelove. It's simultaneously fanciful and stupid.
And, while I agree with his general premise that law enforcement and war are played by different rulesets, his notion that those merely accused of terrorism automatically lose Constitutional protections is freakishly scary.
Mitt Romney: He reminded me last night why three quarters of Republicans are looking for somebody other than him to be our nominee. He comes across as a pander robot, programmed to spit out the answer most likely to please the audience within plus or minus 3 percentage points.
I simply can't believe a well-educated businessman and former Massachusetts governor holds the views he's espousing on illegal immigration, for example. Michele Bachmann? Absolutely. But Romney?
On Afghanistan, he's spouting the orthodoxy about 2014. I don't like it, but it's the safe position. Similarly, while I don't share his confidence that we can do much in the near term to bring "modernity" to Afghanistan and Pakistan, it's a conventional answer.
At one point in the debate, I tweeted, "Romney panders on Israel and Iran in one answer. Well played, sir." There was just too much of that for my tastes. I totally get it. He's the frontrunner and he's trying not to alienate anyone. Obama successfully did that last cycle–but he's simply better at sounding like he's giving a thoughtful answer that happens to be subject to interpretation by everyone as agreeing with exactly their position.
I still fully expect him to be the nominee because Gingrich will flame out; Cain, Perry, and Bachmann already have; and Huntsman's just not appealing to the base. And I'll almost certainly vote for him. He's bright, competent, and capable. But he's also a politician with a capital P.
Herman Cain: Easily my most re-tweeted snark of the night was, "I'm losing confidence in the notion that electing the former CEO of the 7th largest pizza chain as commander-in-chief is wise." This guy simply doesn't belong in a serious conversation about who should lead our nation. While Romney comes across as spitting out programmed answers, he at least seems to understand the questions. Cain? Not so much.
Rick Perry:  He's actually much more likable in long form than in sound bytes. Alas, he comes across as dumber than a bag of hammers.
At one point, he went on and on about the Monroe Doctrine and how we applied it during the Cold War. I have no idea what the hell he was trying to convey.
He also wants to cut off Iran's central bank from the world, something that successive administrations of both parties have resisted because the results would be catastrophic for the region and the people of Iran.
Ron Paul: Were I to walk across his lawn, I'm confident that he'd yell at me to get off it.
I like this guy's refreshing candor and willingness to reject orthodoxies. Alas, he's trapped in his own. As I noted last night, "Ron Paul's libertarian instincts that would keep us out of wars hit the rocks on such things as foreign aid."
I'm really quite sympathetic to the notions of minding our own damned business and that everything going on everywhere isn't a problem for the American military or the American taxpayer to fix. But, like it or not, we live in a highly interconnected world in which the United States has real interests in a lot of places. The notion that extreme poverty and rampant disease in Africa and South Asia has nothing to do with us and that it's not worth spending what amounts to a third decimal place rounding error in our defense budget to address them is just not serious.
Michele Bachmann and Rick Santorum: Jon Stewart did a segment after the last foreign policy debate noting that these guys came off as non-crazy, to his utter surprise. Then he noted that (as with Rick Perry and immigration) that it turns out that it's hard to be crazy when you actually understand the implications of the policy under discussion. This was reaffirmed last night. On all purely foreign policy questions, their answers were quite sober and thoughtful. Bachmann called Perry's answer to a question on AfPak "naive."
At one point, Bachmann blamed Obama for the United States' failure to achieve energy independence. Which, as I noted last night, every American president has avoided achieving that goal going back to 1973.
Jon Huntsman: I came into the debate hoping against hope that he could somehow elevate himself into serious contender status. Alas, he didn't. He knows his stuff on almost all the issues but, despite having gotten himself elected governor of Utah twice, seems not to have developed the ability to give political speeches. Instead, he answers questions pretty much as I would, as a policy wonk trying to convey the complexities of the situation rather than as someone trying to persuade voters that he should be the guy in charge. They're two very different things.