Latino Voters Really Don't Like Donald Trump, And That's Hurting The GOP As A Whole
Another poll shows that Latino voters are set to reject Donald Trump in record numbers, and now they're turning against the GOP.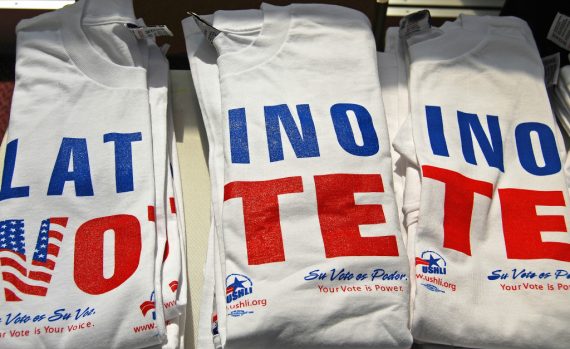 Another poll shows that Donald Trump is performing atrociously bad among Latino Voters, and that it's beginning to have a real impact on the Republican Party's relationship with Latino voters:
Donald Trump's speech on immigration this week — with its full blown xenophobia, its broad brush portrayal of undocumented immigrants as invaders and criminals, and its flat-out nixing of any meaningful path to assimilation — is the stuff of nightmares for GOP operatives who believe their party's perilous standing with Latinos has left it teetering on the edge of a demographic abyss.

A new poll of over 3,000 Latino voters just released today will not do much to assuage these fears.

The poll, which was commissioned by America's Voice and conducted by Latino Decisions, finds Hillary Clinton leading Donald Trump by 70-19 among Latinos. That's worse than Mitt Romney's 27 percent in 2012.

But buried in the crosstabs are these findings that suggest Trump may also be damaging the GOP's image among them pretty badly:

* Only 21 percent of Latinos say the Republican Party truly cares about the Latino community. (Forty five percent say the GOP doesn't care too much about them, and 28 percent say it is hostile to them, a total of 73 percent.) By contrast, 56 percent say the Democratic Party truly cares about them.

* 70 percent of Latinos say that Trump has made the Republican Party "more hostile" to them. By contrast, 58 percent of Latinos say Hillary Clinton has made the Democratic Party "more welcoming" to them.

* 68 percent of Latinos say Trump's views about immigrants and immigration make them less likely to vote for Republican candidates this November — with 58 percent saying those views have made them much less likely to do that. By contrast, 64 percent of Latinos say Clinton's views make them either much more likely (43) or somewhat more likely (21) to vote for Dem candidates.

* 63 percent of Latinos say Trump's opposition to Obama's executive deportation relief for DREAMers (Deferred Action for Childhood Arrivals) makes them less likely to vote for GOP candidates, with 53 percent saying they are much less likely.

* Latinos say they'll vote for Democrats on the generic ballot by 60-14.

There is also some evidence that Trump may be galvanizing Latinos to turn out. Seventy six percent of Latinos say it's more important to vote this year than it was in 2012, and of that group, a bare majority say this is because of the need to resist Trump and his views.

GOP consultant Ana Navarro emails that Trump could indeed be hurting the GOP long term:

"Trump's fate has been decided with Latinos. Put a fork in him, he's done. What we have to worry about now is that Trump does not do to the GOP nationally what Pete Wilson did to the GOP in California. He made the party brand less popular than Dengue Fever among Hispanics."
It's worth noting as a caveat that, as Greg Sargent does at the linked article, that the poll was commissioned by a pro-immigration group that is strongly opposed to Trump's candidacy and that it was conducted via a combination of telephone and online surveying. However, the numbers that we get from this poll are largely similar to other recent polling of Latino Voters on the Presidential race and their opinion of the Republican Party in general. Sargent, for example, points to a recent ABC News/Washington Post poll that 80% of Latinos view Trump unfavorably. Additionally, a recent Fox News Latino poll showed Clinton leading Trump among Latino Voters 66% to 20%. Additionally, previous polling has shown that Latino voters have an overwhelmingly negative opinion of Donald Trump and that the majority of the group was starting to line up behind Hillary Clinton in order to prevent him from becoming President of the United States. Earlier this year, for example, we learned that Latino's who had previously delayed the process of becoming American citizens were applying for citizenship in near-record numbers so that they could have the right to vote against Trump in the fall.  Trump, meanwhile, has done seemingly everything possible to turn away this growing group of voters from the day his campaign started.
As I've noted before, given the fact that such a large part of Trump's campaign rhetoric from the day that he entered the race has been to target Latino immigrants as dangerous criminals, law breakers, and threats to the American way of life, it's not surprising that Latino Voters as a whole would be reacting so negatively to him. Additionally, Trump's position on immigration, including not only the idea of a border wall but also the idea of more aggressive deportation practices targeted at people who are in the country illegally and the position that no person who is in the country without proper documentation will be allowed to apply for legal status without first leaving the country and applying for legal status at an American embassy or consulate in their home country, is completely antithetical to where polling shows most Latino Americans stand on the issue. Combine that with the fact that even Trump's Latino supporters seem to subscribe to an ideology that sees even legal immigration as a threat to American culture, and you've got a recipe for disaster for the Trump campaign. What ought to concern Republicans at this point, though, is that the nomination of Trump is, not surprisingly, turning Latinos against the GOP as a whole. While this may not be surprising, it is a change for just a few months ago when similar polling among Latino voters suggested that negative views of Trump were not impacting Latino opinion on the GOP as a whole. Now that he's at the top of the ticket officially they're taking it out on the GOP as a whole,, and that could have consequences that go far beyond the Trump candidacy.