Elizabeth Warren Takes A Big Step Toward Running For President
Begun, the 2020 campaign has.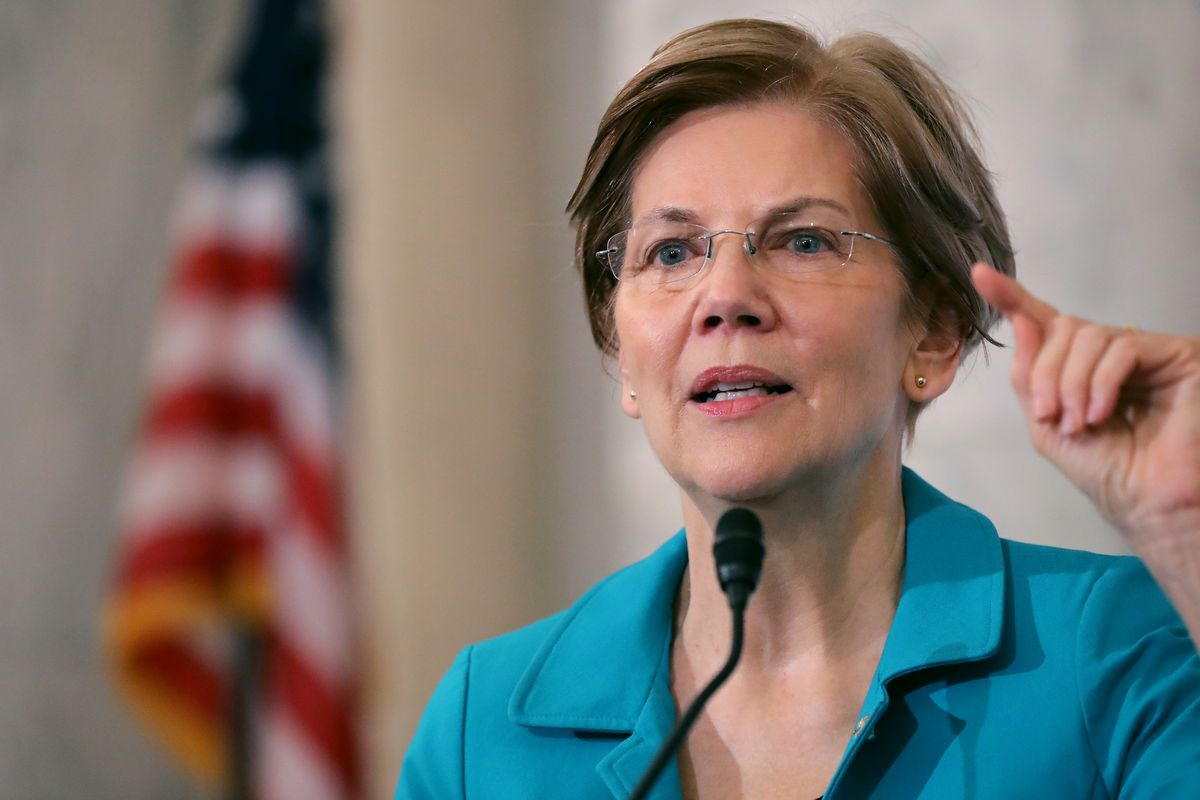 On the last day of the year, Massachusetts Senator Elizabeth Warren, who had demurred on running for President in 2016 notwithstanding considerable pressure to enter the race, took a big step toward running for the Democratic nomination for President in 2020:
Senator Elizabeth Warren, the Massachusetts Democrat and a sharp critic of big banks and unregulated capitalism, entered the 2020 race for president on Monday, becoming the first major candidate in what is likely to be a long and crowded primary marked by ideological and generational divisions in a Democratic Party desperate to beat President Trump.

In an 8:30 a.m. email to supporters on New Year's Eve — 13 months before the first votes will be cast in the Iowa caucuses — Ms. Warren said she was forming an exploratory committee, which allows her to raise money and fill staff positions before a formal kickoff of her presidential bid. Ms. Warren also released a video that leaned on the anti-Wall Street themes, a campaign message that drew strong praise Monday morning from liberal groups.

"I've spent my career getting to the bottom of why America's promise works for some families, but others, who work just as hard, slip through the cracks into disaster," Ms. Warren said in the video. "And what I've found is terrifying: these aren't cracks families are falling into, they're traps. America's middle class is under attack."

"But this dark path doesn't have to be our future," she continued. "We can make our democracy work for all of us. We can make our economy work for all of us."

The race for the 2020 Democratic nomination is poised to be the most wide open since perhaps 1992, with the party leaderless and lacking obvious front-runners. After a midterm election that saw many women, liberals, minorities and young Democrats win, the primaries and caucuses next year are likely to be fought over not only who is the most progressive candidate but also which mix of identities should be reflected in the next nominee.

Ms. Warren, 69, is among the best-known Democrats seeking to take on Mr. Trump, who has already announced his re-election campaign, but she also faces challenges: recent controversy over her claims to Native American heritage, skepticism from the party establishment and a lack of experience in a presidential race.

Two potential top-tier candidates who have run before, former Vice President Joseph R. Biden Jr. and Senator Bernie Sanders, are eyeing 2020 and are expected to disclose their plans this winter. Yet both men carry political baggage and would be in their late 70s on Election Day 2020, and many Democrats say they want a fresh face as their next nominee.

More than three dozen Democratic senators, governors, mayors and business leaders are also weighing bids — most of whom have not sought the White House before. The race is expected to draw several women and nonwhite contenders as well as liberal and more moderate politicians — making for the most diverse field in history. Several Senate colleagues of Ms. Warren are likely to enter the race soon: Kamala Harris of California, Cory Booker of New Jersey and Kirsten Gillibrand of New York.

Getting a jump on the competition, Ms. Warren plans to head to early voting states in the coming weeks, including Iowa, which holds its first-in-the-nation caucus in early February 2020. According to a person familiar with Ms. Warren's thinking, the timing of her announcement had been decided weeks in advance.

Ms. Warren's announcement drew immediate praise from liberals, who have long hoped that the vocal Trump critic would run for president.

Among grass-roots activists eager to highlight their message of a rigged economic system, there was particular excitement that Ms. Warren's announcement video focused on issues like income inequality and corporate greed. The Progressive Change Campaign Committee said "Elizabeth Warren meets the moment" and Waleed Shahid, a spokesman for the leftist group, Justice Democrats, said Ms. Warren's "message of multiracial populism is exactly the right way to take on Trump's divide and conquer agenda," though lacking policy specifics.
Warren's announcement came via a YouTube video that was released via the usual social media networks:
Every person in America should be able to work hard, play by the same set of rules, & take care of themselves & the people they love. That's what I'm fighting for, & that's why I'm launching an exploratory committee for president. I need you with me: https://t.co/BNl2I1m8OX pic.twitter.com/uXXtp94EvY

— Elizabeth Warren (@ewarren) December 31, 2018
While this isn't a formal announcement of her candidacy, it is what qualifies as the next best thing and stands as confirmation that has largely been an open secret for the better part of the past year. As a legal matter, forming an exploratory committee allows a candidate to begin raising money that can potentially be transferred to a campaign if and when they decide to formally enter the race. In the past, it's a mechanism that has been used by many candidates to allow them to "campaign" and fundraise without actually entering the race. In some cases, of course, the hypothetical candidate never actually enters the race but in most cases they do, but they do so later in the process at a time and in a manner that has been carefully choreographed for maximum media exposure.
In Warren's case, this announcement doesn't come as much of a surprise. As I noted, Warren resisted efforts to get her to enter the 2016 race that were being made by several "progressive" groups even after it was apparent that Hillary Clinton would be running that year, and even after Warren publicly urged Clinton to enter the race. As 2020 approached, and especially after the election of President Trump, pressure grew on Warren to consider jumping into the race for the nomination. Initially, Warren, who was up for re-election this year, denied any interest in running for President but declined to rule out the possibility that she would do so. By October, that had changed significantly and Warren was saying that she would "take a hard look" at running after the election was over. Obviously, the decision to form an Exploratory Committee is a huge step toward entering the race and a likely indication that she is in fact running.
In any case, Warren is just the first of what is likely to be a large group of candidates or potential candidates either entering the race or exploring the possibility of doing so. It's far too early to say how many of those candidates will end up being viable and competitive, but many of them will and this means that Democrats are likely to face one of the largest fields of Presidential candidates they've ever had. In addition to presenting interesting implications for things like debate scheduling and format, it also sets up the possibility of a significant battle for the most vocal wing of the Democratic Party. Warren, of course, is among the candidates championed by the "progressive" wing of the Democratic Party, but she is by no means the only potential candidates arising from that side of the party. Others include Kamala Harris, Cory Booker, Sherrod Brown, Amy Klobuchar and, of course, Vermont Senator Bernie Sanders. All of these candidates, and perhaps more, are likely to be competing for this same group of voters. Whether Warren or any of the other potential candidates are able to succeed will depend in no small part on their ability to differentiate themselves from each other in the competition for this wing of the party.
In any case, I suppose we can say that the race for 2020 has officially begun. Hold on to your hats, folks.