Elizabeth Warren Isn't Running For President, But Don't Expect The Speculation To End Soon
Massachusetts Senator Elizabeth Warren is not running for President, and she is unlikely to change her mind on that. Nonetheless, the speculation that she is will continue for some time to come because it suits her interests and the interests of others.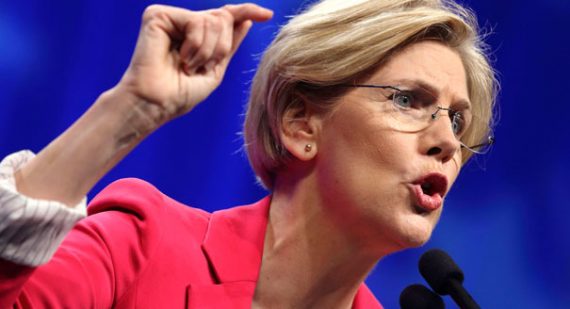 During the debate last week and leading into Saturday night's Senate vote on the $1.1 trillion "Crominbus" bill, Massachusetts Senator Elizabeth Warren was, albeit, briefly, effectively allied with the unlikely partner of Texas Senator Ted Cruz in seeking to block consideration of the bill over parts that she found objectionable. While the ultra-conservative Texas Senator was concerned primarily with those provisions of the bill that loosened restrictions in the Dodd Frank Law regarding the ability of federally insured financial institutions to engage in the trading of derivatives. Warren was among the first to bring this change in the law to the attention of the public and other Members of Congress when the text of the bill was first made public last week, and she quickly got other Democrats in the Senate and House to join her, even some Republicans joined along but that seemed to be opportunistic on their part since they had other reasons to oppose the bill. In the end, though, it was clear that it was Warren who was leading the fight and even when she decided to step back and let the bill pass the Senate without a significant fight, it was clear she had won another rhetorical victory inside the Democratic Party. Inevitably, of course, this has led to yet another round of speculation about Warren and the question of whether she'd run for President in 2016 and, again, as she made clear in an interview on NPR, she said that the isn't running for President:
Sen. Warren, as you must know, that even as you were fighting over this in the Senate, there was a group called Ready for Warren that wants you to run for president, that released a letter signed by more than 300 people who describe themselves as former Obama campaign workers and staffers and aides. They want you to run. What do you say to them?

I'm, I'm not running for president. That's not what we're doing. We had a really important fight in the United States Congress just this past week. And I'm putting all my energy into that fight and to what happens after this.

Would you tell these independent groups, "Give it up!" You're just never going to run.

I told them, "I'm not running for president."

You're putting that in the present tense, though. Are you never going to run?

I am not running for president.

You're not putting a "never" on that.

I am not running for president. You want me to put an exclamation point at the end?

(Laughs) OK, that's fine. Can you tell me, Senator, how you see your role over the next couple of years presuming that you don't run? You've raised your profile in a way that few Democrats have been able to do recently.

You know, I'm just here to stand up for hardworking families who just want a fighting chance. That's what I'm in this fight for, and I'm in this fight all the way.
This isn't the first time that the question of Senator Warren running for President has been in the media, of course. It goes back more than a year when she sought to stamp down such speculation with a statement that she was not running and has continued to pop up at various times in 2014 even though Warren herself has previously called on Hillary Clinton to run and the people who were the primary financial backers of her 2012 campaign for Senate have said that they would not support her if she ran for President against Hillary Clinton.   These are only the denials of interest in a Presidential run from Warren that I have made note of here at OTB, there have been countless others over the past year or more and, as Greg Sargent notes, there are likely to be more in the foreseeable future, because the Warren for President meme is unlikely to come to a half until the last possible minute:
hose running the "draft Warren" effort think there is something she could do that would promptly end this chatter — with or without an exclamation point — and that she has not availed herself of it.

"She's been very consistent in speaking in the present tense," Neil Sroka, a spokesman for Democracy For America, which is involved in the "draft Warren" effort, tells me. "The way this speculation will end is if she says, 'I am not running and I will not run.' That would end the draft effort."

"We're trying to make it very clear that this is an indication to us that the door is still open," Sroka continued. "Speaking in the present tense certainly ensures that the grassroots folks are going to continue running the draft campaign. I would think she knows that. And we want her to know that."

For my part, I don't believe Warren has any intention to run, though I wouldn't entirely rule out the possibility that she might change her mind under certain circumstances, most particularly if Hillary Clinton were to somehow end up not running. That said, the focus on Warren's grammar by the "draft Warren" contingent, which also prominently includes MoveOn.org, represents more than mere wishful thinking: It goes to the heart of what this dance is really all about.

By all indications, progressive groups genuinely believe there is at least a chance of coaxing Warren into the race under certain circumstances. However, whether or not that ultimately happens, they have an interest in keeping up this push for another reason: Anything that boosts Warren's visibility might also boost the potential power and influence that Warren may be able to exert within Congress — and over the Democratic Party in general — as their chosen vehicle for progressive policy ideas. That might boost the groups' own influence over the debate.

By this reasoning, of course, lefty groups might have an obvious motive for reading subtleties into Warren's grammar choices that may or may not be there. At the same time, though, the groups' approach to this might also give Warren herself a reasonable enough motive for leaving things grammatically ambiguous, if that is indeed what she is doing.

After all, keeping alive the "draft Warren" effort — which its proponents themselves say will keep going until she rules out a future run — probably does enhance her stature and clout as the standard bearer of the "tough on Wall Street" wing of the party. That, in turn, could maximize her influence over policy debates and the party's overall direction — including that adopted by the eventual Democratic nominee. What's the harm, she may think, in keeping alive the chatter?
It's worth noting of course that keeping this speculation alive is also in Warren's interests at the moment. As a freshman Senator, her actual power would generally be quite limited, and as a freshman who is a member of what will be the minority caucus starting in January, that power would be more limited still. To the extent that she is seen, however, as something more than just a minority Senator from a state where, generally speaking, a Ham Sandwich could get elected Senator in a normal election if it had a D after its name, she gains at least some power to influence the direction of her party going forward. One of the easiest ways to do that is to keep open ever so slightly the speculation that she might be open to running for President, whether its in 2016 or at some point in the future even if that isn't the case at all. So far at least, it seems to be paying off. Although there's no indication that her presence on the campaign trail made any difference, and indeed polling indicated that her endorsements didn't really have an impact on anyone's vote going forward, the fact that she was out there campaigning as much as someone like Hillary or Bill Clinton during the midterm elections is an indication of how many in the Democratic Party are at least recognizing her influence. The fact that she was given an as-yet unspecified role in the Senate Democratic Caucus leadership going forward, something that almost never happens to a freshman, is another indication of that influence. Finally, there is the simple fact that there is a vocal wing of the Democratic Party that at least wants the 2016 race to be something other than a coronation, and for a so-called "progressive" voice to be part of that race. For many, the natural candidate for that role is Elizabeth Warren, and they are likely to keep pushing her to run notwithstanding her denials until the very end, or until another candidate such as Brian Schweitzer or Jim Webb comes along to take up the "progressive/populist" banner. None of these candidates is likely to have much of a chance of winning against Hillary Clinton, of course, but the hope is obviously that they will be able to force her to address issues that she otherwise might ignore during a primary campaign where she is not seriously challenged. Like Sargent, I doubt that person will be Warren, but as long as she leaves the door open a crack then she will continue to be asked if she's running.
On a final note, I will say this much, if Elizabeth Warren does not run for President in 2016 it is unlikely that she will ever run. While many people seem to have the impression that she is younger, is in fact only two years younger than Hillary Clinton and would be 6 7 years old in 2016. In 2020, she would be 71, and in 2024 she would be 75. It seems unlikely that she'd run in those later years if she doesn't run this time around, which may be fine with her. Contrary to what some people think, not everyone who becomes a Senator wants to run for President, just ask Rob Portman, and Warren may believe that she can do more good by serving a term or two in the Senate than by taking on what would likely be a quixotic bid for the White House. She could also potentially be a candidate for a Cabinet-level appointment in a future Democratic Administration. If one takes her at her word that she's primarily interested in advancing an agenda, there may be better ways for her to do that then running for President. As I said, though, that's not going to stop the speculation and, indeed, in the coming months, it is likely only to become more intense. So, expect more carefully worded denials from the Senator until such time as she feels its appropriate to shut the entire thing down, which I suspect won't be until Hillary Clinton formally enters the race.