Elizabeth Warren: I'm Not Running For President In 2016
The junior Senator from Massachusetts has promised to serve her entire six-year term.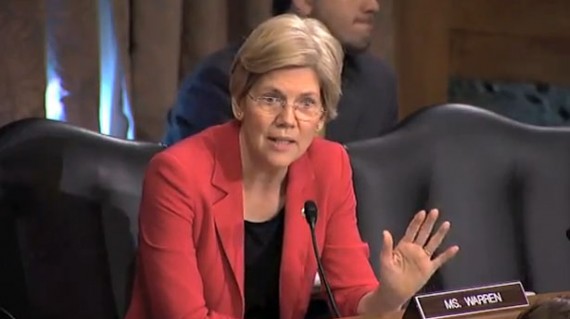 Starting about two months ago, political pundits began to speculate, as is is their nature, that progressives for whom Hillary Clinton remains problematic politically, may look for another candidate to back in the first for the Democratic Party's nomination, if only to push their agenda amid all the hype that is likely to surround a Hillary Clinton candidacy. For some reason, that speculation began to focus on a single person, newly minted Massachusetts Senator Elizabeth Warren, who became something of a hero on the left when she helped put together the Consumer Financial Protection Bureau only to be denied the position of Bureau's first director when it became clear that there was no way her nomination could make it through the Senate. Shortly thereafter, Warren returned to Massachusetts and ran for Senate against Scott Brown in a race where she received extensive support from outside Massachusetts.
For the most part, Warren has assumed the traditional role of a Freshman Senator of staying in the background, so it came as somewhat of a surprise last month when Noam Schieber wrote a longish piece in The New Republic suggesting that Warren could be a progressive alternative to Hillary Clinton in 2016. Given the seeming acceptance of Hillary Cinton's inevitability on the left, the piece came as something of a surprise to many observers, especially those who pointed out that Warren was among the group of female Democratic Senators who had signed on to a letter urging Hillary to run for President. For the most part, Warren remained quiet while this speculation built, but yesterday she came out with a seemingly Shermanesque statement pushing back against any speculation about a Presidential run any time in the near future:
Massachusetts Sen. Elizabeth Warren said Wednesday that she will serve out her full term in the Senate and will not run for president in 2016.

"I pledge to serve out my term," she said at a news conference in Boston, according to the Boston Herald. "I am not running for president."

Warren was elected to the Senate last year and her term lasts through 2018.

Asked how she feels about the presidential speculation, Warren said she doesn't mind if it helps her advance the issues she advocates for in the Senate.

"I am working as hard as I can to be the best possible senator that I can be and to fight for the things that I promised during my campaign to fight for," she said, according to the Boston Globe. "I'm fighting for bank accountability. I'm fighting hard to help rebuild America's middle class and I'm glad to see any possible energy put behind those fights."
Warren's statement had been preceded last month by one from her top fundraiser during last year's Senate run essentially shooting down the idea of a run for President, so it shouldn't really come as a surprise.
Obviously, politicians have made statements like this in the past only to "change their minds" at some point in the future. The most prominent example of that, of course, is the person currently sitting in the Oval Office, who had said when running for Senate in 2004 and in the years immediately thereafter that he would not be running for President. At some point, though, then Senator Barack Obama had indeed changed his mind and soon appeared on Meet The Press to explain to Tim Russert why he had done so. The rest, of course, is history.
Could the same thing happen with Warren? Somehow, I doubt it. For another, taking on Hillary in 2016 would seem to be a far more difficult task than taking her on in 2008. Back then, there was a significant part of the Democratic base that was angry with her over her vote in favor of the Iraq War and Barack Obama was able to tap into that anger to fuel what in many ways was a campaign by an outsider. This time, while there's no doubt that Clinton would still be running as something of an insider there seems to be near universal agreement inside the Democratic Party that the 2016 nomination is Hillary's if she wants it. Democrats are going to want to keep control of the White House in 2016 if they can and, based on all the available evidence, the best way for them to do that would be to nominate Hillary Clinton. For another, unlike Obama in 2004, Warren doesn't seem to have an political ambitions beyond the Senate at the moment. As I've noted, she's been pretty much a standard backbench freshman Senator even though, thanks to the fact that John Kerry resigned after the 2012 election to serve as Secretary of State, she is now the Senior Senator from Massachusetts.
Of course, as Jonathan Bernstein points out, what a politician like Warren says about Presidential ambitions isn't nearly as important as what they actually do:
I have no idea whether Warren has any intention of running, but we're not going to learn anything from her claims to the contrary at this point. When it comes to presidential runs, watch what the candidates do, not what they say.

That requires figuring out what each prospective candidate would be doing if she were in fact running. Sometimes that's easy; visits to Iowa and New Hampshire are the traditional obvious giveaways. Sometimes it's high-profile speeches. Sometimes it's a book; that was the tip-off that Rick Perry was running in the 2012 cycle despite multiple denials from the Texas governor. The point here is that it may differ depending on the nomination battle context (whether or not there is a strong frontrunner, for example) and the prospective candidate's situation — whether she already has national name recognition, whether she needs more of an introduction to important party actors and plenty more.
In that respect, at least at the moment, Warren is showing no signs of being interested in running and I'm guessing we're not going to see any.