Elizabeth Warren Once Again Tells Us She's Not Running For President
Once again, Massachusetts Senator Elizabeth Warren says she isn't running for President, and has no plans to do so.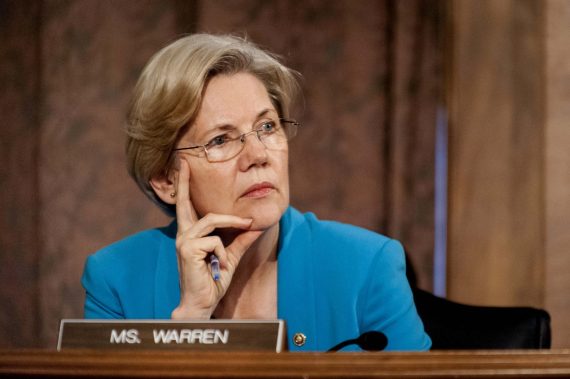 In an interview on NBC's Today, Massachusetts Senator Elizabeth Warren once again seemed to make clear something with many of her most ardent supporters still don't seem to be able to accept:
Sen. Elizabeth Warren, a populist figure among the Democratic faithful after taking on Wall Street and the banking industry, reaffirmed to Savannah Guthrie on TODAY Tuesday that she has no plans to run for president in 2016.

"No. I'm not running and I'm not going to run," she said. "I'm in Washington. I've got this really great job and a chance to try and make a difference on things that really matter."

Warren said her political interests remain firmly on issues she can help make an impact from her Senate perch — like lowering interest rates on student loans, raising the minimum wage, and bolstering Social Security.

"There's a lot to fight over right this minute," she said.
Warren, who was one of a large group of female Democratic Senators who had previously signed a letter urging Hillary Clinton to run for President, also had this to say about the former Secretary of State:
"I think we need to give her a chance to decide if she's going to run and to lay out what she wants to run on," the Massachusetts senator said when asked whether the Clinton would be the right Democratic candidate to fight for the middle class. "I think that's her opportunity to do that."
This, of course, is just the latest in a long running for series of statements that Warren has made regarding running for President, and her answer has not changed at all over the past year and a half or so even as Warren's supporters continue to push the idea of a Presidential run on her part. This has continued despite the fact that there have been absolutely no signs that Warren is taking any of the behind the scenes steps that one would take if one was considering a Presidential run. There is no exploratory committee, there have been no reports of staff hiring, and while Warren has traveled the country on behalf of other candidates she's been absent on the trail in states like Iowa and New Hampshire compared to other potential Democratic candidates like former Maryland Governor Martin O'Malley and former Virginia Senator Jim Webb. Moreover, many of Warren's core advisers in her campaign for Senate have already declared their intention to work for other candidates. In February, for example, Warren adviser Mandy Grunwald went to work for the nascent Hillary Clinton campaign, and many of Warren's own donors have said they would not support her if she ran for President against Clinton. Despite all of this, the "Ready For Warren" people are still out here, and the media continues to talk about a Warren campaign as if it were something other than a liberal fantasy.
As I've said before, part of the reason for this continued speculation despite Warren's denials is the fact that the political media loves a story like this, especially if it means speculating on a potential Clinton-Warren race and whether it would be the same as the Clinton-Obama race was in 2008. That kind of speculation by the political media is likely to continue at least until Clinton gets into the race and Warren appears with her at a campaign rally of some kind to endorse her campaign for President, which she most assuredly will do at some point. In addition to the media's role in this, though, the fact that the speculation is continuing is a testament to tensions inside the Democratic Party between an establishment represented by Clinton and the upstart "progressive" wing that has rallied around Warren:
Finally, there is the simple fact that there is a vocal wing of the Democratic Party that at least wants the 2016 race to be something other than a coronation, and for a so-called "progressive" voice to be part of that race. For many, the natural candidate for that role is Elizabeth Warren, and they are likely to keep pushing her to run notwithstanding her denials until the very end, or until another candidate such as Brian Schweitzer or Jim Webb comes along to take up the "progressive/populist" banner. None of these candidates is likely to have much of a chance of winning against Hillary Clinton, of course, but the hope is obviously that they will be able to force her to address issues that she otherwise might ignore during a primary campaign where she is not seriously challenged.
Even when the time does come that the Warren supporters have to accept the reality that she is not running, those tension will still exist, and they will likely shape how the Democratic nomination fight proceeds over the next year and a half. Ultimately, Clinton will win that nomination unless she stumbles badly, of course, but the resilience of the Warren for President movement makes it clear that Clinton will have to deal with this progressive win at some point if she wants to keep the Democratic coalition united.