Joe Biden Set To Decide On Presidential Bid Soon
Former Vice-President Joe Biden will reportedly decide on whether or not he'll be entering the race for President in the near future.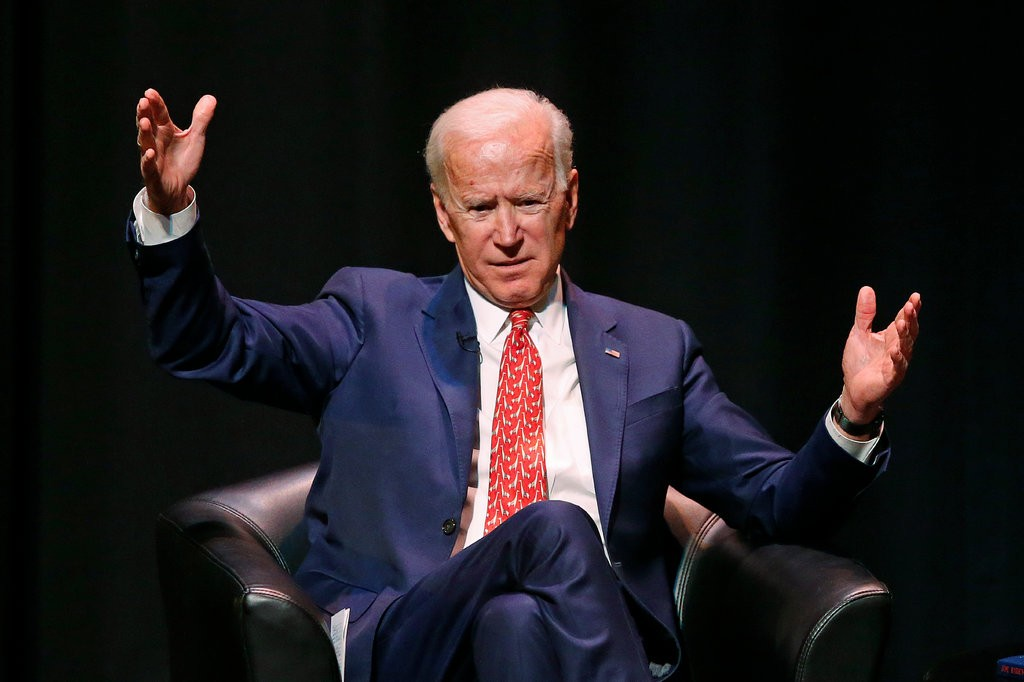 Former Vice-President Joe Biden is reportedly likely to make a decision on whether or not he'll run for President within the next two weeks:
WASHINGTON — Former Vice President Joseph R. Biden Jr. is in the final stages of deciding whether to run for president and has told allies he is skeptical the other Democrats eyeing the White House can defeat President Trump, an assessment that foreshadows a clash between the veteran Washington insider and the more liberal and fresh-faced contenders for the party's 2020 nomination.

Many Democratic voters, and nearly all major Democratic donors, are keenly interested in Mr. Biden's plans because of their consuming focus on finding a candidate who can beat a president they believe represents a threat to American democracy. But there is also a rising demand in the party for a more progressive standard-bearer who reflects the increasingly diverse Democratic coalition.

Mr. Biden would instantly be the early front-runner if he ran, but he would have to bridge divides in a primary that would test whether Democrats are willing to embrace a moderate white man in his 70s if they view him as the best bet to oust Mr. Trump.

"He has the best chance of beating Trump, hands down," said Senator Tom Carper of Delaware, Mr. Biden's longtime friend and former colleague. "On a scale of one to 10, that's probably about a 12 for us."

Yet Mr. Biden's skepticism about the field could alienate female and minority voters who are excited that several women and African-Americans are expected to run. Nominating a white man may also roil some Democrats who are already torn about whether a woman could win in 2020 after Hillary Clinton's loss. And Mr. Biden's preoccupation with winning back blue-collar Midwestern whites could place him at odds with Democrats who see greater potential for growth in the highly educated suburbs and across the booming Sun Belt and upper South.

More broadly, debate around Mr. Biden's possible candidacy illustrates the dueling visions in the party and particularly the divisions between its pragmatic and liberal wing. Some Democrats are skeptical that a relatively moderate candidate like Mr. Biden, who has baggage like supporting the 1990s crime bill that is loathed on the left, would prevail in the primary with a message of unity and national healing rather than the fiery and uncompromising brand of populism that Democratic primary voters elevated in the midterm elections.

"In 2020, Biden-style centrism will become a toxic and losing brand of politics in Democratic primaries," said Waleed Shahid, a left-wing activist.

The 76-year-old former vice president, who leads the field in initial national and Iowa polls, has not yet told his allies that he has decided to run. And they emphasize that Mr. Biden's decision will not be final until he says it for himself, noting that family considerations are central. Mr. Biden sought the presidency twice before but he has also considered it at least as many times before bowing out.

But Mr. Biden has indicated that he is leaning toward running and will most likely make a decision within the next two weeks, according to Democrats within and beyond his inner circle who have spoken to him recently.

The former vice president told a senior Democratic official last week that he is both likely to run and that his aides have told him he must move quickly in this primary, according to two Democrats briefed on the conversation.

(…)

In one of his calls over the holidays, Mr. Biden repeated a variation of a line he has used publicly: "If you can persuade me there is somebody better who can win, I'm happy not to do it," he said, according to the Democrat he spoke to, who shared the conversation on condition of anonymity to discuss a private talk.

But then Mr. Biden said something he has not stated so bluntly in public: "But I don't see the candidate who can clearly do what has to be done to win."

In another possible sign that he is preparing to ramp up, an emissary from Mr. Biden recently reached out to James Smith, the Democratic Party nominee for governor in South Carolina last year, about scheduling a call with the former vice president. Mr. Smith, a state legislator and friend of Mr. Biden, said the former vice president could count on an enthusiastic reception in South Carolina if he were to run.

"In the circles that I move, I think there's almost unanimity of support for him," Mr. Smith said.

But Mr. Smith acknowledged that in Mr. Biden's absence, others were making moves in South Carolina. Mr. Smith said that after his defeat in November, he had heard from several contenders, including Senators Cory Booker of New Jersey, Kamala Harris of California and Elizabeth Warren of Massachusetts — none of whom, he said, could count on scooping up Mr. Biden's network.
It's possible that the former Vice-President will decide not to run for a third time, of course, but ever since Donald Trump took office Biden has been acting more and more like someone who is inclined to get into the race. He's been openly critical of the Administration in ways that former politicians usually aren't, and he's matched Trump's rhetoric punch for punch on more than one occasion. All of this suggests that he is inclined to run, as the reports indicate, and that he'll be entering the race in the relatively near future.
If that happens, one of the primary issues surrounding a potential Biden candidacy, of course, would be the issue of his age and his health. The former Vice-President is presently 76 years old and would be 78 by Election Day 2020, making him the oldest person to be elected President in American history. Of course, that was also the case with Donald Trump in 2016 and, for the most part, neither his age nor the age of his opponent seemed to be an issue at all in the 2016 campaign. Additionally, Biden has had some health issues in the past, including a brain aneurysm in 1988 that was serious enough that he was at one point administered the last rites by a Catholic Priest. Biden recovered from that crisis, though, and went on to continue serving in the Senate for the next twenty years before Barack Obama selected him as his Vice-Presidential running mate, thus leading to eight years as Vice-President that was by all accounts quite successful. Nonetheless, Biden's advanced age would likely lead to questions about his health that he would at least be required to address to some extent.
Notwithstanding those questions, Biden's resume certainly indicates that he's well-prepared to be President. He served for more than thirty years in the United States Senate, of course, during which time he eventually rose to serve as the Chairman of the Senate Judiciary Committee and, later, the Senate Foreign Affairs Committee. During his eight years as Barack Obama's Vice-President, he was heavily involved in the formation of domestic and foreign policy and often served as a liaison between the White House and the Republican-controlled Congress after the 2010 elections, during which time he was often at the center of negotiations regarding fiscal and other disputes between the two branches of government. His experience in foreign policy is quite extensive, and he has interacted with leaders on the world stage for the better part of the past thirty years or so. In other words, he is arguably the most qualified potential Democratic candidate in the 2020 field and perhaps the most qualified they've ever run.
In addition to this, Biden's potential political appeal seems to fit right in with what Democrats need in 2020. While the "progressive" wing of the party may have doubts about him, one cannot deny his appeal with the white working class voters that the party needs to find a way to win back in areas such as the Midwest. To a large degree, many of these people are people who voted for Obama/Biden in 2008 and 2012 and then turned around and voted for Trump/Pence in 2016, The former Vice-President also has strong support among African-American voters, which is important both in the context of a fight for the Democratic nomination and in terms of voter turnout in the General Election.
The problem that Biden faces if he runs is that the same factors that make him what Democrats need in 2020 if they want to beat Donald Trump are factors that could pose a problem for him in running for the Democratic nomination. The Democratic Party that Biden faces in 2019 and beyond is not the same Democratic Party he faced the last two times he ran for President in 1988 and 2008. The forces that pushed those versions of the party to the center-left and away from the more left-wing positions it took in the 1970s and 1980s are now effectively the party establishment and they are facing significant pushback from the "progressivism" represented by candidates such as Bernie Sanders, Elizabeth Warren, Kamala Harris, Cory Booker, and others. That wing of the party is likely to be highly skeptical of Biden notwithstanding the fact that he and his fellow "establishment" Democrats agree with them far more than they disagree. Whether they can accept the idea of Biden as the party nominee, even if he selects a young running mate from their wing of the party, could be one of the biggest questions of 2020 if it turns out that Biden does indeed succeed where he has failed twice before.
In any case, Biden passed on a Presidential run three years ago due largely to factors unrelated to politics. This time, he seems convinced that he is the best answer to Donald Trump that the Democratic Party can come up with, and there's plenty of reason to believe that he's right. Whether Democratic voters will agree is something we'll have to wait to find out.