Kamala Harris's Failure Had Nothing To Do With Her Race
Kamala Harris didn't fail because of her race, she failed because she was a bad candidate.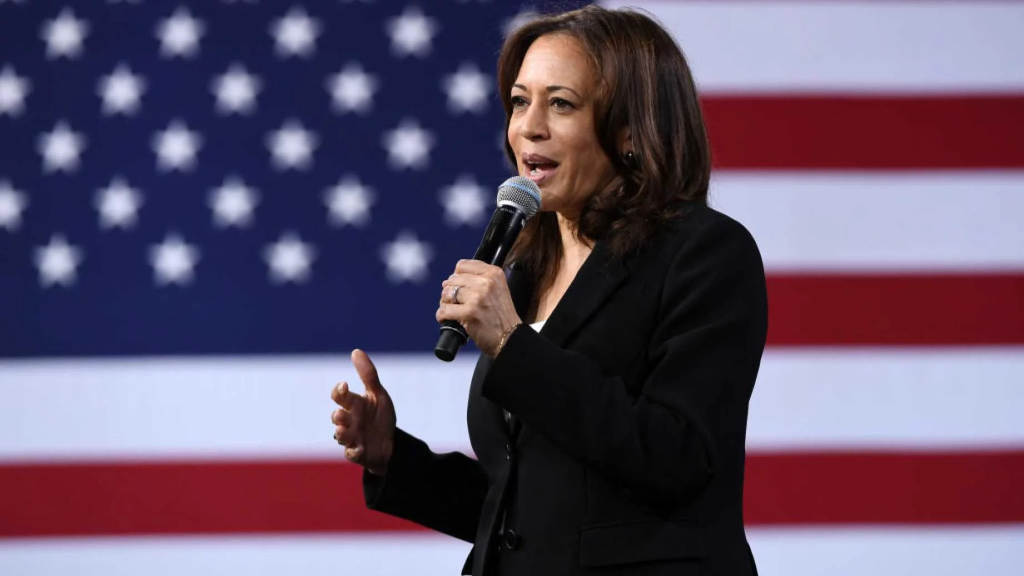 Debbie Hines, a former Baltimore prosecutor who supported California Senator Kamala Harris in her bid for the Democratic nomination, argues that Harris's bid failed because of bias against her as a black woman:
It's ironic that black women are considered the backbone of the Democratic party and Kamala Harris, as the only black woman running for president, suspends her presidential bid.

The media panders to other contenders including Pete Buttigieg, who has just around 1% of support from African Americans, and Elizabeth Warren and Joe Biden. But it denied the same coverage for Kamala Harris. As an African American woman and former prosecutor, I see the media making the choice for the people and not the other way around like the way it should be. It's like the tail wagging the dog.

Black women know that we must work twice as hard and be twice as good as a white man to get half as much. And Ms. Harris' credentials were at least twice as good as that of Mr. Buttigieg. In California, Ms. Harris served two terms as San Francisco's district attorney and became the first woman and person of color to serve as California's attorney general. Upon being elected to serve in the U.S. Senate, she became only the second black woman elected to that laudable office. Ms. Harris' skillful performance questioning Supreme Court Justice Brett Kavanaugh during his confirmation hearing foreshadowed what a debate between her and President Donald Trump might look like. She made Mr. Kavanaugh uncomfortable and even cringe with her strong, direct and intense questioning. I would put her up against Mr. Trump any day.

Meanwhile, Mr. Buttigieg, mayor of South Bend, Ind., since 2012, is a war veteran and Rhodes Scholar. That is all admirable, but he has no state or national experience under his belt. And South Bend, with a population of about 102,000 hardly qualifies as big city experience. Yet, Mayor Pete became a media darling. Imagine what the media would say about a black woman running for president with Mr. Buttigieg's scant credentials. A Bloomberg news article compared Ms. Harris' run for president to Marco Rubio. I am not sure what parallel the reporter was trying to make. Whatever anyone may say about Ms. Harris, she is no Mr. Rubio.
I don't know how closely Hines actually followed the 2016 Republican nomination fight or how much she actually knows about national politics, but the analogy between Senator Rubio and Senator Harris is actually fairly apt. More importantly, the circumstances surrounding the collapse of their respective campaigns is remarkably similar such that the analogy that seems to puzzle Hines is readily apparent. While Hines, a former Harris supporter, appears to argue that Harris's resume made her more qualified than Rubio was, the two entered their respective nomination fights with roughly equal qualifications. Whereas Harris had spent seven years as the City Attorney for San Francisco and six years as Attorney General of California before being elected Senator in 2016, Rubio spent eight years as a member of Florida's House of Representatives, including two as Speaker of the House, before being elected Senator in 2010 and re-elected in 2016.
More important than their resumes, though, the similarities between Harris's and Rubio's campaigns are quite remarkable. Both candidates entered the race with anticipation from the base of their respective parties, as well as many pundits, that they would be the voice of a new generation of party leaders. Additionally, while both candidates had brief periods of success where it seemed as though they might actually become contenders for the nomination, it quickly became apparent that neither one of them appeared to have the staying power needed to get to that point. For Rubio, there was a time in 2015 when it briefly appeared as if he would be able to pose a challenge to Donald Trump only to fall back. Later, after voting started and it became apparent that Rubio had no real plan to actually win anywhere, his campaign quickly faded from memory. Harris, meanwhile, had her moment in the sun in the immediate aftermath of the first debate and her confrontation with Joe Biden. That event caused her to briefly rise in the polls only to start falling back as her campaign was overtaken by her flip-flops on issues like her health care plan and other issues. Once Harris started to slip in the polls over the summer, she never again found a way to claw her way back while candidates like Elizabeth Warren and Pete Buttigieg were able to spark interest among voters, much to Harris's detriment.
It is, in fact, Pete Buttigieg's rise that seems to bother Hines the most:
Sadly, Sen. Harris couldn't survive the media favoritism of Mr. Buttigieg, among other things. Perhaps, if Ms. Harris could have cut in on the media's cheek-to-cheek dance with the small town mayor, she might still be in the race for president. We hope the remaining candidates don't forget the African American vote. Whoever receives the Democratic nomination for president must engage African American voters, particularly black women, to receive wide support to win.
Hines is correct in her argument that, at least on paper, Harris was far more qualified than Buttigieg for the Presidency, but being qualified on paper is only part of the equation. To succeed a candidate must also connect with voters and others in a way that makes them seem like the type of candidate who has a real chance of winning an election. This is especially true during the period before voting starts that we've been in so far this year. In that respect, it seems clear that Buttigieg was better at that than Harris was. That's not the doing of the media, that's a reflection of the kind of campaigner that Harris was and Buttigieg still is. To blame that on the media is clearly excuse-making on Hines's part.
Hines is similarly correct to point out Buttigieg's lack of support among African-American voters, something I've pointed out before. At the same time, though, Harris herself didn't exactly resonate with that voting demographic either. In a Quinnipiac national poll taken in November, for example, Harris was garnering just five percent from African-American voters while former Vice-President Biden received the support of 43% of that demographic, Senator Bernie Sanders received 11%, and Senator Elizabeth Warren received. Buttigieg, meanwhile, was just behind Harris with 4% support among African-Americans. In another Quinnipiac poll from the same period in South Carolina, the first primary state with a significant African-American population, Harris received the support of 6% of Palmetto State African-American Democrats while Biden received 44%, Sanders 10%, and Warren 2%.
How, exactly, does Hines explain Harris's failure to resonate among African-Americans? Is it another media conspiracy, or is it because those voters did not perceive her to be a good enough candidate to represent their party against President Trump in the fall? As with Senator Cory Booker and former HUD Secretary Julian Castro, Hines seems to be arguing that Harris was entitled to the support of African-Americans, and especially African-American women, because of her racial background. That strikes me as a view of voters that, if it reflects how the Harris campaign itself felt, is perhaps the best explanation for why Harris ultimately failed. No candidate is entitled to anyone's support, you have to work for it. Harris failed to do that, and that's why her campaign failed.