Is Pete Buttigieg's Sexual Orientation Hurting His Campaign?
With Pete Buttigieg rising in the polls, but underperforming among African-Americans, some are wondering if his sexual orientation is holding him back.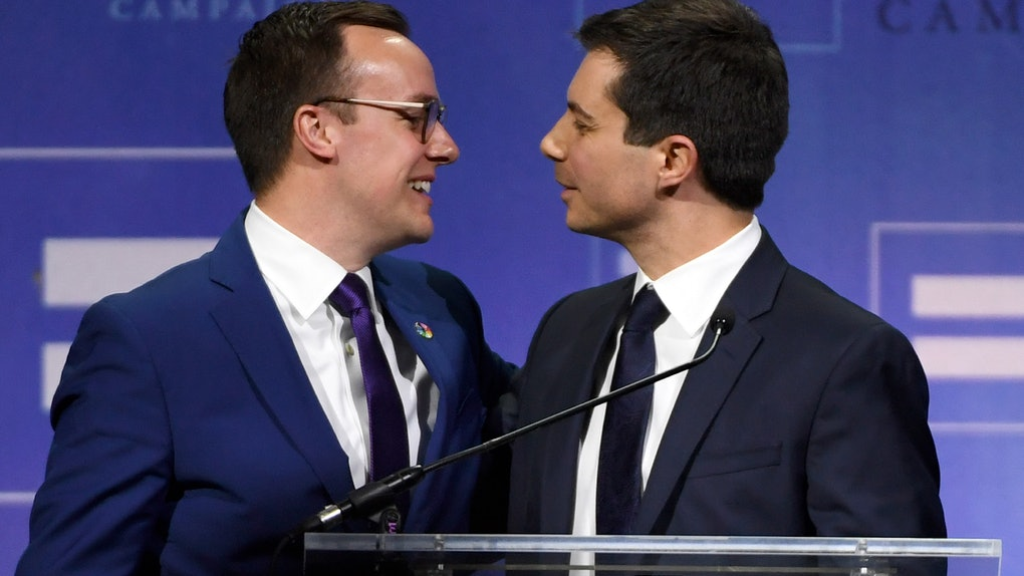 While South Bend, Indiana Mayor Pete Buttigieg continues to poll well nationally and in states such as Iowa and New Hampshire, he is polling extraordinarily badly in South Carolina, which is the first Democratic primary where there is a substantial African-American population that will be participating. While the polling to date has shown that African-American South Carolinians are strongly backing Joe Biden and throwing at least some support to Elizabeth Warren, Bernie Sanders, Kamala Harris, and Cory Booker, Buttigieg stands out like a sore thumb in that his support among this key demographic is lagging significantly.
This is leading some, including some African-Americans and Democrats to wonder if his sexuality is a bigger issue among African-American voters than may have thought:
Addressing a conference of African-American church congregations in this vote-rich city, Pete Buttigieg quoted scripture on Sunday morning and extolled his "Douglass Plan" to combat racial inequities in America, one of several attempts this weekend to confront his strikingly low support among black voters.

But Mr. Buttigieg also undertook a delicate task before the African Methodist Episcopal worshipers. As a gay, married man addressing a denomination that does not allow same-sex marriage rites, he tried to seek common ground over being members of minority groups whose civil rights have come under attack. It was a nod to his sexuality, following the disclosure last week that the Buttigieg campaign held focus groups that found some black voters in South Carolina were uncomfortable with a gay man as president.

"All of us in different ways have been led to question whether we belong," Mr. Buttigieg told the pews of black worshipers. "And I know what it is to look on the news and see your rights up for debate. All of us must extend a hand to one another. Because I also know what it is to find acceptance where you least expect it."

As Mr. Buttigieg increasingly presents himself to Democrats as a younger, moderate alternative to former Vice President Joseph R. Biden Jr., he is struggling badly to compete against one of Mr. Biden's strengths: deep connections to black voters. Nowhere is that problem greater than in South Carolina, which votes fourth in the Democratic nomination fight in February and is the first state where black voters are decisive — a critical test that could be a prologue for primaries in March where African-Americans will also be influential.

A Monmouth University poll of Democratic likely primary voters in South Carolina released last week found Mr. Buttigieg at 3 percent overall, with just 1 percent support from African Americans.

There are many reasons for Mr. Buttigieg's low standing among black voters, the foremost being that he is little-known to many of them. He is the 37-year-old mayor of South Bend, Ind., who still has a relatively low national profile — including on civil rights and issues of race — and focused much of this year building support among liberals, Democratic donors and voters in the predominantly white states of Iowa and New Hampshire.

But after attracting overwhelmingly white audiences to his campaign events in South Carolina, despite blacks making up a majority of Democrats in the state, the Buttigieg campaign held focus groups here, which suggested "being gay was a barrier" for him, according to an internal campaign memo that surfaced last week. (His campaign said they did not leak the memo.)

Many of the 24 uncommitted black voters in the groups, men and women of ages 25 to 65, were deeply uncomfortable discussing Mr. Buttigieg's sexual orientation, the memo said, adding that "they felt the mayor was 'flaunting' his sexuality by the very mention of having a husband."

In interviews this weekend, black Democratic Party officials in South Carolina largely said that Mr. Buttigieg's sexuality was not a concern to them, while voters expressed more divergent views. Yet most party leaders and voters agreed that being a married gay man would cause some discomfort with religious or conservative black Democrats.
Mr. Buttigieg's sexuality may be a factor with religious and white conservative voters as well, but black Democrats are a focal point because they were critical to Hillary Clinton, Barack Obama and others winning the party nomination in recent years.

"The biggest issue for him is he's married to a man," said Phyllis Harris-Drakeford, the Democratic chairwoman of Kershaw County, S.C. "I have no problem with that: You love who you want to love and you have the freedom in this country to do that. But in the South in particular, that's not well favored."

As part of Mr. Buttigieg's effort to connect with African Americans this weekend, the mayor hosted a homecoming tailgate cookout on Saturday at Allen University, a historically black campus in Columbia, S.C.

Gabriel Greene, a long-distance truck driver whose son was a football prospect, said he had not heard of Mr. Buttigieg. As a reporter ticked off some details about him — 37 years old, a mayor, a veteran of the war in Afghanistan, married to a man — Mr. Greene interrupted.
"You say he's married to a man?" he said. "He lost my vote. I believe in Adam and Eve, not Adam and Steve."
This mostly anecdotal account of the attitude of African-American voters in South Carolina was released at roughly the same time as a McClatchy report that seems to corroborate the findings of the New York Times report linked and a Politico report about a poll that found that a significant number of Americans doubted that the country was ready for an openly gay, married President:
As the Democratic Party fields its first serious presidential contender who is openly gay, half of American voters say that they personally are ready for a gay or lesbian president, but are split about whether the country as a whole is ready.

According to a POLITICO/Morning Consult poll of registered voters, 50 percent of respondents said they were either definitely or probably ready to have a commander in chief who is openly gay, compared with 37 percent who said they were either definitely or probably not ready.

But voters were more pessimistic when asked whether they thought the country was ready for an openly gay president — 40 percent said they thought the country was ready, with 45 percent saying the country was not ready.

That gap grew even wider when voters were asked whether they thought their neighbors were ready for a gay president. About a quarter of respondents answered affirmatively, while 46 percent said their neighbors were either definitely or probably not ready for a gay president. Pluralities of both Democrats and Republicans, as well as independents, all said they did not believe that their neighbors were ready for a gay president.

The POLITICO/Morning Consult survey results are far from hypothetical. The poll reveals a mixed bag of potential implications for the candidacy of Pete Buttigieg, the only openly gay candidate in the race. The mayor of South Bend, Ind., began his run as a longshot but has since shown flashes of being a real contender in the race.

But Buttigieg's sexuality "may be an issue for some voters as he remains in contention for the 2020 Democratic presidential nomination," said Tyler Sinclair, Morning Consult"s vice president. "Notably, 58 percent of Republicans, 32 percent of independents and 22 percent of Democrats say they aren't ready for a gay or lesbian president. The comparative figures not ready for a female president are 36 percent of Republicans, 15 percent of independents and 8 percent of Democrats."
The question of what impact Mayor Buttigieg's sexual orientation and the extent to which it and his marriage to his husband Chasten are having an impact on his campaign is one the media has danced around for the better part of the year. To some extent, one gets the impression that there is a reluctance among reporters to asking the question and among Democratic pundits and party officials to address it. Despite that reluctance, though, it seems clear that there is some truth to the idea that the two are related, and that at some point Buttigieg and his fellow Democrats may be required to address the issue head-on, especially as the South Bend Mayor appears to be rising in the polls everywhere except South Carolina.
\In national polls, for example, Buttigieg stands at 7.0% putting him in 4th place behind Biden, Warren, and Sanders. In Iowa, where he has seen some of his best numbers, Buttigieg has moved into second place at 17.0% behind Elizabeth Warren and ahead of Joe Biden. In New Hampshire, he's in 4th place behind the top three of Biden, Sanders, and Warren. In South Carolina, though, which is the first primary in a state with a significant African-American population, Buttigieg stands at 4.0%, putting him in sixth place. To be fair, Mayor Pete is also underperforming in Nevada but that state has not been polled in more than a month so it's unclear what's going on there. It is South Carolina that stands out like a sore thumb, and the main reason for that appears to be the fact that he's getting basically no support from African-American Democrats.
To be fair, there could be plenty of reasons why Buttigieg is struggling among this demographic. His relative lack of experience notwithstanding his enthusiasm and popularity, for example, could be a problem for many of these voters who are looking for a candidate who can take President Trump on in the General Election. Another factor is simply the fact that he's still relatively unknown, which certainly isn't true for candidates such as Biden, Sanders, and Warren. Finally, as many have noted there have been several issues during Buttigieg's tenure as Mayor of South Bend regarding tensions between the city's African-American population and its police force. That tension was heightened earlier this year during an incident that occurred in June that resulted in the death of an African-American man at the hands of a City Police Officer. That incident led to Buttigieg taking a week off the campaign trail to deal with the repercussions.
All that being said, though, there has been plenty of evidence that one of the primary reasons that Buttigieg is not connecting with this crucial part of the Democratic coalition is because he is a gay man married to another gay man. For the most part, this has been explained by the fact that African-Americans, especially older African-Americans, are more religious and culturally conservative than other Democrats. Whether Buttigieg can get beyond this concern and earn their support remains to be seen.
The broader question, of course, is what all of this means, which Frank Bruni seeks to answer in The New York Times:
[Buttigieg would be] the first to acknowledge that. In fact he did acknowledge it when we spoke last June about the state of L.G.B.T.Q. rights in America. Referring to his sexual orientation and his marriage to another man, he told me, "It's safe to say that it led to there being more interest and attention early on." He stood out among the dozens of Democratic aspirants, each desperate to do precisely that.

But there's a big difference between winning over enough Americans to land in his current position — he placed second, behind Elizabeth Warren, in one survey of Iowa voters last week — and having an appeal broad enough to nab the party's nomination, let alone the White House. Is being gay an insurmountable obstacle on the path to those prizes?

Anyone who answers with an unequivocal yes or no is just guessing.

The question is now being asked more urgently than before, as the primary contests draw closer and many Democrats simultaneously assess the risks of the two front-runners, Warren and Joe Biden, and survey the field anew, wondering if anyone in the tier of candidates just below them might be a better opponent for Donald Trump. Their gazes invariably fall on Buttigieg, but their apprehensions include whether America could really elect a gay president.

"Nobody believes that America can do what America will do until America does it," said David Axelrod, who was Barack Obama's chief strategist. He was referring specifically to serious worries at this point in the 2008 presidential race that America could really elect a black president.

But he said that the analogy is far from perfect. For example, Obama's candidacy always held the promise of extraordinary support from a crucial Democratic constituency that has thus far been cool to Buttigieg — and could well remain so.

"Among a significant segment of African-American voters who are socially conservative, he's not polling well," Axelrod said, noting a frustration of Buttigieg's campaign that my colleague Trip Gabriel explored in a recent article in The Times.

If Buttigieg cleared that hurdle and reached the general election, "Could he suppress turnout among African-Americans and among some Hispanic voters who might otherwise be predisposed to the Democratic nominee?" Axelrod asked. "I don't know the answer."
At the same time, Bruni argues that Buttigieg's sexual orientation could also be a benefit his campaign:
For all its potential drawbacks, Buttigieg's sexual orientation can be woven into his personal narrative to powerful effect, humanizing him, making him more approachable rather than less, forging a bridge to other minorities, establishing a familiarity with struggle and thus a capacity for empathy. All of that hinges on how deftly he integrates it into his remarks.

And on that front, he has been deft enough that, in my view, being gay doesn't automatically doom him. His age and degree of experience — he's the mayor of a city, South Bend, Ind., of just 100,000 people — are arguably greater vulnerabilities, and his fate won't be anything close to a referendum on gay equality.

His sexual orientation is indisputably a challenge, but one that's surmountable if opponents stumble, if voters' mood is just so, if his personality sparkles, if his message sparks. We're a country of deeply ingrained prejudices. But we can also be open-minded and openhearted, and our need for a savior outweighs any interest in what he or she does in bed.
I tend to agree with Bruni. If Buttigieg can show himself to be the kind of transformational candidate that Barack Obama did in 2008, then his sexuality will be as irrelevant to persuadable voters as Obama's skin color was. Indeed, as Bruni notes the people most inclined to hold Buttigieg's sexuality against him are people who unlikely vote for any Democratic candidate for President. Additionally, it strikes me that the top priority for African-Americans in November 2020 is going to be to get rid of Donald Trump. If Buttigieg manages to win the nomination, or become the running mate for the person who does, I think the vast majority of those voters will be just as enthusiastic about voting for him as they would any other Democrat taking on the President. Very few of them are likely to make the mistake some African-Americans did in 2016 when they stayed home because Obama wasn't on the ticket. It will take Buttigieg some work to win them over, but he seems very well suited for that task.