The Democratic Field Is Becoming Less Diverse, Who's To Blame?
With Kamala Harris''s exit from the race, some are raising questions about why minority candidates have failed to break through in a party that has a very diverse base.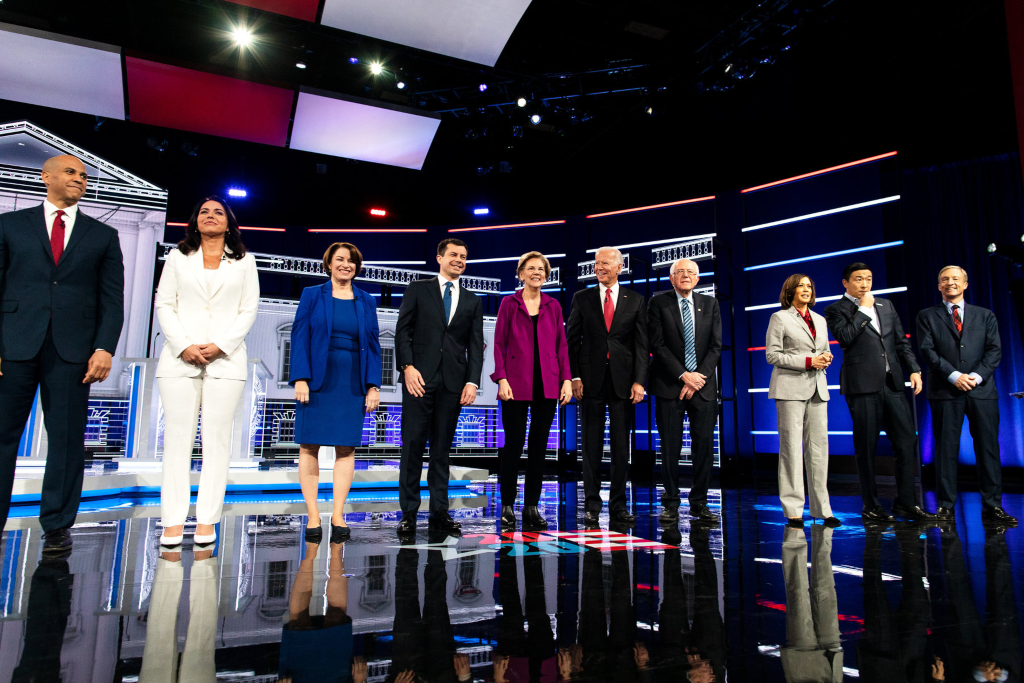 Yesterday's decision by California Senator Kamala Harris to drop out of the race for President is prompting some Democrats to point out the fact that the number of minority candidates in the race is dwindling and that the race is currently dominated by four candidates, all of them white and three of them men:
First up, there's New Jersey Senator Cory Booker, the only remaining African-American running for the nomination:
On All In With Chris Hayes Tuesday night, Democratic presidential candidate Cory Booker responded to fellow candidate Kamala Harris dropping out of the race earlier in the day.

Though Harris cited fundraising issues as the reason for suspending her campaign, she was the only non-white candidate so far to meet the fundraising and polling qualifications set by the Democratic National Committee to participate in the upcoming debate. And Booker lamented the fact that she would no longer be taking part.

"I have to say that we started with one of the most diverse fields in our history. Giving people pride," Booker said. "And it's a damn shame now that the only African-American woman in this race, who has been speaking to issues that need to be brought up, is now no longer in it, and we're spiraling towards a debate stage that potentially, we're still trying to get in it, but could have six people with no diversity whatsoever."

So far, the only candidates to qualify for the debate are Joe Biden, Elizabeth Warren, Bernie Sanders, Pete Buttigieg, Amy Klobuchar and Tom Steyer. So Booker also took this opportunity to publicly criticize the DNC for setting standards that could keep him and other candidates out of the debate.

"The way this is shaping up, especially with the rules of the DNC," Booker said, "it is preferencing millionaires and billionaires and a lot of other things that don't ever translate into viability in Iowa."
Former San Antonio, Texas Mayor and Secretary of the Department of Housing and Urban Development Julian Castro made similar comments:
Former housing secretary Julián Castro said Sen. Kamala Harris's bid for president was hampered by the media treating candidates of color differently, speaking after Harris ended her presidential campaign on Tuesday.


"To me, they held her to a different standard, a double standard, to other campaigns. And I don't know if it impacted her decision to withdraw from the race or not, but I'm sure it didn't help," Castro, the only Latino candidate running for president, told BuzzFeed News on Tuesday night.

"This was a narrative from very early on. … From the earliest critique that she has no black support, the [Congressional Black Caucus] is going other directions. It's just holding people to different standards," he said.
Castro specifically criticized recent reporting which revealed disarray and grievances within Harris's campaign, citing several staffers' own criticisms of how the campaign was being run, including with on-record comments from close supporters.
"I was disappointed by the treatment her campaign got especially during the last seven days, when you had the Washington Post, New York Times, and Politico writing very gossipy sounding big articles trashing the campaign," Castro said.

Asked why he thought those stories were unfair, given that dozens of Harris staffers spoke out about the state of the campaign, he said,

"Sourcing in journalism, just because somebody is willing to talk doesn't mean that reflects a reality or that necessarily gives it front page coverage in your publication," he said. "Donald Trump was very willing to talk to journalists in 2015 and '16 and because of that journalists gave him a lot of coverage. There has to be more responsibility in the profession than that.
Castro also addressed the alleged unfairness of the treatment of Harris in a video released by his campaign:
On some level, I suppose that Booker and Castro have a point. As it was, this race started out with a record number of candidates for either party, and yet only a handful of them — Harris, Booker, Castro, Yang, and Gabbard — represented minority groups, and only 6 of them — Harris, Gabbard, Warren, Klobuchar, Williamson, and Gillibrand — were women. In 2016 in a Republican field that was only slightly smaller than the Democratic field at the start of this race, there were only four candidates that represented minority groups, two Latino-American candidates (Cruz and Rubio) and one Indian-American candidate (Bobby Jindal), and one African-American (Ben Carson). In addition, there was just one woman, former Hewlett-Packard CEO Carly Fiorina. While the lack of diversity among Republicans is hardly surprising, it was rather noticeable among Democrats, which is generally speaking a far more diverse party that depends on support from a coalition that includes minority groups and, of course, women.
What strikes me about the reaction of Senator Booker and Secretary Castro is the extent to which they appear to be saying that minority candidates, especially in the Democratic Party, are somehow entitled to support simply because they are members of a minority group. The fact that both Castro and Booker are near the bottom of the Democratic field with little prospect that they are going to gain the support necessary to rise any further in the field than they've already gotten.
One of the reasons that candidates such as Harris, Booker, and Castro have been unable to rise very far in the polls, of course, is the fact that these minority candidates have been unable to rise very far is, ironically, because they have failed to resonate among minority voters. This can best be seen in South Carolina, an early state where former Vice-President Biden continues to have a commanding lead, and one of the main reasons for that is the fact that he has a strong lead among the state's African-American voters. In the most recent Quinnipiac poll of the Palmetto State, for example, Biden has the support of 44% of African-American voters. Bernie Sanders follows with 10%, followed by Senator Booker at 8% and Senator Harris at 6%. Similarly, a recent Fox News News poll of Nevada, the first primary state with a significant Latino population, Julian Castro garners just 1% of the vote while 65% of Latino voters support either Biden, Warren, or Sanders. This suggests that the race and ethnicity of the candidates matter far less to voters than it apparently does to the candidates themselves.
The other issue that Booker and Castro both raise is the idea that Harris was somehow treated unfairly, particularly to the extent that political reporters began reporting on the slow collapse of Harris's campaign, reports I made note of myself here, here, here, and here.
These reports, though, were exactly the kind of coverage you'd expect to see from political reporters covering a candidate like Harris who, only five months ago, seemed to be on the rise to become a serious contender only to see her campaign collapse slowly but surely. Additionally, many of those reports came from inside the Harris campaign itself, which by the end was showing all the signs of a campaign nearing its end as various factions in the campaign started pointing fingers at each other. The idea that this coverage constituted "unfair" treatment or that it was based on Harris's race or ethnicity, is utterly absurd and without evidence.
To be frank about it, the lack of support that Harris, Booker, and Castro have received from voters seems to me to be little more than whining on their part. They aren't entitled to minority support just because they are minority candidates, and they aren't entitled to kid-glove treatment by the media or their fellow candidates for that reason either. The Democratic Party has already shown that it is a far more diverse party than the GOP, which is why it isn't surprising that the first African-American President was a Democrat. When Obama ran for the first time in 2008 he received historic levels of African-American and minority support simply because of what he represented. This time around, minority voters seem to be sending the message that their support isn't based primarily on race or ethnicity, but on who can win in November. That strikes me as a healthy attitude.