Kamala Harris Drops Out of Presidential Race
Kamala Harris, whose campaign has been floundering for months, is out of the race for the Democratic Presidential Nomination.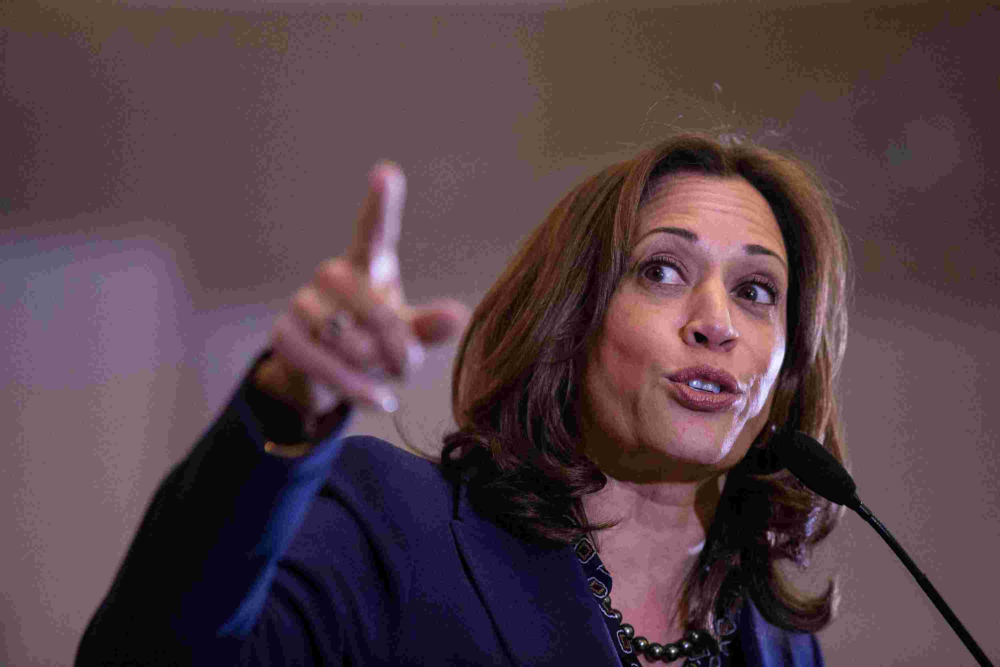 After months of speculation, polling, reports and fundraising records that clearly indicated that her once-promising campaign was floundering, California Senator Kamala Harris has dropped out of the race for the Democratic Presidential nomination:
Kamala Harris dropped her presidential campaign on Tuesday after months of failing to lift her candidacy from the bottom of the field — a premature ending for a California senator once heralded as a top-tier contender for the nomination.

Harris told aides of her intentions in an all-staff call. A person familiar with the call said she sounded distraught. While Harris had qualified for the December debate in her home state, she was running dangerously low on cash — lacking the resources to air TV ads in Iowa — and her staff was gripped by long-running internal turmoil.

Still, the news came as a shock to some of her biggest supporters. Just as Harris was announcing the news internally, a super PAC had cleared more than $1 million in TV ads in Iowa to boost her struggling campaign. The ad, which argued she was the best-equipped candidate to take on Trump, was canceled.

(…)

Harris, who spent Thanksgiving in Iowa with family, took a deep look at the campaign's resources over the holiday and decided she did not have a path to the nomination. A Harris campaign aide said the expected impeachment trial in January further complicated the situation.
She made the decision Monday after discussions with her family and senior aides. Harris will travel to the early states this week to thank staff and supporters for their dedication to the campaign.
Here's Harris's Tweet:
Harris also posted an explanation for her decision on Medium:
Eleven months ago at the launch of our campaign in Oakland I told you all: "I am not perfect. But I will always speak with decency and moral clarity and treat all people with dignity and respect. I will lead with integrity. I will speak the truth."

And that's what I have tried to do every day of this campaign. So here's the truth today.

I've taken stock and looked at this from every angle, and over the last few days have come to one of the hardest decisions of my life.

My campaign for president simply doesn't have the financial resources we need to continue.

I'm not a billionaire. I can't fund my own campaign. And as the campaign has gone on, it's become harder and harder to raise the money we need to compete.

In good faith, I can't tell you, my supporters and volunteers, that I have a path forward if I don't believe I do.

So, to you my supporters, it is with deep regret — but also with deep gratitude — that I am suspending my campaign today.

(…)

I am extremely grateful to the hundreds of staff who moved and uprooted their lives and sacrificed time away from their families. I know our fight has been personal for each of them.

Of course, I could not have done this without my husband Doug and my entire family and friends who gave up so much to embark on this journey with me and have supported me every step of the way.

And I am grateful to the thousands of volunteers and contributors who chipped in, who knocked on doors, who made calls and who put their faith and trust in me. It has been the honor of my life to be your candidate.

And I want to be clear: although I am no longer running for President, I will do everything in my power to defeat Donald Trump and fight for the future of our country and the best of who we are.

I know you will too. So let's do that together.

Let's keep fighting for the America we believe in, an America free of injustice. An America that we know we can be unburdened by what has been.
This decision comes after several reports, such as those I took note of in mid-November and again just this past Saturday, that indicates the extent to which Harris's campaign, which had once seen her rise into the top four along with Former Vice-President Biden and Harris's fellow Senators Elizabeth Warren and Bernie Sanders, was falling into disarray, a fact that could be seen both in the polling numbers and fundraising, which appears to be the main reason she chose to drop out at this point.
Earlier this month it was reported that Harris was cutting back staff in every state except Iowa, where she apparently is concentrating her campaign efforts. It also comes after months of declining poll numbers and disappearing press attention as the front runners in the Democratic field appears to narrow down to Joe Biden, Elizabeth Warren, Bernie Sanders, and Pete Buttigieg.
After peaking in the polls in the immediate aftermath of the first Democratic debate in June, the former Attorney General and current Senator from California began to slip in the polls and has not been able to stop that slide. Currently, for example, she's polling at 3.4% in the RealClearPolitics national polling average, a significant drop from her peak shortly after the first debate, when she reached 15.9% and briefly held on to third place behind Biden and Sanders, the two frontrunners at the time.
In the statewide polls, she wasn't faring much better. In Iowa, the state where she appears to be concentrating her resources at this point, she's in sixth place at 3.3% after peaking over the summer at 16.0%. In New Hampshire, meanwhile, she's dropped all the way down to ninth place with an average of 2.7 %. In Nevada, she's in fifth place with an average poll result of 4.0%, just ahead of billionaire Tom Steyer. Her best performance is in South Carolina, but even there she stands at 6.3%, but that still puts her well behind Biden, Sanders, Warren, and Buttigieg. Even in her home state of California, she's in fourth place at 8.7% while her competition — Biden, Warren, and Sanders — are all in double digits.
The second issue that Harris faced is, as noted, a serious money problem that threatens to cause the campaign to significant problems just as we are heading into the closing months of the pre-primary part of the campaign. The best evidence of that can be seen in the fact that she raised just $11.6 million in the most recent quarter of the year, roughly the same numbers she saw in the first and second quarters of the year. More importantly, her cash-on-hand numbers were among the worst of any of the top five candidates, and that is only going to get worse if her fundraising continues to slow down.
With all this facing her, and the campaign itself apparently in internal disarray as various staff members sought to blame each other for what was going on, it was only inevitable that Harri's campaign was going to come to an end. The only question was when it would happen. I had thought that she'd take one last shot at the upcoming debate to try to turn her campaign around, but from the post that Harris authored on Medium, it seems as though there wasn't even sufficient money for the campaign to last that long.
Unlike most of the previous candidates who have dropped out, Harris was polling high enough in national and statewide polls to raise the question of where those who were supporting her might go now that her campaign. Given that she was at least partly appealing to some of the same progressive Democrats that Sanders and Warren are appealing to so it's likely that many of them will end up backing one of those two candidates. It's also possible, though, that we will see some of Harris's supporters rally around former Vice-President Biden or MayorPete Buttigieg. We'll have to wait until future polling that does not include Harris is released to see that, of course, but this move could have a real impact in states like South Carolina and California where Harris was still polling relatively decently.
All that being said, while Harris was a candidate who started out seeming like a promising candidate, she clearly didn't have what it took to become one of the top contenders for the nomination. With the exception of that brief period after the first debate when she skyrocketed into the top tiers of the campaign after her attack on Joe Biden, Harris was always a candidate in the middle of the pack at best. After that peak, which she was utterly unable to exploit she began her slow slide back to where she had stood prior to the debate and, from there, into the doldrums where she was polling below candidates such as Andrew Yang and other single-digit candidates While it was possible that she could have turned herself around, she fumbled every opportunity she had in that regard. As a result, today's developments, while coming earlier than might have been expected, were largely inevitable.