Newt Gingrich: Obama May Follow A "Kenyan Worldview"
Newt Gingrich is feeding the fires again, this time claiming that the President may be guided by a "Kenyan," "anti-colonialist" worldview.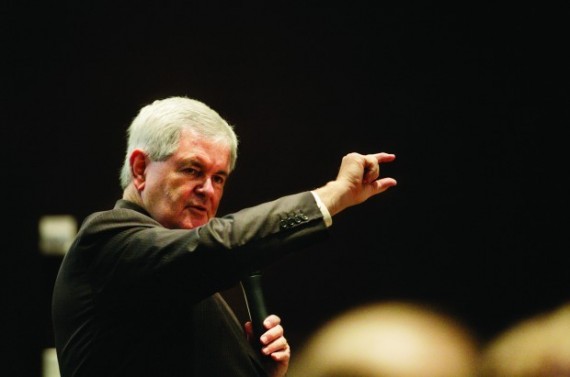 Former Speaker of the House Newt Gingrich had some fairly provocative comments in a recent interview with National Review's Robert Costa:
Citing a recent Forbes article by Dinesh D'Souza, former House speaker Newt Gingrich tells National Review Online that President Obama may follow a "Kenyan, anti-colonial" worldview.

Gingrich says that D'Souza has made a "stunning insight" into Obama's behavior — the "most profound insight I have read in the last six years about Barack Obama."

"What if [Obama] is so outside our comprehension, that only if you understand Kenyan, anti-colonial behavior, can you begin to piece together [his actions]?" Gingrich asks. "That is the most accurate, predictive model for his behavior."

"This is a person who is fundamentally out of touch with how the world works, who happened to have played a wonderful con, as a result of which he is now president," Gingrich tells us.

"I think he worked very hard at being a person who is normal, reasonable, moderate, bipartisan, transparent, accommodating — none of which was true," Gingrich continues. "In the Alinksy tradition, he was being the person he needed to be in order to achieve the position he needed to achieve . . . He was authentically dishonest."
If anything, the Dinesh D'Souza article is even more inflammatory. Using incredibly tortured logic, D'Souza claims that Obama is being governed by the political philosophy of a father who abandoned him when he was two, and a country he didn't visit until he was an adult:
Rejecting the socialist formula, Obama has shown no intention to nationalize the investment banks or the health sector. Rather, he seeks to decolonize these institutions, and this means bringing them under the government's leash. That's why Obama retains the right to refuse bailout paybacks–so that he can maintain his control. For Obama, health insurance companies on their own are oppressive racketeers, but once they submitted to federal oversight he was happy to do business with them. He even promised them expanded business as a result of his law forcing every American to buy health insurance.

If Obama shares his father's anticolonial crusade, that would explain why he wants people who are already paying close to 50% of their income in overall taxes to pay even more. The anticolonialist believes that since the rich have prospered at the expense of others, their wealth doesn't really belong to them; therefore whatever can be extracted from them is automatically just. Recall what Obama Sr. said in his 1965 paper: There is no tax rate too high, and even a 100% rate is justified under certain circumstances.

Obama supports the Ground Zero mosque because to him 9/11 is the event that unleashed the American bogey and pushed us into Iraq and Afghanistan. He views some of the Muslims who are fighting against America abroad as resisters of U.S. imperialism. Certainly that is the way the Lockerbie bomber Abdel Baset al-Megrahi portrayed himself at his trial. Obama's perception of him as an anticolonial resister would explain why he gave tacit approval for this murderer of hundreds of Americans to be released from captivity.

Finally, nasa. No explanation other than anticolonialism makes sense of Obama's curious mandate to convert a space agency into a Muslim and international outreach. We can see how well our theory works by recalling the moon landing of Apollo 11 in 1969. "One small step for man," Neil Armstrong said. "One giant leap for mankind."

But that's not how the rest of the world saw it. I was 8 years old at the time and living in my native India. I remember my grandfather telling me about the great race between America and Russia to put a man on the moon. Clearly America had won, and this was one giant leap not for mankind but for the U.S. If Obama shares this view, it's no wonder he wants to blunt nasa's space program, to divert it from a symbol of American greatness into a more modest public relations program.

Clearly the anticolonial ideology of Barack Obama Sr. goes a long way to explain the actions and policies of his son in the Oval Office. And we can be doubly sure about his father's influence because those who know Obama well testify to it. His "granny" Sarah Obama (not his real grandmother but one of his grandfather's other wives) told Newsweek, "I look at him and I see all the same things–he has taken everything from his father. The son is realizing everything the father wanted. The dreams of the father are still alive in the son."

(…)

Incredibly, the U.S. is being ruled according to the dreams of a Luo tribesman of the 1950s. This philandering, inebriated African socialist, who raged against the world for denying him the realization of his anticolonial ambitions, is now setting the nation's agenda through the reincarnation of his dreams in his son.
So where are Gingrich and D'Souza heading here ? Some are suggesting that invoking the "Kenyan" and "anti-colonialism" arguments are a subtle way to appeal to the birtherism that seems to float just below the surface of opposition to the President:
The idea that Obama is fundamentally foreign because of his Kenyan father is a view most closely associated with individuals known as "birthers," who assert against the evidence that Obama was secretly born or raised in Kenya, rather than Hawaii, and therefore is not eligible to be — and illegitimate as — president. The D'Souza-Gingrich argument represents a new approach to calling the president's ideas foreign and unAmerican.
Others, however, have suggested a more sinister motive:
"Kenyan," in this case, is a euphemism for the N-word; "Kenyan, anti-colonial behavior" is also the self-styled historian's way of showing he's a really brainy Doctor of Thinkology, able to invoke the scary, swarthy Africans from half a century ago (because, hey, anyone can talk about the Black Panthers), thus engendering in his fan base a frisson of Negro-fear and a thrill at his erudition.
What I really think we're seeing here is anything example of Newt Gingrich pretending to be a deep thinker and, in the process, saying things that are monumentally stupid. The idea that Barack Obama, who was educated for all but five years in American public schools, attended American universities, and only saw his father once after his parents divorced in 1964 is somehow guided in life by the dreams of the Luo tribe from the 1950s-era movement for Kenyan independence from Great Britain is, quite honestly, absurd.
I can honestly think of only one reason for Gingrich and D'Souza to say stuff like this. It's not racism per se so much as it is a desire to feed into the idea that Barack Obama is not a real American. Why else emphasize his ties to a country he's only visited twice in his entire life and to an era of history that most Americans have no connection to at this point ?
It's cheap, and it's cynical. In other words, classic Newt Gingrich. If this is what we can look forward to if he runs for President, I hope it's a very short run.