Time To Start Thinking About Huckabee 2016
Mike Huckabee seems to be making the moves necessary to run for President again, For reasons only he can understand.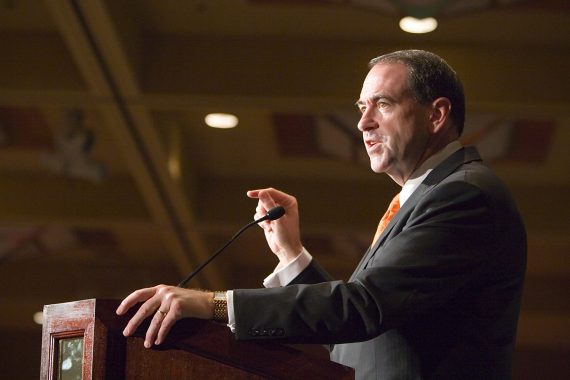 The Washington Post's Tom Hamburger and Robert Costa report that Mike Huckabee appears to be at the very least assembling what could be the core of a Presidential campaign is he decides to run for President in 2016, an opportunity he passed on four years ago:
Former Arkansas Gov. Mike Huckabee, who turned his stunning victory in the 2008 Iowa caucuses into a thriving talk show career, is reconnecting with activists and enlisting staff to position himself in a growing field of potential Republican presidential candidates.

This week, Huckabee is leading more than 100 pastors and GOP insiders from early primary states on a 10-day overseas trip with stops in Poland and England.

Huckabee's newly formed non-profit advocacy group, America Takes Action, has begun to serve as an employment perch for his political team, recently bringing on a number of experienced campaign operatives.

Advisers are already scouting real estate in Little Rock, Ark., for a possible presidential campaign headquarters.

Huckabee is scheduled to spend part of November holding private meetings with powerful GOP financiers in Las Vegas, New York, and California, gauging their interest in being bundlers for his possible campaign and asking for pledges of five-to six-figure donations to his aligned organizations. And he is planning two strategy sessions in December, in Little Rock and Destin, Fla., near his new Gulf Coast home, to discuss timing, potential staffing, and an opening pitch to voters.

In January, Huckabee will publish "God, Guns, Grits, and Gravy," his latest manifesto on politics and culture.

Huckabee, 59, who was governor of Arkansas for a decade, is one of the more enigmatic candidates in a potential Republican field. He has kept a relatively low political profile since 2008, largely staying out of the internal debates that have animated his party over the last few years. Nevertheless, Huckabee maintains a connection with many conservative voters and regularly polls along with former Florida Gov. Jeb Bush and Sen. Rand Paul (Ky.) at or near the top of a potential Republican field.

(…)

Huckabee's "heart is into it," his daughter and political confidant Sarah Huckabee told The Washington Post in an interview Tuesday. "He is personally engaged and more aggressive in taking on meetings. He can't wait to get back to South Carolina and Iowa."

For the elder Huckabee, host of a weekly Fox News Channel show that bears his name and a regular commentator on the network, exploring another presidential bid requires a delicate finesse: Fox News, as a policy, terminates its relationships with commentators who create exploratory committees or otherwise show serious intent to run for office.

"I have to be very careful about this," Huckabee said in an interview Tuesday with The Post.

He noted that he has "obligations in broadcasting," and that, when it comes to running for president, "I am not doing anything official at this point."

Still, in the interview, Huckabee signaled that he has begun thinking about areas where he might differentiate himself from some of his potential adversaries.

Asked about potential competition in pursuit of Christian evangelical voters, Huckabee said: "That's part of the whole process of having a primary election period. … It provides an opportunity for comparisons."

Huckabee declined to say whether he admired the pugnacious approach taken by Cruz, who favored a government shutdown last year and takes a more militant approach than that taken by GOP congressional leaders.

"I wouldn't want to evaluate his direction or tactics," Huckabee said. "They are unique to him, and he has to find his own way," to win support.

Huckabee's shift from semi-retirement to being on the cusp of another presidential run began in July 2013, according to Republicans close to him who requested anonymity to speak freely.

As Huckabee sat on the beach one day with his family, he was joined by Chip Saltsman, the longtime political strategist who had managed his 2008 campaign.

Saltsman asked Huckabee about whether he was interested in running again. Huckabee shrugged and said he was not sure. Saltsman replied that if he had any inclination to do it, he needed to start mapping out a run as soon as possible in order to keep up with his potential rivals. Saltsman's parting message: Call me when you're ready. A couple days later, Huckabee rang Saltsman and said, "Let's go."
In some sense the fact that Huckabee might be looking at another White House run isn't entirely surprising. Even at the start of the year, polling in Iowa was showing that he remained quite popular with the Hawkeye State's Republicans even six years after his surprise win in the caucuses. A later poll, conducted just two months ago, again showed him leading other potential 2016 candidates notwithstanding the fact that, unlike them, he had not spent much time this year visiting the state. More recently, the former Arkansas Governor seems to have made a conscious effort to reassert himself into the public sphere with comments about the possibility of impeaching the President, a threat to leave the GOP if the party changes its position on same-sex marriage that was clearly meant as a rallying cry to the social conservatives that would serve as his base of support if he did run, and joining others on the right in making bizarre and blatantly political comments about immigration and the Ebola crisis. If Huckabee is serious about at least keeping the door open to a Presidential run, he's been doing everything one would expect him to do in that regard.
It's possible, of course, that this is all a feint on Huckabee's part just like we saw during the 2012 election cycle. Back then there were also several polls, both from Iowa and nationwide that seemed to show him to be the Republican frontrunner, ahead even of supposed "next in line" candidate Mitt Romney who had secured the backing of much of the GOP business and financial community early on in the process back then. After flirting with the idea for months, and indeed speaking out on national issues as he has over the course of this year, Huckabee ultimately bowed out of the race in an announcement that was designed mostly to bring attention to his Saturday evening show on Fox News Channel. After that, while he did participate in the 2012 race in varying degrees, Huckabee largely faded from the national scene to concentrate on the television show and a daily call-in radio show that ran for a year and a half before going off the air last year, Now, he has a book coming out and that could either be the prelude to a return to politics, or just a new direction for his media career and, to be honest, his current activities could be seen as either advancing the return to politics or advancing the media career.
Let's assume that Huckabee is seriously thinking about getting back in the race for now. After all, that is how he's going to be acting for the next several months at least and the impact that he could have on the race as a competitor for the votes of social conservatives in states like Iowa and South Carolina could have a big impact on whether or not other candidates get into the race, and how they run their own campaigns if they do. In that regard, you can count Daniel Larison among those who don't think a Huckabee 2016 makes much sense:
Back in 2011, a second Huckabee bid would have been more understandable. He had won several elections in the 2008 primaries, and won a decent number of delegates to finishsecond in the overall delegate count, and there was obviously a strong desire among many conservatives in the 2012 cycle to thwart Romney. That was the best chance that Huckabee had to run a genuinely competitive race, and then he could have at least claimed to be the runner-up from the last contest, but he didn't take it. He also has the liability of being something of a Bush-era throwback in a few respects. More than any other Republican candidate in 2008, he positioned himself as a "compassionate" conservative with the poor fiscal record to prove it. Because of his emphasis on social issues throughout his campaign, he had a very loyal base of support among evangelicals, but he could never reach anyone beyond that base. Huckabee was the perfect example of a factional candidate, and that is what he would be next time.

(…)

Especially if Santorum also chooses to run again, a Huckabee campaign would appear to add nothing to the debate that won't already be there. Huckabee would likely not have much financial support for a campaign, since Republican donors are always allergic to anyone for whom social issues are the priority. He would once again have to run a campaign on a shoestring as a retread candidate, but he would be running against many more better-organized competitors than he faced last time.
Allahpundit, on the other hand, posits that a Huckabee candidacy, among other things, could be something that the GOP establishment would like to see because of the impact that it would likely have on what seems like a likely Presidential run from Texas Senator Ted Cruz:
Having Huck and Ben Carson both in the race will probably hurt their nemesis, Ted Cruz, more than anyone else. Exit question: If you're a social conservative in Iowa, how on earth do you begin to sort this out? You've got Huck and maybe Santorum on the menu if you want to send a message about values. But if you do that, withholding your vote from a more mutifaceted social con like Rubio, you risk helping Bush or Christie. After all, the establishment candidates would be thrilled to see Huck or Ben Carson win Iowa since it's unlikely that their niche candidacies will play in less evangelical states like New Hampshire or Florida. On the other hand, if you're a social con in Iowa who does want to cast a vote for someone who can contend in New Hampshire or Florida, how do you go about choosing between Rubio, Walker, Perry, and Jindal (and maybe Ryan)? Seems likely to me that those four or five will end up splitting a big pool of votes fairly evenly, which would leave room for Paul or even Bush or Christie to steal a win by consolidating their own niches behind themselves.
Adding Huckabee into that mix would just end up further reducing the influence of social conservatives on the process, at least early in the process in states like Iowa, South Carolina, and Florida, and give much more room to mainstream conservatives to not only court those social conservatives not wedded to an ideologically pure candidate but also appeal to the voters in the middle that are the key to winning not just the General Election but also the open primaries that characterize the vast majority of the important states in the GOP nomination process. That being said, I tend to agree with Larison that Huckabee's days as a candidate with a viable chance at the GOP nomination have passed him by. Perhaps he would have had a change in 2012 given the extent to which conservatives engaged in an endless search for an alternative to Romney only to be disappointed by Bachmann, Perry, Cain, Gingrich, and Santorum, each of whom rose in the polls at some point during the race only to fall back to Earth rather quickly when it was clear that they could not sustain their momentum and that the resources behind Romney were simply unbeatable. With his resume and his record of success in 2008, Huckabee likely would have been a more viable challenger in 2012 than the others, although its unclear that he would have been any more successful than they were in stopping Romney's momentum. Four years later, though, it's hard to see what it is about Huckabee that would differentiate him sufficiently from the other candidates to give him an edge. In 2016, it will be nine years since he left office as Governor of Arkansas, and while he remained in the news for a year after that as a ran for President, he hasn't exactly been a household name since his campaign ended early on in the cycle. What recommends him to voters over Marco Rubio or anyone else is not clear at all.
Nonetheless, it appears that for the moment at least we'll have to start considering the possibility of a Huckabee campaign in 2016. If nothing else, it would mean he'd have to end his Fox News Channel show and, based on this rather obvious Freudian slip by FNC host Megyn Kelly, I don't think his colleagues would miss him (NSFW Freudian slip in video):
Tell us what you really think, Megyn.