Mike Huckabee Climbs To Top In GOP 2016 Poll
Huckabee resurgent? A new poll makes the case, but it's far too early to say.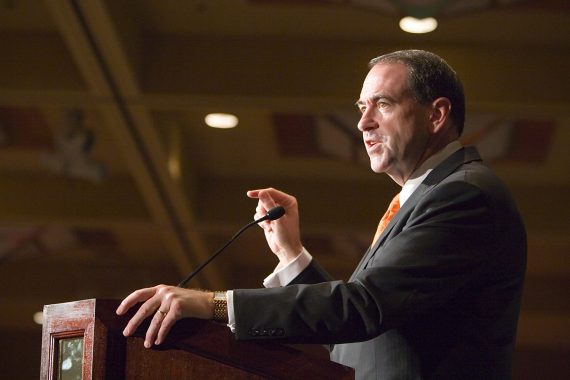 Just about a week ago former Arkansas Governor Mike Huckabee drew controversy to himself and the GOP with remarks about the Republican Party's policies on women's issues in which he said that Democratic policies are based on the premise that women can't control their libidos:
Former Arkansas Gov. Mike Huckabee (R) said that the government shouldn't help women who can't control their "libido or their reproductive system" by providing co-pay-free birth control and that Democrats are encouraging women to be "victims of their gender."

Huckabee made the comments during a speech at the Republican National Committee's winter meeting on Thursday.

"If the Democrats want to insult the women of America by making them believe that they are helpless without Uncle Sugar coming in and providing for them a prescription each month for birth control because they cannot control their libido or their reproductive system without the help of government then so be it! Let us take that discussion all across America because women are far more than the Democrats have played them to be," Huckabee said.

Huckabee argued that Democrats "think that women are nothing more than helpless and hopeless creatures whose only goal in life is to have the government provide for them birth control medication."

Huckabee also argued that his party is not waging a war on women.

"The fact is the Republicans don't have a war on women, they have a war for women, to empower them to be something other than victims of their gender," Huckabee said.
The outcry from Huckabee's remarks was about what you'd expect. While those on the right contended that he was being deliberately misinterpreted, it's clear from reading what Huckabee actually said and watching the speech that the former Arkansas Governor had indeed inserted his foot in his mouth, particularly in the manner in which he dismissed issues like access to birth control as a matter of a woman's "libido," something which seems to indicate that he has no real understanding of how the birth control works.
While Huckabee's remarks are unlikely to help the GOP among women, though, they do seem to be helping his own political fortunes. That, at least seems to be the logical conclusion given that Huckabee seems to be climbing in polling regarding potential 2016 Presidential nominees:
Uncle Sugar has apparently provided Mike Huckabee with a polling bounce.
The latest survey from Democratic PPP released Wednesday showed the former Arkansas governor surging among Republican voters nationwide in the wake of his head-scratching comment about the female libido

According to the poll, 16 percent of GOP primary voters said they would prefer to see Huckabee as the party's presidential nominee in 2016, making him the top Republican in the field. Only a month ago, PPP showed Huckabee polling at 11 percent and trailing both New Jersey Gov. Chris Christie (R) and Sen. Ted Cruz (R-TX) among GOP voters.

(…)

Wednesday's poll indicated that Republican women weren't bothered by what he said either. With 16 percent support, Huckabee was the top choice among female GOP voters.
Here's where all of the potential candidates polled stand:
Huckabee — 16%
Jeb Bush — 14%
Chris Christie — 13%
Rand Paul — 11%
Ted Cruz, Marco Rubio, and Paul Ryan — 8% each
Scott Walker — 6%
Bobby Jindal — 5%
To some extent, I think that Huckabee moving up in the polls is a combination of both the fact that he has been in the news recently for saying something that appeals to the GOP's conservative base and that the previous frontrunner, Chris Christie, has slipped in the polls thanks mostly to the political problems he's been suffering through in recent weeks in New Jersey. As with most of these early polls, though, I'm not sure it means much of anything else for 2016. Indeed, it's unclear if Huckabee is even considering running for President. Back during the 2012 cycle, Huckabee was seen as the strongest conservative contender against Mitt Romney and indeed quite often topped Romney in polls of GOP voters in 2011 and earlier. In the end, though, he chose not to run and thus set off a mad scramble on the right for someone who could adequately challenge Romney that ultimately proved to be unsuccessful. Since then, Huckabee has found a home for himself both on Fox News Channel where he continues to host a show that airs each Saturday evening and on the speaking circuit. Whether he'd be willing to give all of that up and run for President after almost eight years of being out of practice on the stump is an open question that Huckabee doesn't seem to be willing to address at this very moment.
In the end, I tend to doubt that Huckabee will get into the race, mostly for the same reasons he didn't get in back in 2012. He really seems to like what he's doing now, and it's been a long time since he's been out on the stump circuit that he'd have to hit if he were to run for President again. Furthermore, it's unclear at this point how much support Huckabee still has among the all important political activists in early states like Iowa and South Carolina. To a large degree, many of those Huckabee supporters migrated over to Rick Santorum in 2012, and many of them are likely now looking at candidates like Ted Cruz and Rand Paul. How willing would they be, really, to jump back on board with a candidate who has been out of the Presidential picture since he dropped out of the race in January 2008? Finally, it's worth noting that Huckabee may not see himself as candidate material anymore. Back during the 2012 campaign, he attempted in some respect to act as a GOP kingmaker of sorts and even ended up hosting his own candidate forum that used a format that actually turned out to be quite more interesting than all the other Republican candidate debates we saw during that cycle. Perhaps that's how he views himself now. At some point we'll find out, I suppose, but until then I guess we should add Mike Huckabee to the list of possible, although perhaps not probable, candidates for the GOP nomination in 2016.