First Post-Holiday Polls Show Few Changes In GOP Presidential Race
With under a month to go before voting starts, the race for the GOP nomination looks about the same as it did before Christmas.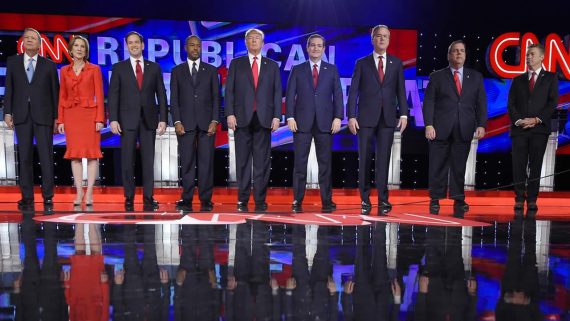 The first polls of the new year are out, and they show little change from where the race for the Republican nomination stood when we took a break from politics for Christmas and New Year's Day.
First up, Fox News has a new national poll showing Donald Trump continuing to maintain his commanding lead in the nationally:
Donald Trump and Ted Cruz lead the pack in the GOP nomination race.  They are also the two candidates Republicans think would be best at reversing Barack Obama's agenda.

Here are the numbers from the latest Fox News national poll on the 2016 presidential election.

Trump leads with 35 percent among Republican primary voters.  Next is Cruz with 20 percent support — his personal best in the Fox News poll.

Marco Rubio is third at 13 percent, while Ben Carson is at 10 percent.  Jeb Bush gets four percent, Carly Fiorina three percent, and Chris Christie, John Kasich and Rand Paul each get two percent.

Last month, it was Trump 39 percent, Cruz 18 percent, Rubio 11 percent, and Carson 9 percent (December 16-17, 2015).

Cruz (33 percent) has the advantage over Trump (26 percent) among self-described "very" conservative voters.

The race is much closer among white evangelical Christians: Trump 28 percent vs. Cruz 26 percent.

Almost half of GOP primary voters think Trump (48 percent) would be most effective at reversing Obama's policies.  That's more than twice as many as the 21 percent who say the same about Cruz.  Again, Rubio comes in third at nine percent.

Priorities of GOP primary voters have flipped since the Paris and San Bernardino attacks.  Now 43 percent say national security issues will be most important in deciding their vote for the nomination, followed by economic issues at 27 percent.  The last time the question was asked, before those attacks, voters prioritized economic issues over national security (38 percent and 26 percent respectively).
While Trump did drop four points from the last Fox News poll conducted in mid-December, that drop wasn't really statistically consequential and it doesn't really appear to have had much of an impact elsewhere in the field. Texas Senator Ted Cruz, for example, who is obviously now Trump's top competitor, gained two points from the last Fox poll, as did Marco Rubio, but those two are only marginally significant at best. For the most part, this poll seems to show that there has been little change in the state of the race on the national level over the holidays. In the poll average, Trump continues to hold a commanding lead just as he has for the past six months. RealClearPolitics shows him with a 13.3 point lead nationally, slightly below where it was before Christmas but still high enough to qualify as a "commanding" lead for the real estate developer as we stand less than a month from the start of voting. At Pollster, Trump leads by an average of twenty points at the national level. Neither measure shows either Cruz or Rubio trending upward significantly at this time.
Looking at the state level, Fox also released polls of the early voting states, and they too show that little has changed over the holidays.
In Iowa, for example, Ted Cruz has a small lead over Trump in a race that remains quite tight:
Ted Cruz continues to hold an edge over Donald Trump in the GOP nomination race in Iowa, according to the latest Fox News poll of likely Republican caucus-goers.

The new poll, released Friday, finds Cruz receives 27 percent support and Trump 23 percent.  Marco Rubio follows in third place at 15 percent.

That's little changed from a month ago when Cruz had 28 percent, Trump had 26 percent, and Rubio had 13 percent (December 7-10).

Ben Carson is at nine percent (-1), Jeb Bush seven percent (+2), and Rand Paul five percent (no change).

Cruz's advantage widens among caucus-goers who identify as "very" conservative.  He garners 40 percent among this group — nearly double Trump's 22 percent.

White evangelical Christians also prefer Cruz over Trump (33 vs. 19 percent).

Cruz bests Trump among caucus-goers who have a college degree (25 vs. 18 percent) and those under age 45 (27 vs. 17 percent).

Trump has a one-point edge among those without a degree (30 vs. 29 percent).

The two are also about even among those over age 45 (Cruz 26 vs. Trump 25 percent).

Nearly 3 in 10 who say they will attend a Republican caucus this year have never done so before (27 percent).  These first-timers are about equally likely to back Trump (27 percent) as Cruz (26 percent).  Another 14 percent go for Rubio.

It will be tough for Trump to expand his support in Iowa, as nearly a third of likely caucus-goers say they could "never" back him (31 percent).  That's more than four times as many as say the same about Cruz (7 percent).  One in four couldn't support Bush (25 percent).

By a 57-39 percent margin, GOP caucus-goers feel "betrayed" by politicians in their party.  That widens to 66-31 percent among Cruz supporters — and to 70-27 percent among "very" conservatives in the Hawkeye State.

More say national security (36 percent) will be most important in deciding who they'll support than say economic issues (32 percent), immigration (12 percent) or social issues (8 percent).

They also put being honest and trustworthy (25 percent) and being a strong leader (22 percent) at the top of the list of traits they want in a nominee.  Those outrank having true conservative values (18 percent), beating the Democrat (13 percent), and shaking things up in Washington (13 percent).
Cruz's four point lead in this poll is a change from the last Fox News poll in the Hawkeye State, which showed him with a two point lead over Trump, but the fact that the lead remains within the margin of error suggests that Iowa is still anyone's state to win and that the battle will come down to the question of which candidate(s) have the ground operation capable of getting voters to caucus locations on the night of February 1st. By all accounts, Cruz seems to have a better operation in the state than Trump, or indeed anyone else at this point, so the expectation would seem to be that the advantage lies in his hands but, as we've seen before, Iowa can be a place where surprises develop so it's arguably still too early to say definitively which way the Hawkeye State is headed. In the poll averages, for example, Cruz has the advantage but it remains a thin one. At RealClearPolitics, Cruz has a four point lead over Trump while it's roughly nine points in the broader Pollster average.  The real story in the Hawkeye State, though, appears to be the fact that outside of the top three — which consists of Cruz, Trump, and Marco Rubio — the rest of the field is basically fading into irrelevance. Ben Carson is hanging on to fourth place at nine percent in the RCP average, and Jeb Bush is in fifth at 5.2%, but every other candidate is averaging below three percent. This includes both of the past two winners of the Iowa Caucuses on the GOP side, Mike Huckabee and Rick Santorum, and none of those candidates are showing any sign that they have the potential to do better than they are showing in the polls right now. Given that, one would expect that we'll see some significant winnowing of the field after the Iowa Caucuses if not sooner as candidates come to realize that their candidates are, in fact, over.
Finally, there are a handful of new polls out of New Hampshire, starting with a new Fox News Poll:
Donald Trump continues to dominate the race for the Republican nomination in New Hampshire, according to the latest Fox News poll.

Trump leads with 33 percent support among New Hampshire Republican primary voters.  That's more than double the backing for Marco Rubio (15 percent) and Ted Cruz (12 percent).

The poll, released Friday, shows Trump has gained six points since November, when he was at 27 percent.  At that time Rubio was at 13 percent and Cruz had 11 percent support.

Jeb Bush receives nine percent, John Kasich seven percent, Chris Christie and Rand Paul five percent each, followed by Ben Carson at four percent, and Carly Fiorina garners three percent.

Trump leads among men and women, and voters under 45 as well as those ages 45 and over.  His 31-point advantage among voters without a college degree narrows to a 6-point edge among those with a college degree.

New Hampshire GOP primary voters who identify as "very" conservative are nearly twice as likely to back Trump (40 percent) as Cruz (23 percent).  Another 13 percent go for Rubio.

The race is settling:  56 percent of NH GOP primary voters say they are certain to back their candidate, up from 44 percent who felt that way in mid-November.  On the other hand, 43 percent could change their mind before voting in February, down from 55 percent.

Among Trump supporters, however, 79 percent feel certain of their choice.

In addition, roughly 6 in 10 Republican primary voters in NH would be satisfied with Rubio (65 percent), Christie (62 percent), Cruz (61 percent) or Trump (59 percent) as their party's presidential nominee.  However, more would be "very" satisfied if Trump wins (32 percent), than Rubio (26 percent), Cruz (25 percent) or Christie (19 percent).
Trump's lead here is consistent with the lead he's had in the Granite State for some time now, what's different about this poll, though, is that it shows big drops for candidates like Chris Christie and John Kasich, who have been rising into the double digits in the state. Additionally, these numbers contrast with the two other New Hampshire polls released late this week, especially with regard to Christie and Kasich. A new Public Policy Polling poll, for example, shows Trump at 29%, giving him a 14 point lead over Marco Rubio at 15%. Cruz is followed in this poll by Chris Christie and John Kasich, who are tried at 11%, and then Ted Cruz and Jeb Bush at 10%, following by the rest of the field, none of whom garner more than 4% in the poll. A third poll, conducted by New Hampshire news outlet NH1, has Trump at 31.7%, followed by Bush at 11.9%, Kasich at 11.8%, Chris Christie at 11%, Ted Cruz at 9.7%, and Marco Rubio at 8.9% with the rest of the field all garnering under five percent. In the poll averages, neither of which include the NH1 poll it's worth noting, Trump, Rubio, Cruz, and Christie make up the top four in both the RealClearPolitics and Pollster averages, while John Kasich and Jeb Bush remain in the middle of the pack.
With just under a month to go before voting starts, it's still possible that we'll see movement in the polls that changes the nature of the race. For the moment, though, this remains a race where Donald Trump, Ted Cruz, and Marco Rubio are largely dominating, while candidates like Chris Christie, Jeb Bush, and John Kasich, are fighting in New Hampshire for the hope that they could pull off a surprise performance that makes them a breakout candidate going forward. In the short term, though, at least some of these polls, along with any other released over the next two days will help decide who gets invited to the next debate and whether they end up on the prime time stage or stuck in the undercard debate. Based on the criteria that Fox Business Network announced before Christmas, and using estimates of the polls nationally, as well as out of Iowa and New Hampshire, it currently appears as though the main stage debate will be restricted to Trump, Cruz, Rubio, Ben Carson, Jeb Bush, Carly Fiorina, and Chris Christie. John Kasich, Rand Paul, Mike Huckabee, and Rick Santorum would be stuck at the undercard debate. Rand Paul has said that he would not appear at the undercard debate, and more recently that he would not accept being excluded from the main stage next week. This was the strategy Paul used the last time he was nearly excluded from the main stage, and CNN ended up revising the criteria and allowed him to appear in prime time. Whether complaining will work this time around is unclear.