Why In The World Would Romney Accept Trump's Endorsement?
Why is the Republican frontrunner pandering to a megalomanical showman?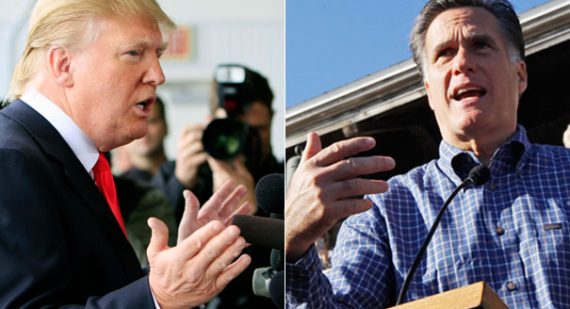 After initial reports this morning that he'd be endorsing Newt Gingrich, it's now basically certain that Donald Trump will be endorsing Mitt Romney in a press conference later today in Las Vegas:
LAS VEGAS — Donald Trump will endorse Mitt Romney for president Thursday afternoon, campaign sources confirmed.

The real-estate mogul and reality TV star will bestow his blessing on Romney at a Trump casino here at 3:30 p.m. Eastern time. Trump's support comes after the businessman heavily flirted with a presidential run himself, then played host as the GOP presidential candidates paraded to his New York office for meetings.

Trump's seal of approval is not without risk for Romney. When Trump toyed with a candidacy of his own last spring, his popularity was fueled by questioning President Barack Obama's birth certificate, an issue Romney has steadfastly avoided.
Not to mention that Trump is a highly polarizing figure, even among Republicans:
Although the event is sure to receive media attention, Americans remain divided in their opinions of the reality star.

Trump received a 50% favorable and 45% unfavorable rating among Republican voters and a 64% unfavorable and 31% favorable rating among all voters, according to a CNN/ORC poll taken in April and May.
So, what's the upside for Romney here? There's no real "Donald Trump" constituency inside the GOP, and it's not like he needs Trump's support to win the Nevada caucuses on Saturday.
Perhaps Romney's campaign advisers know better than me, perhaps they think that the media attention that their candidate will receive from this endorsement, which is guaranteed to be as much of a media circus as everything else involving Trump, will be more of a benefit than any risk of having him associated with someone that so many people consider, well, a pompous jerk. They're the professionals, after all, surely they've actually given this one some though.
Right?
One other thought. Two weeks ago in South Carolina Romney didn't bother to attend the press conference that Jon Huntsman, a former Ambassador and Governor, held when he endorsed Mitt, but today he will stand beside the biggest pompous showman since P.T. Barnum in a Las Vegas casino to receive his endorsement. Without question, the press conference will be more about Trump and the upcoming premiere of his dumb reality show than it will be about Romney. You've also got to think that at least one reporter is going to ask Mitt what he thinks about Trump's continued insistence on pushing nonsense theories about the Presidency eligibility to hold office. That strikes me as a really strange set of priorities right there.