Of Course The Birthers Aren't Satisfied
You thought the birther insanity was over? Silly you.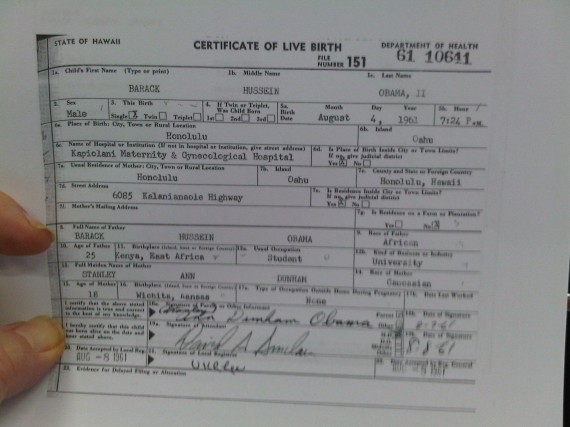 If anyone thought that President Obama's release of his long-form birth certificate yesterday would actually change the minds of the hard-core birthers, they were kidding themselves:
It proves nothing. It could be fake. It's all so fishy. Aren't there multiple layers on the scanned document released by the White House? Why did it take so long to produce?

The people who do not believe that President Obama was born in the United States showed Wednesday that a good conspiracy theory is like a coal mine fire: something that can't be doused in a day.

The president, pestered by "birthers" since he began running for the White House, finally felt compelled to try to put an end to the controversy, providing his original birth certificate for the first time.

"Yes, in fact, I was born in Hawaii, August 4, 1961, in Kapiolani Hospital," Obama told the White House press corps, before going on to demand an end to the "silliness" about his birthplace that he fears has distracted the country from urgent policy matters involving wars, the federal debt and the economy.

But he added: "I know that there's going to be a segment of people for which, no matter what we put out, this issue will not be put to rest."

Correct. The birthers, far from chastised, found themselves newly energized and freshly suspicious.

"It raises far more questions than it answers," said Joseph Farah, editor in chief of WorldNetDaily and birther extraordinaire, almost breathless between media interviews.

Farah, whose online publication has run hundreds of articles over the past couple of years questioning Obama's citizenship, professed delight at the latest development. So did real estate tycoon Donald Trump, who has found that raising questions about Obama's legitimacy is political jet fuel for someone pondering a presidential run.
Instead of finally admitting they were wrong, the birthers are simply changing their argument:
Orly Taitz, a prominent Obama critic who has questioned his birthplace, told Talking Points Memo that she thinks the newly released document is questionable because Obama's father's race is listed as "African."

"It sounds like it would be written today, in the age of political correctness, and not in 1961, when they wrote white or Asian or 'Negro,' " Taitz said.

At one hotbed of birtherism, the certificate appeased no one.

"You know as well as I do that you can produce a fraudulent form," said Sharon Guthrie, legislative director for Texas state Rep. Leo Berman (R), who has introduced a bill that would require that anyone running in Texas for president provide an original birth certificate proving American citizenship.

Obama's birth was announced in two local newspapers, and his campaign released a short form of his birth certificate when he ran for office. But the long form of the document remained under wraps in a vault until the president dispatched a lawyer last week to retrieve it.

Guthrie argued that the document Obama produced on Wednesday is not a birth certificate but merely a "certificate of live birth," which she considers something different.

Said Farah of WorldNetDaily: "I think we should do due diligence there and examine it before we jump to conclusions that, because a government official handed something out, it is legit."

He said that even if the document is real, it raises questions about Obama's eligibility to be president. Farah contended that, because Obama's father was from Africa, the president may have had "dual citizenship" and therefore may not meet the definition of a "natural-born" citizen, the eligibility requirement in the Constitution. He suggested that it is necessary to revisit the intentions of the Framers.

He added: "This has never been an issue exclusively about where Barack Obama was born."
No, it hasn't. From the beginning, there has always been two parts to the birther argument. One part did indeed question whether Barack Obama was born in Hawaii, which is why the Obama campaign released the original COLB back in 2007. That didn't satisfy the birthers, of course, because they simply argued that the COLB was a fake, that it was legally insufficient to prove anything, or that it didn't contain supposedly crucial information like what hospital the President was born in even though that fact had been independently established long before yesterday. None of this was true, of course, but it didn't matter. Similarly, the arguments now are that there is something "fishy" about the long-form that was released yesterday, with the suggestion being that it's a complete fake despite all the evidence to the contrary.
Even when those arguments fail, though, there's still the fall back position. Basically, the birthers have argued that the phrase "natural born citizen" in the Constitution has a specific meaning that requires that both of a person's parents be citizens of the United States at the time of their birth. It doesn't actually say that in the Constitution, of course, and there's no actual legal authority in the United States that they can rely on to support their claim.  Instead, they rely on a definition of "natural born citizen" that was given by a Swiss philosopher named Emmerich de Vatel. The problem is that the edition of the work in which de Vatel developed this definition of the phrase wasn't translated into English and published outside of Switzerland until ten years after the Constitution was drafted. Therefore, it's impossible for de Vattel's work to have been any influence at all upon the Founders when the Article II was drafted. More significantly, from the beginning there have only been two kinds of American citizens; people who are citizens from birth and people who become naturalized citizens under the law. Clearly, "natural born citizen" as it's used in the Constitution means someone who was a citizen at the time of their birth, like Barack Obama.
Moreover, it's worth noting that, under this de Vatel definition, and not counting Obama, the United States has had four Presidents since 1820 who had at least one parent who was not an American citizen at the time of their birth — Andrew Jackson, James Buchanan, Chester Alan Arthur, and Herbert Hoover. At no time did anyone make the argument that any of these men were not "natural born citizens," so there's no reason to think that the Founders ever intended to apply this standard to determine eligibility for the Presidency.
Of course, none of that matters. The birthers will continue to make their arguments and the media will air them, most likely without giving the explanation I just did of what "natural born citizen" means. This isn't over by a long shot, folks.