Campaigning Like it's 2008
Trump continues his antics: pulling out 2008 campaign memes and doing his best to paint Obama as a mysterious "other."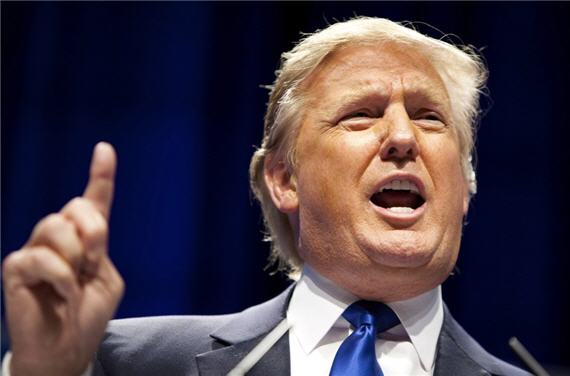 More Trump via the Politico:  Donald Trump: How did Barack Obama get into Ivies?
Donald Trump is upping the ante against President Barack Obama's legitimacy, raising questions on Monday night about how the president was admitted to two Ivy League schools.

Trump openly questioned how Obama, who he said had been a "terrible student," got accepted into Columbia University for undergraduate studies and then Harvard Law School.

"I heard he was a terrible student, terrible," Trump told the Associated Press in an interview, a claim he's made in the past but one he doubled down on by suggesting he's probing that area of the president's life.

"How does a bad student go to Columbia and then to Harvard? I'm thinking about it, I'm certainly looking into it. Let him show his records," he said, without providing backup for his claim.
Several thoughts:
1.  If biography-based attacks were going to work, they were going to work in 2008.  In other words, when one runs for the presidency for the first time, one's biography gets special scrutiny but when one runs for re-election the main issue is one's record.   Indeed, in a re-election campaign the incumbent gets to run on a record in office while it is the challenger who tends to get the microscope on their bio (and often what seems like a biography-based strength can be turned into a weakness, see Swift Boat Veterans for Truth).
2.  Attacks on academic records are weak anyway.  Since when do we, as a public, actually care about academic achievement in our presidents?
3.  Trump appear to be pulling these claims out of his posterior.  "I've heard"?  What kind of claim is that?
4.  Quite frankly, this strikes me as a not especially subtle racial jab.   Specifically, when one says about a person of color that they weren't good students and then asks how they got into a good school, the suggestion is that the student in question was an affirmative action admission, and an undeserving one at that.
5.  Trump's main campaign strategy seems to be that Obama is some sort of cypher:
"We don't know a thing about this guy," Trump said. "There are a lot of questions that are unanswered about our president."
Again, quite the claim, given that we know quite a bit about the president.
First the birther bit, and now the academic record bit:  this all seems aimed at casting Obama as "the other" and it has a clear racial component to it.  I don't see how one gets around that fact.  Clearly this is not a new theme in our politics, but it is one that Trump clearly thinks he can exploit, which is an unfortunate commentary on a certain segment of the GOP base given his popularity at the moment.