Hawaiian Official Again Confirms Obama's Birth Records, Calls Birthers 'Ludicrous"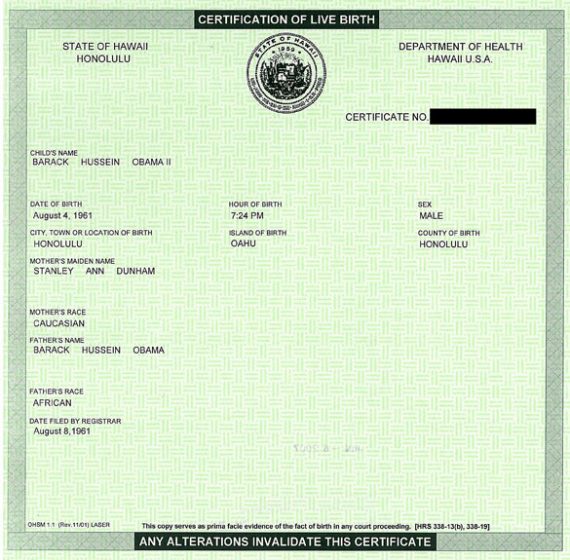 Thanks to Donald Trump, Chiyome Fukino is being asked about Barack Obama's birth certificate again:
As the top Hawaiian official in charge of state health records in 2008, when the issue of Obama's birth first arose, Fukino said she thought she had put the matter to rest. Contacted by NBC, Fukino expanded on previous public statements and made two key points when asked about Trump's recent comments.The first is that the original so-called "long form" birth certificate — described by Hawaiian officials as a "record of live birth" — absolutely exists, located in a bound volume in a file cabinet on the first floor of the state Department of Health. Fukimo said she has personally inspected it — twice. The first time was in late October 2008, during the closing days of the presidential campaign, when the communications director for the state's then Republican governor, Linda Lingle (who appointed Fukino) asked if she could make a public statement in response to claims then circulating on the Internet that Obama was actually born in Kenya.

Before she would do so, Fukino said, she wanted to inspect the files — and did so, taking with her the state official in charge of vital records. She found the original birth record, properly numbered, half typed and half handwritten, and signed by the doctor who delivered Obama, located in the files. She then put out a public statement asserting to the document's validity. She later put out another public statement in July 2009 — after reviewing the original birth record a second time.

It is real, and no amount of saying it is not, is going to change that," Fukino said. Moreover, she added, her boss at the time, Lingle — who was backing John McCain for president — would presumably have to be in on any cover up since Fukino made her public comment at the governor's office's request. "Why would a Republican governor — who was stumping for the other guy — hold out on a big secret?" she asked.

Her second point — one she made repeatedly in the interview — is that the shorter, computer generated "certification of live birth" that was obtained by the Obama campaign in 2007 and has since been publicly released is the standard document that anybody requesting their birth certificate from the state of Hawaii would receive from the health department.

"What he got, everybody got," said Fukino. "He put out exactly what everybody gets when they ask for a birth certificate."
And, oh yea:
Joshua Wisch, a spokesman for the Hawaii attorney general's office, noted that a public index of vital records, available for inspection in a bound volume at the Health Department's Office of Health Status Monitoring, lists a male child named "Obama II, Barack Hussein" as having been born in the state.

Wisch, the spokesman for the attorney general's office, said state law does not in fact permit the release of "vital records," including an original "record of live birth" — even to the individual whose birth it records.

"It's a Department of Health record and it can't be released to anybody," he said. Nor do state laws have any provision that authorizes such records to be photocopied, Wisch said. If Obama wanted to personally visit the state health department, he would be permitted to inspect his birth record, Wisch said.

But if he or anybody else wanted a copy of their birth records, they would be told to fill out the appropriate state form and receive back the same computer generated "certification of live birth" form that everybody else gets — which is exactly what Obama did four years ago.
So, there you have it.