Poll: Majority Of GOP Primary Voters Don't Believe Obama Was Born In The U.S.
Four years after Barack Obama became a Presidential candidate, the birther myth not only persists, it seems to be becoming more prevalent. Why?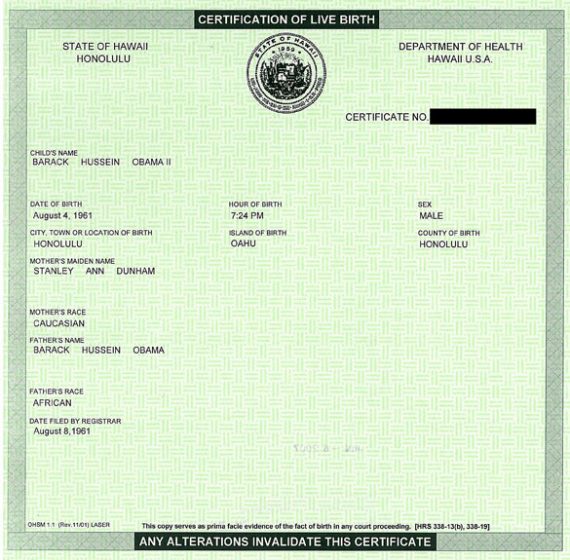 The irrational persistence of the birther myth among President Obama's political enemies is one of the great puzzles of contemporary politics, and further evidence of just how prevalent the idea has become can be found in a new poll from Public Policy Polling:
Birthers make a majority among those voters who say they're likely to participate in a Republican primary next year. 51% say they don't think Barack Obama was born in the United States to just 28% who firmly believe that he was and 21% who are unsure. The GOP birther majority is a new development. The last time PPP tested this question nationally, in August of 2009, only 44% of Republicans said they thought Obama was born outside the country while 36% said that he definitely was born in the United States. If anything birtherism is on the rise.
There's also an interesting, although, perhaps not surprising, divide in candidate support depending on voter's opinions on the President's birth:
Among the 49% of GOP primary voters who either think Obama was born in the United States or aren't sure, Romney's the first choice to be the 2012 nominee by a good amount, getting 23% to 16% for Mike Huckabee, 11% for Sarah Palin, and 10% for Newt Gingrich. But with the birther majority he's in a distant fourth place at 11%, with Mike Huckabee at 24%, Sarah Palin at 19%, and Newt Gingrich at 14% all ahead of him. That pushes him into a second place finish overall at 17% with Mike Huckabee again leading the way this month at 20%. Palin's third with 15%, followed by Gingrich at 12%, Ron Paul at 8%, Mitch Daniels and Tim Pawlenty at 4%, and John Thune at 1%.

There is really a remarkable divide in how the birther and non-birther wings of the GOP view Sarah Palin. With the birthers she is a beloved figure, scoring an 83/12 favorability rating. Non-birthers are almost evenly divided on her with 47% rating her positively and 40% unfavorably.
Considering the fact that every conceivable legal and factual arguments the birthers have made has been thoroughly discredited, and rejected by every Court of law that has had the matter brought before it. one has to wonder why the myth that Barack Obama is not an American citizen continues to persist, and even become more prevalent if this poll is accurate. David Weigel has one theory:
This doesn't occur in a vacuum. Palin and Gingrich, more than other Republicans, have criticized Obama for policies they trace back to a lack of faith in America and its institutions. (It was Gingrich, remember, who promoted Dinesh D'Souza's silly "Obama as Kenyan anti-colonialist" theory.) Birtherism, in this instance, is a logical response to the stimuli of 1) conservative opinion leaders saying that Obama's policies amount to un-American socialism and 2) Republican leaders punting when asked whether Obama was born in the United States.
Additionally, as Michael Medved pointed out yesterday in the Wall Street Journal, the conservative media is filled with the message that President Obama is not only wrong, but that he wants to destroy America:
These attitudes thrive well beyond the blogosphere and the right-wing fringe. On Jan. 7, Sarah Palin spoke briefly on Laura Ingraham's radio show, saying, "What I believe that Obama is doing right now—he is hell-bent on weakening America." While acknowledging that "it's gonna get some people all wee-weed up again," she repeated and amplified her charge that "what Obama is doing" is "purposefully weakening America—because he understood that debt weakened America, domestically and internationally, and yet now he supports increasing debt."

The assumption that the president intends to harm or destroy the nation that elected him has become so widespread that the chief advertising pitch for Dinesh D'Souza's best-selling book, "The Roots of Obama's Rage," promises to "reveal Obama for who he really is: a man driven by the anti-colonial ideology of his father and the first American president to actually seek to reduce America's strength, influence and standard of living."

(…)

On his radio show last July 2, the most influential conservative commentator of them all reaffirmed his frequent charge that the president seeks economic suffering "on purpose." Rush Limbaugh explained: "I think we face something we've never faced before in the country—and that is, we're now governed by people who do not like the country." In his view, this hostility to the United States relates to a grudge connected to Mr. Obama's black identity. "There's no question that payback is what this administration is all about, presiding over the decline of the United States of America, and doing so happily."
When they're exposed to this type of propaganda on a daily basis, sometimes multiple times a day, it really isn't all that surprising that people would come to believe it, and, in turn, that they'd come to believe that the President isn't really an American. It's insane, there's no evidence to support it, but it's a belief system that makes perfect sense to the people who hold it, and that's usually all that matters.
It was only the other day that House Speaker John Boehner said that it wasn't his job to counter the rumors about the President:
House Speaker John Boehner (R., Ohio) said Sunday that he believes President Obama was born on U.S. soil and is a Christian, but that it was not his job to challenge people who think otherwise.

"It's not my job to tell the American people what to think," Mr. Boehner said on the NBC program Meet the Press. "Our job in Washington is to listen to Americans."

When pressed by host David Gregory, Mr. Boehner declined to say that those raising doubts about Mr. Obama's birthplace and religion should stop doing so.

"The American people have the right to think what they want to think. It's not my job to tell them," Mr. Boehner reiterated. "I've made clear what I believe the facts are."
Perhaps the truth is that Boehner is unwilling to call out the birthers because he knows that they represent such a large portion of his party's base. If that's the case, it's just sad and pathetic. Any Republican with courage and common sense should be willing to call these people what they are, lunatics.