The Limits of Academic Freedom
UPenn law professor Amy Wax as a test case.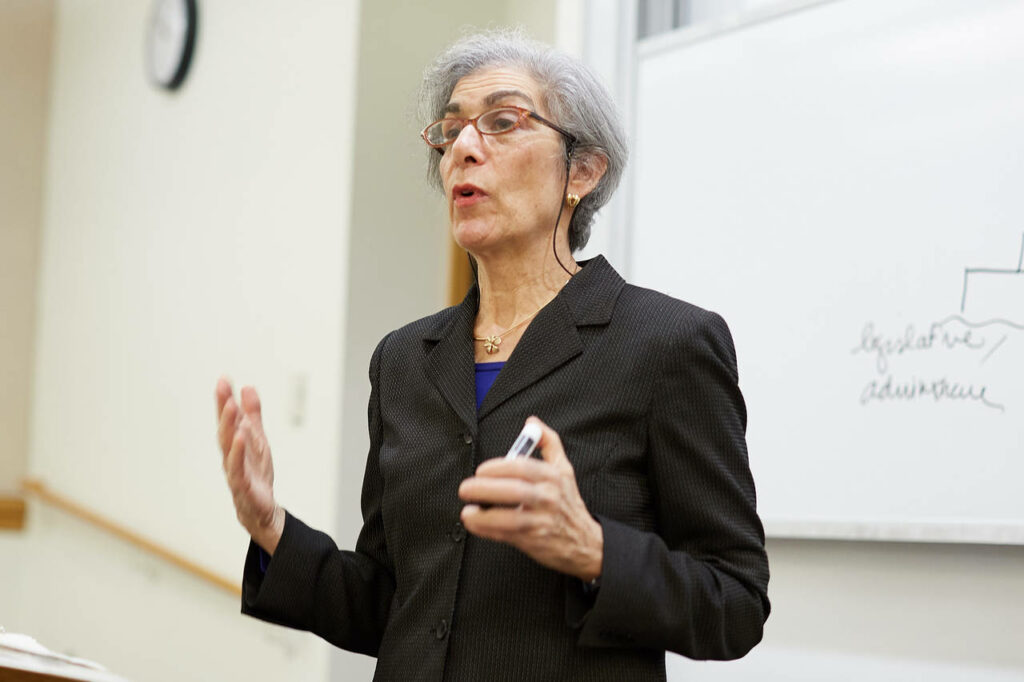 A NYT report asks "UPenn Accuses a Law Professor of Racist Statements. Should She Be Fired?"
Amy Wax, a law professor, has said publicly that "on average, Blacks have lower cognitive ability than whites," that the country is "better off with fewer Asians" as long as they tend to vote for Democrats, and that non-Western people feel a "tremendous amount of resentment and shame."

At the University of Pennsylvania, where she has tenure, she invited a white nationalist to speak to her class. And a Black law student who had attended UPenn and Yale said that the professor told her she "had only become a double Ivy 'because of affirmative action,'" according to the administration.

Professor Wax has denied saying anything belittling or racist to students, and her supporters see her as a truth teller about affirmative action, immigration and race. They agree with her argument that she is the target of censorship and "wokeism" because of her conservative views.

All of which poses a conundrum for the University of Pennsylvania: Should it fire Amy Wax?
My initial reaction was: Probably.
I'm a near absolutist on academic freedom but Wax crossed multiple lines here and it would be perfectly reasonable for Black and Asian students in the law school to believe she harbors animus against them and that their grades, and potentially their future career, would be jeopardized as a results.
Further, I've long believed that academic freedom comes with the responsibility to speak from authority. Why is a law professor even commenting on matters like cognitive ability?
The university is now moving closer to answering just that question. After long resisting the call of students, the dean of the law school, Theodore W. Ruger, has taken a rare step: He has filed a complaint and requested a faculty hearing to consider imposing a "major sanction" on the professor.

His about-face prompted protests from free speech groups, which cited one of tenure's key tenets — the right of academics to speak freely, without fear of punishment, whether in public or in the classroom.

For years, Mr. Ruger wrote in his 12-page complaint, Professor Wax has shown "callous and flagrant disregard" for students, faculty and staff, subjecting them to "intentional and incessant racist, sexist, xenophobic and homophobic actions and statements."

The complaint said she has violated the university's nondiscrimination policies and "standards of professional competence."

Her statements, the complaint added, "have led students and faculty to reasonably believe they will be subjected to discriminatory animus if they come into contact with her."
Again, that seems reasonable.
Professor Wax has fought back, arguing that the university is trying to trample on her academic freedom.

Universities want to "banish and punish" anyone "who dares to dissent, who dares to expose students to different ideas," she said on a recent podcast. "That is a really dangerous and pernicious trend."
That sounds more like Tucker Carlson than a distinguished law professor.
Professor Wax did not agree to interview requests, but at a time when scholars say their speech is under attack from the left and the right, many free speech groups, including the Academic Freedom Alliance, PEN America and the Foundation for Individual Rights and Expression, have criticized the dean and said that Professor Wax should not be fired because of her public statements.

"Academic freedom cannot be a privilege of those who only espouse prevailing views but a protected right of all faculty," the Academic Freedom Alliance wrote in July to the university's president, M. Elizabeth Magill, arguing that the school should end the process to sanction Professor Wax.
It's not surprising that a group dedicated to academic freedom would take a maximalist position.
But for many students, her public speech, which often mixes public policy with insulting broadsides, is the point.

Students have asked: Aren't these statements relevant to her performance in the classroom? Don't they show the potential for bias? And does this professor, and this speech, deserve the protection of tenure?

Dean Ruger, who declined an interview request, seemed to embrace these concerns by including a litany of Professor Wax's public statements in his complaint.
I almost never side with students on these things. Trained professionals should run the academy. I care not a whit if students are triggered by exposure to uncomfortable ideas; that's what higher education is for. But I do think they have a right to fair treatment and not to endure personal insults from their professors.
Free speech groups acknowledge that some personal discussions with students — if true — could be deemed abusive, and are not protected by tenure. But they have winced at the dean's inclusion of public statements in his complaint.

Professor Wax is a test case of academic freedom, "right up on the line," said Alex Morey, the director of campus rights advocacy for the Foundation for Individual Rights and Expression.

But, she said, "We have not seen any evidence that it crosses the line."

She added, "Academic freedom has to protect the Amy Waxes of the academic world, so that it can be there for the Galileos of the academic world."
While espousing retrograde views discredited decades ago isn't quite on par with upending a centuries-old theory of the galaxy, I take their point. And, indeed, the mere fact that a student or three has alleged inappropriate comments doesn't make them true.
Professor Wax cut an unconventional path to Penn law school.

Raised in an observant, conservative Jewish family, she received a bachelor's degree from Yale and a medical degree from Harvard.

On a podcast, she said she realized medicine was not for her, and in 1987, received a law degree from Columbia University. In the late 1980s and early 1990s, as an assistant to the U.S. solicitor general, she argued 15 cases before the Supreme Court. And after seven years at the University of Virginia, she joined Penn with tenure in 2001.

Though Professor Wax had been a subject of debate for years, student demands for sanctions began in earnest in 2017, after she co-wrote an opinion article in The Philadelphia Inquirer. She argued that many of the country's social problems could be traced to veering from 1950s norms, like getting married before having children, respecting authority and avoiding coarse language.

The article said "all cultures are not equal" and lamented "the single-parent, antisocial habits, prevalent among some working-class whites; the anti-'acting white' rap culture of inner-city blacks; the anti-assimilation ideas gaining ground among some Hispanic immigrants."

After some students called for her firing, conservative media rallied, allowing Professor Wax to spread her views across the conservative firmament over the years, including writing for The Wall Street Journal and appearing on Tucker Carlson's daytime show on Fox Nation.

Along the way, her rhetoric grew more extreme. She has described some non-Western countries as "shitholes" and stated that "women, on average, are less knowledgeable than men."

Speaking with Mr. Carlson last year, she said "American Blacks" and people from non-Western countries feel shame for the "outsized achievements and contributions" of Western people.

On a recent podcast, she said, "I often chuckle at the ads on TV which show a Black man married to a white woman in an upper-class picket-fence house," she said, adding, "They never show Blacks the way they really are: a bunch of single moms with a bunch of guys who float in and out. Kids by different men."

She has also acted as something of a provocateur on campus.

In 2021, she invited a white nationalist, Jared Taylor, to a class and then lunch with students. She argued that he was an appropriate speaker for a seminar on conservative thought, according to a grievance she filed against Dean Ruger this past January and obtained by The Daily Pennsylvanian, the student newspaper. Mr. Taylor has said that "when blacks are left entirely to their own devices, Western Civilization — any kind of civilization — disappears."
So, this is all objectionable, more Archie Bunker or Donald Trump than Galileo.
Throughout, the administration had supported her right to speak and took significant action only once, in 2018, in reaction to her comments on a podcast about affirmative action, when she said that Black students at the law school do not perform well.

"I can think of one or two students who've scored in the top half in my required first-year course," she told the host, Glenn Loury, a professor at Brown University.
Given her track record, it's not unreasonable to wonder if her racism, not their Blackness, is the key variable.
After some students objected, Dean Ruger disputed her data and took away her first-year course. She did not have a right, he said, to violate confidentiality about student grades.
That, however, is a thin reed. Generalizing about grades isn't the same as revealing an individual student's grades. (Taking away the course, though, is a perfectly reasonable reaction given the animus issue. Although, if she's like most professors, she'll gladly teach more upper-division courses in her speciality.)
Professor Loury, a Black economist known for his contrarian views, agreed in an interview that disclosing confidential student data to make racial comparisons would be unacceptable.

But, he said, Professor Wax did not do that — she was just engaging in "loose talk." Perhaps, he said, a teacher should not discuss students that way.

"But violating privacy?" he said. "I think that's a stretch."
Loury is one of a handful of Black scholars who white conservatives point to as justification for their beliefs. But he's right here.
Many students, especially Asian, Black and Latino students, have described a series of what they say are racist incidents involving Professor Wax.

According to the university complaint, after a series of students with "foreign-sounding names" introduced themselves, Professor Wax commented that one student was 'Finally, an American.'" She added, "It's a good thing, trust me."

In an investigator's report obtained by The Washington Free Beacon, a student alleged that while repeating language used in a 19th-century case, Professor Wax said "Negro" in such a "snide and smug" way that the student left the classroom. And in the same report, a student said that in 2014, when discussing an eyewitness, Professor Wax said, "He was a Black man" with a "distasteful" tone. "She spat it out of her mouth," the student said.

Mr. Ruger's complaint also outlined an alleged interaction between Professor Wax and Lauren O'Garro-Moore, a 2012 graduate, saying that Ms. Moore was a "double Ivy" — attending Penn and Yale — only because of affirmative action.

In the complaint, Ms. O'Garro-Moore said she was "stunned" and wanted to cry but did not. Ms. O'Garro-Moore, saying she could be a witness in the hearing, declined an interview.

Some of these personal interactions may not be protected by tenure. And Ms. Wax has denied making many of these statements, including the "double Ivy" comment.

"In what class?" she asked on Professor Loury's podcast. "What was the lesson? What was the context? Nothing is supplied" — echoing critics of the complaint, who have said it is vague and lacks transparency.
Is it plausible that some students are taking things out of context, exaggerating them, or simply making them up? Sure. I'm highly skeptical, though, that it's happening in droves.
Students are often accused of being oversensitive, but Professor Wax's colleagues have shared their own uncomfortable moments with her in public forums.

Tobias Barrington Wolff, a Penn law school professor, said that he once sat with her on a panel where she decried same-sex relationships as self-centered, selfish and not focused on family or community, according to Dean Ruger's complaint.

Professor Wolff, who is gay, said that it was "striking she would choose to hold forth that way with me sitting there."

Disagreements with Professor Wax, he added, make you feel that "you are a fundamentally debased human being." Professor Wolff did not respond to an interview request and it is unclear whether he supports sanctions.

Even Professor Loury, a strong supporter of Professor Wax, has a story.

In 2011, he gave a talk at Penn law school in which he argued that too many Black people were in prison.

During the discussion, he said that Professor Wax, whom he did not know, raised her hand and said: There are not too many Black people in prison, there are too few.

Afterward, Professor Loury wrote an email to an event organizer, stating that her behavior was "openly hostile" and that he felt ashamed he did not respond forcefully enough.

Professor Loury, who frequently laments the oversensitivity of college students, said he would not send such an email now, because her comments were an opportunity for vigorous debate.

Even so, Professor Wax was "being performative," he said, and "seemed to enjoy it a little too much." He recalled, "She's got this snarl on her face."
Iconoclasm is not necessarily a bad thing in the academy but Wax comes across as a hateful woman who enjoys making people angry and uncomfortable.
In 2017, after Professor Wax had published her piece about 1950s values, Jonah Gelbach, then a professor at the University of Pennsylvania, organized an open letter signed by 33 law professors, rejecting her views about cultural superiority but affirming her right to state them.

He said that Professor Wax tried to pressure him to retract his letter, writing in an email that if he did not, she would publicize the negative online responses at an upcoming talk.

He declined, and she went through with her threat. In her talk, which has been viewed almost 40,000 times on YouTube, she portrayed him as a crusher of speech and an "anti-role model."

Professor Gelbach, now at the University of California, Berkeley, said the encounter revealed how Professor Wax uses speech as sword and shield, portraying herself as the victim of cancel culture, while also trying to create "a safe-space bubble of protection from others' reactions."

Still, he does not support sanctions for her public statements. "I view Amy as both a scholarly embarrassment and a toxic presence at Penn and in the academy generally," he said, but added, "She is nevertheless a tenured faculty member at a university, and I do not support university sanctions for public expressions of horrible views."
Gelbach is a better man than me.
In late 2021, on Professor Loury's podcast, Professor Wax warned against an "influx of Asian elites." He pushed back, suggesting that Asian engineers and computer scientists bring value to the United States.

"Does the spirit of liberty beat in their breast, Glenn?" she shot back, arguing that Asians tend to be "more conformist."

Dean Ruger denounced her comments but once again resisted action.

A petition, started by Apratim Vidyarthi, who was then a student, demanded an investigation and stated that it was impossible to believe that Professor Wax would treat nonconservative, nonwhite students fairly. It garnered more than 2,500 signatures, including about 800 from the law school's current and former students, Mr. Vidyarthi said.

Mr. Vidyarthi said that he and other students of color would not feel comfortable or safe in the two classes she continued to teach, on legal remedies and conservative thought.

Ty Parks, the advocacy chair for the Black Law Students Association, said having Professor Wax on staff sends a mixed message about the school's commitment to inclusion.

"When we walk into the building of the law school, we see a portrait of Dr. Sadie Alexander, who was the first Black woman to graduate from Penn law," Mr. Parks said. "Then down the hall, you have a professor who is a literal white supremacist." (Professor Wax describes herself as a "race realist.")

Mr. Parks rejected the argument that students were censoring her politics.

"We have conservative professors in the law school that I don't agree with," he said. "But they're not making harmful remarks that are clearly racist. They're not crossing those boundaries."
I'm not a "safe spaces" guy. Professors should be allowed to profess unpopular views. But, yes, students have a right to fair treatment and it's hard to believe Wax would provide it.
Two weeks after the petition, after arguing for years that Professor Wax's speech was protected by academic freedom, Mr. Ruger said he would begin a disciplinary process.

Many free-speech advocates say that Dean Ruger's complaint overstepped by including the professor's public statements.

Jonathan Friedman, an official at PEN America, said the idea that off-campus comments can lead to an investigation "is concerning."

Those who want heavy sanctions, he said, "have to think about how the same powers can be wielded in other ways, against other professors whose comments can be deemed offensive or hostile."

And some professors say her interactions with students are enough to warrant punishment.

"There's a bright line between 'I don't like affirmative action' and 'You, African American student, only got in because of affirmative action,'" said Jonathan Zimmerman, a Penn history professor who had previously defended Professor Wax against calls for punishment.

The latter comment, if true, he said, is "singling out a student for abuse." But students question the professor's free-speech protections. Andrew Bookbinder, of the university's Asian Pacific American Law Student Association, said Professor Wax was using tenure to be intentionally offensive in ways that do not further academic speech.

The process playing out at Penn, he said, "is the system working."

"It's not like a group of students has voiced their concern, and she's been terminated," Mr. Bookbinder said. There will be a hearing, he noted, with "her fellow tenured professors, who will surely hold those same protections very dearly themselves."
One might think. But her views are sufficiently unpopular that I'm not so sure.
Doing a bit more research, Wax's career has been quite impressive, even by the standards of a tenured professor at an elite institution. Further, she's not merely spouting of her prejudices but commenting on areas of scholarly expertise.
As noted in the NYT report, she went to Harvard Medical School, graduating in 1981. Wikipedia adds that she "practiced medicine from 1982 to 1987, doing a residency in neurology at New York Hospital-Cornell Medical Center and working as a consulting neurologist at a clinic in the Bronx and for a medical group in Brooklyn." While her views on IQ are way out of step with the academy, she's more qualified than the average law professor to comment.
She finished Columbia Law in 1987, editing the Law Review, no less, and then clerked for Abner Mikva on the DC Circuit. And then worked in the US Solicitor General's office from 1988 to 1994, overlapping the Reagan, Bush 41, and Clinton administrations. She then taught at the University of Virginia Law School from 1994 to 2000 before being hired on at Penn in 2001.
Despite being extraordinarily controversial and, again, seemingly rather nasty, "She received both the A. Leo Levin Award for Excellence in an Introductory Course, and the Harvey Levin Memorial Award for Teaching Excellence. In 2015, she received a Lindback Award for Distinguished Teaching, making her one of three Penn Law professors to have received the award in 20 years." That's rather impressive and pushes back on the notion that she's a lousy teacher.
On her faculty page, she describes her work as "address[ing] issues in social welfare law and policy as well as the relationship of the family, the workplace, and labor markets" and claims "By bringing to bear her training in biomedical sciences and appellate practice as well as her interest in economic analysis, Wax has developed a uniquely insightful approach to problems in her areas of expertise."
A look at her CV shows an extensive record of peer review publication in those fields going back to before she as hired at Penn. Some that stand out:
The Two-Parent Family in the Liberal State: The Case for Selective Subsidies, 1 Michigan
Journal of Race and Law 491 (1996)
Discrimination as Accident, 47 Indiana Law J. 1129 (Fall 1999)
A Reciprocal Welfare Program, 8 Virginia Journal of Social Policy and Law 477 (Spring 2001)
Social Welfare, Human Dignity, and the Puzzle of What we Owe Each Other, 27 Harvard J. Of
Law and Public Policy 121 (2003)
The Political Psychology of Redistribution: Implications for Welfare Reform, in Lawrence Mead
and Christopher Beam, eds., The Politics of Welfare Reform (Sage Foundation Press 2005)
The Conservative's Dilemma: Traditional Institutions, Social Change, and Same-Sex Marriage,
42 San Diego L. Rev. 1059 (Summer 2005)
Too Few Good Men, 134 Policy Review (Dec. 2005/Jan. 2006)
Unique, Like Everyone Else, 138 Policy Review (August/September 2006)
Traditionalism, Pluralism, and Same-Sex Marriage, 59 Rutgers Law Review (Winter 2007).
Engines of Inequality: Race, Class, and Family Structure, 41 Family Law Quarterly (Fall 2007)
Mothers Alone, 141 Policy Review (February/March 2008)
The Discriminating Mind: Define It, Prove It, 40 University of Connecticut Law Review 979
(Winter 2008)
Stereotype Threat: A Case of Overclaim Syndrome?, in Christina Hoff Sommers, ed., The Science on Women and Science (AEI Press) June 2009.
Race, Wrongs and Remedies: Group Justice in the 21st Century (Hoover InstitutionPress/Rowman and Littlefield (2009).
Diverging Family Structure and "Rational" Behavior: the decline in marriage as a disorder of choice, in J. Wright and Lloyd Cohen, Handbook of the Economics of the Family (ElgarPublishing, 2011).
Learned Helplessness, a review of Ralph Richard Banks, "Is Marriage for White People?: How the African American Marriage Decline Affects Everyone," The New Criterion, May 2012
On Not Dreaming of Affirmative Action, 17 University of Pennsylvania Journal of Constitutional Law, 757 (2015).
How Should We Educate the Disadvantaged? National Affairs (Winter 2017)
Oddly, her CV doesn't even list her book Race, Wrongs, and Remedies: Group Justice in the 21st Century.
I should note that I've only listed works that, based on the title alone, are likely about the controversial issues on which she's speaking out. She has actually published probably four times that many peer-reviewed articles on other subjects. That she's offending people on matters where she has legitimate claims to scholarly expertise doesn't, of course, preclude her being a white supremacist. But it does lend weight to the notion that she should be afforded maximum latitude under academic freedom.
Ultimately, then, I think whether she should be fired depends on whether the various claims of remarks to students can be substantiated and the degree to which they outweigh an impressive scholarly career and multiple teaching awards at the institution.