NCAA Hits Penn State With Crippling Penalties
The NCAA more than lived up to the hype of "unprecedented" sanctions.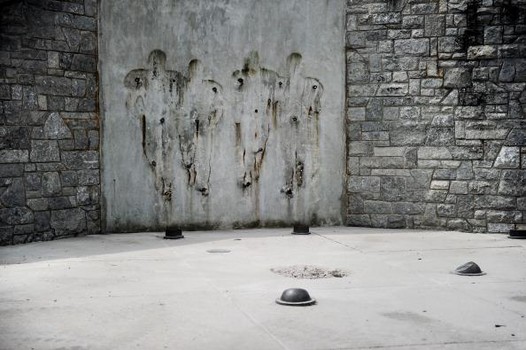 Rumors of unprecedented NCAA sanctions on Penn State for its role in allowing Jerry Sandusky to continue molesting children surfaced yesterday. The NCAA more than lived up to the hype, issuing sanctions that will cripple the football program for years to come.
ESPN ("Penn State sanctions: $60M, bowl ban"):
The NCAA has hit Penn State with a $60 million sanction, a four-year football postseason ban and a vacation of all wins dating to 1998, the organization said Monday morning.

The career record of Joe Paterno will reflect these vacated records, the NCAA said.

Penn State must also reduce 10 initial and 20 total scholarships each year for a four-year period.

The NCAA revealed the sanctions as NCAA president Mark Emmert and Ed Ray, the chairman of the NCAA's executive committee and Oregon State's president, spoke at a news conference in Indianapolis at the organization's headquarters.

"In the Penn State case, the results were perverse and unconscionable," Emmert said.

"No price the NCAA can levy with repair the damage inflicted by Jerry Sandusky on his victims," he said, referring to the former Penn State defensive coordinator convicted of 45 counts of child sex abuse last month.

The NCAA said the $60 million was equivalent to the average annual revenue of the football program. The NCAA ordered Penn State to pay the penalty funds into an endowment for "external programs preventing child sexual abuse or assisting victims and may not be used to fund such programs at the university."

With the wins from 1998-2011 vacated, Paterno moves from 409 wins to 298, dropping him from first to 12th on the winningest NCAA football coach list. Penn State will also have six bowl wins and two conference championships erased.

The Penn State athletic program will also be put on five-year probation and must work with an athletic-integrity monitor of NCAA's chosing.

"There is incredible interest in what will happen to Penn State football," Ray said at the news conference. "But the fundamental chapter of this horrific story should focus on the innocent children and and the powerful people who let them down."

The Big Ten will also sanction Penn State. The conference has called an 11 a.m. ET news conference to announce league-related penalties.
While technically not the "death penalty," such as that which shut down Southern Methodist University's football program entirely for one year and took away all home games the next, this may in fact be more devastating. It will be next to impossible to recruit blue chip players to Penn State for the next three years and, by that time, incoming 17-year-olds will be more familiar with the school's reputation for abetting child rapists than its long-ago winning football traditions.
Was this just?
Given the NCAA's harsh penalties for comparatively minor violations of its arcane rules to gain an advantage on the field, it's hard to see how they could have done less. Compared to the actions that got SMU the "death penalty" a quarter century ago and even the transgressions that got Ohio State, Southern Cal, and Alabama hit hard in recent years, Penn State's actions here were far, far worse.
On the other hand, as Jay Bilas and others have noted, Penn State didn't actually violate the NCAA rulebook in this case. The Pennsylvania criminal code and universal standards of human decency, yes; NCAA rules, no. Indeed, it's not even clear that the NCAA has jurisdiction here.
The other problem—as is always the case with NCAA sanctions—is that the brunt is borne by those who had little to do with the infractions. Jerry Sandusky is going to prison for a long, long time. Joe Paterno is dead. Graham Spanier and other officials who assisted his cover-up have been fired. So, the penalties are going to be felt by administrators, coaches, and players who had nothing to do with enabling child rape.
Wiping out Penn State's records for thirteen years is Orwellian. They won those games and, frankly, as heinous as the cover-up was, the impact wasn't on the football field. So, now, Bobby Bowden has artificially become the winningest coach in big time college football history. Does anyone really think that's the case?
UPDATE: As had been rumored, Penn State is going to take the sanctions without appeal or complaint.
The Patriot-News ("Penn State athletic director Dave Joyner issues statement following NCAA sanctions"):
Athletic director Dave Joyner issued this statement in reaction to the NCAA sanctions that were imposed on Penn State today after the Jerry Sandusky scandal.

"The Freeh Report concluded that individuals at Penn State University entrusted to positions of authority, shunned their basic responsibility to protect children, and innocent children suffered as a result. Our hearts go out to the victims of this abuse and their families.

"Today Penn State takes another step forward in changing the culture at the institution as we accept the penalties of the NCAA for the failure of leadership that occurred on our campus. We are deeply disappointed that some of our leaders could have turned a blind eye to such abuse, and agree that the culture at Penn State must change.

"As we move forward, today's student athletes have a challenging road ahead. But they will do the right thing, as they have always done. I am confident all of our head coaches will come together to make the change necessary to drive our university forward. Penn State will continue to fully support its established athletic programs, which provide opportunities for over 800 student athletes.

"Working together, the path ahead will not be easy. But it is necessary, just, and will bring a better future. Our faculty, staff, students, athletes, and parents will work together as Penn State begins this new chapter. Though this cooperation and collaboration, Penn State will become a national model for compliance, ethics, and embodiment of the student athlete credo."
So far as I know, no relation.