Report: NCAA Sanctions Against Penn State To Be "Unprecedented"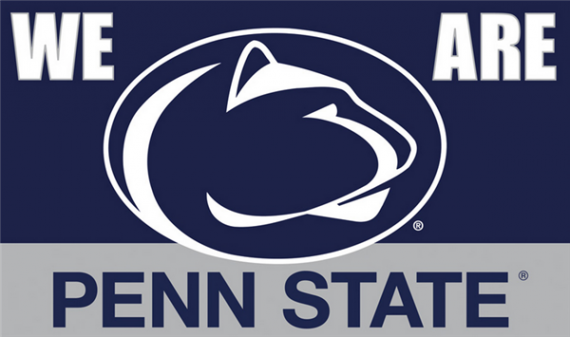 The same day that Joe Paterno's statue comes down, reports are indicating that the NCAA has reached a decision on the sanctions to be imposed on Penn State for the cover-up of child abuse by members of its football program, and it sounds like its going to be something big:
(CBS News) CBS News has learned that the NCAA will announce what a high-ranking association source called "unprecedented" penalties against both the Penn State University football team and the school.

"I've never seen anything like it," the source told correspondent Armen Keteyian.

NCAA President Mark Emmert will make the announcement Monday morning at 9 a.m. at the organization's headquarters in Indianapolis.

The penalties come in the wake of the independent report by former FBI Director Louis Freeh that chronicled repeated efforts by four top Penn State officials, including former football Joe Paterno, to conceal allegations of serial child sex abuse Jerry Sandusky over a 14-year period.
For reference, when the NCAA penalized Southern Methodist University, they meted out the following penalties:
The 1987 season was canceled; only conditioning drills were permitted during the 1987 calendar year.
All home games in 1988 were canceled. SMU was allowed to play their seven regularly scheduled away games so that other institutions would not be financially affected.
The team's existing probation was extended until 1990. Its existing ban from bowl games and live television was extended to 1989.
SMU lost 55 new scholarship positions over 4 years.
SMU was required to ensure that Owen and eight other boosters previously banned from contact with the program were in fact banned, or else face further punishment.
The team was allowed to hire only five full-time assistant coaches, instead of the typical nine.
No off-campus recruiting was permitted until August 1988, and no paid visits could be made to campus by potential recruits until the start of the 1988-89 school year.
Use of the word "unprecedented" suggests pretty strongly that Penn State will get something more severe. The most obvious possibilities would include a suspension from football that lasts longer than a year, a long period of probation, long-term banning from bowl games, and loss of a large number of scholarships.
The Patriot-News, the largest newspaper in Central Pennsylvania, notes that even a one-year suspension would have a serious impact on the surrounding community:
Hotels all over State College would go from being overbooked as soon as the football schedule is released to wondering where all the guests have gone.

Bars, restaurants, shops, grocery stores, beer distributors and gas stations would instantly feel the pinch if the parade of Penn State alums ceased their pigskin pilgrimages.

The head of the Central PA Convention and Visitors Bureau, which promotes tourism in and around Penn State, sees the death penalty for football as nothing short of a natural disaster.

"The analogy I would use is similar to what happened in the Gulf with the oil spill," said Betsey Howell, the bureau's executive director. "It devastated their tourism industry as it related to their beaches and fishing at that time. Football could be viewed as our beach season."

Football fills all of the county's lodging properties seven weekends a year. The spillover provides a welcome windfall to surrounding areas, helping ring cash registers at restaurants, shops and convenience stores within a 100-mile radius.

Take all that away, and you're not just looking at a lost season, but wrecked livelihoods, Howell said.

Business, like football, is often a game of inches. And Penn State football is the force that pushes many businesses over the goal line of profitability. Without it, some could close, and jobs would be lost.

And it wouldn't just be State College or even Centre County that would be hurt. The adverse economic ripples from an empty Beaver Stadium would radiate throughout central Pennsylvania, business and tourism officials said.
And, when it's all over, would the fans come back? Or would it be like Major League Baseball after the last strike, where it took a few seasons for attendance to get back to where it was before hand? I suppose we'll find out after the sanctions drop Monday morning.
Update: My speculation above may be mistaken. ESPN is up with a report that seems to indicate that the penalties imposed will not include the "death penalty":
NCAA president Mark Emmert has decided to punish Penn State with severe penalties likely to include a significant loss of scholarships and loss of multiple bowls, a source close to the decision told ESPN's Joe Schad on Sunday morning.

But Penn State will not receive the so-called "death penalty" that would have suspended the program for at least one year, the source said.

The penalties, however, are considered to be so harsh that the death penalty may have been preferable, the source said.

The NCAA will announce "corrective and punitive measures" for Penn State on Monday morning, it said in a statement Sunday. Emmert will reveal the sanctions at 9 a.m. ET in Indianapolis at the organization's headquarters along with Ed Ray, the chairman of the NCAA's executive committee and Oregon State's president, the news release said.

It is expected the NCAA Division I Board of Directors and/or the NCAA Executive Committee has granted Emmert the authority to punish through non-traditional methods, the source told Schad.
Stay tuned, I suppose.