Joe Paterno Dead At 85, Family Confirms
After a depressing and sad end to a storied career, Penn State's legendary JoePa has passed away.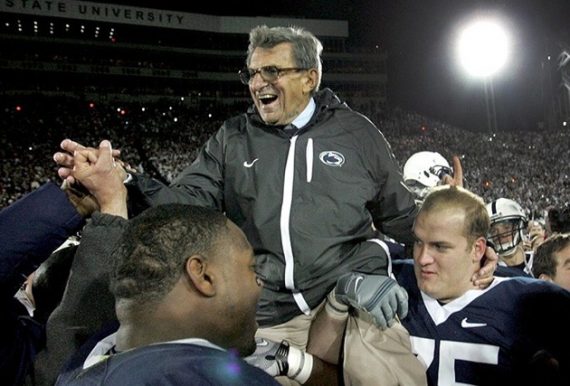 After an erroneous report that he had died spread across the Internet last night, Joe Paterno's family reported that the legendary College Football Coach had passed away this morning:
Joe Paterno has died at the age of 85 after experiencing serious complications from lung-cancer treatment.

The health of Paterno, who had fought the disease for two months, had grown progressively worse after he recently broke his pelvis in a fall at his home in State College, Pa.

"It is with great sadness that we announce that Joe Paterno passed away earlier today," said a statement from Paterno's family, released Sunday, shortly after 10 a.m. ET. "His loss leaves a void in our lives that will never be filled.

"He died as he lived. He fought hard until the end, stayed positive, thought only of others and constantly reminded everyone of how blessed his life had been.

"His ambitions were far reaching, but he never believed he had to leave this Happy Valley to achieve them. He was a man devoted to his family, his university, his players and his community."

Paterno died at State College's Mount Nittany Medical Center, where he had been undergoing treatment.

Paterno remained connected to a ventilator into Sunday, individuals close to Paterno's family told The Washington Post.

The newspaper reported the family had communicated to the hospital his wishes not to be kept alive through extreme artificial means.

Paterno's cancer diagnosis was revealed Nov. 18, nine days after he lost his Penn State head coaching job in the fallout of sexual abuse charges against former defensive coordinator Jerry Sandusky.

Jay Paterno, one of Paterno's sons, thanked fans for their support Saturday.

"I appreciate the support & prayers. Joe is continuing to fight," Jay Paterno wrote on his own Twitter account.

Paterno won two national championships and a Division I-record 409 games over 46 seasons at Penn State and the family has donated millions of dollars to the school.

But his legacy was clouded in the wake of a sexual abuse scandal that has resulted in 52 counts of child molestation against Sandusky. Paterno had announced his retirement early on Nov. 9, but the Penn State board of trustees fired him and university president Graham Spanier about 12 hours later. That day, Paterno called the scandal "one of the great sorrows of my life. With the benefit of hindsight, I wish I had done more."

In his first public statements since the scandal broke, Paterno recently told The Washington Post that he did not know how to deal with the situation when he received a report from a graduate assistant that his former defensive coordinator was accused of abusing a boy in the showers.

"I didn't know exactly how to handle it and I was afraid to do something that might jeopardize what the university procedure was," he told The Post in an extensive two-day interview at his home. "So I backed away and turned it over to some other people, people I thought would have a little more expertise than I did. It didn't work out that way."
When Paterno was first diagnosed with lung cancer shortly after losing his job as Penn State's Head Coach, the reports indicated that it was a "treatable" form of cancer. Obviously, though, no cancer is easily treatable, least of all lung cancer. In retrospect, given the news this morning it's understandable why the family was initially reported as being pretty upset at the manner in which the erroneous reports were spread last night. The end was near in any case and hearing a false report obviously takes an emotion toll.
From The Washington Post's obituary:
Until news of Sandusky's transgressions rocked the university, Mr. Paterno had a virtually impeccable reputation. He was a sought-after speaker who also had been recruited, to no avail, to run for political office. President Gerald R. Ford made overtures to Mr. Paterno in the 1970s, trying to persuade him to run for Congress.

"He transcends football," Ford, a onetime University of Michigan gridiron standout, told the Pitttsburgh Post-Gazette in 2004. "I tried very strongly to get him to run for Congress, but he was so dedicated to Penn State and young people, he turned me down. Joe could have done anything he wanted to do in life because he's so dedicated. . . . He's not only a great motivator of young people, but he always has the best interest of his community at heart."

Mr. Paterno called Penn State football his "Grand Experiment," an attempt to marry athletics and academics to achieve another of his mantras: "success with honor." He was particularly proud that his players went to class and earned their diplomas and that the football program was never implicated in seamy recruiting or academic scandals that plagued so many of the nation's major athletic powers.

He was an old-school coach who would not allow his players to have their names sewed on the backs of their uniform jerseys and enforced a strict coat-and-tie dress code when his teams went on the road. He roamed the sideline usually wearing rolled up khaki pants, a white shirt and tie, white socks and athletic shoes.

His specialty was offense and he believed in having a strong running game. Several running backs he coached earned all-American honors and moved on to successful careers in the NFL.

(….)

Joseph Vincent Paterno was born in Brooklyn, N.Y., on Dec. 21, 1926. His father was an appellate court clerk who graduated from law school in his 40s. Mr. Paterno always credited his father with instilling in him the importance of education.

Mr. Paterno graduated from prestigious Brooklyn Prep, a public high school with a strong academic and athletic tradition. He played baseball, basketball and football, graduated second in his class and was student council president.

After serving in the Army, he went to Brown University in Providence, R.I. Playing alongside his older brother George, Mr. Paterno started at quarterback for Brown and led the team to a 7-2 record in 1948 and 8-1 in 1949.

An English major at Brown, Mr. Paterno was planning to attend Boston University's law school after graduation. But in his senior year, he helped coach Brown's quarterbacks, and the team's head coach, Charles "Rip" Engle, persuaded Mr. Paterno to follow him to Penn State in 1950.

Mr. Paterno still had a notion to go to law school, but he decided to accompany Engle to State College and was named offensive backfield coach. He never left and coaching a number of outstanding players, including future NFL Hall of Fame running back Lenny Moore.

Engle stayed at Penn State for 16 years and never had a losing season. Mr. Paterno was aware that his mentor was planning to retire after the 1965 season and reportedly turned down six different offers to coach at other schools. In his first season as head coach, the Nittany Lions finished 5-5, but in the second year they improved to 8-2 and earned a bid to the Gator Bowl, the first of his 37 bowl appearances, with 24 bowl victories.
Of course, that legacy was forever tarnished in November when the news about decade-long  sexual abuse by former Assistant Coach Jerry Sandusky became public, especially when it became known that Paterno had learned of one incident from a witness and done nothing to follow up after passing it up the administrative chain of command. Even then, though, Penn State's students still stayed loyal to a man old enough to be their Grandfather, if not their Great-Grandfather. In that interview with the Post mentioned above, Paterno comes across as a bit naive about the whole scandal, not quite understanding what else he could have done, or should have done.
On some level, it's sad to see Paterno's life end this way. He was without question one of the greatest coaches in the history of college football. At the same time, the hagiography that developed ar0und him was symptomatic of the problems with collegiate athletics in general, and college football particularly, that still need to be dealt with. The Jerry Sandusky scandal is horrendous, and Paterno's actions in response to it will now be judged by history. Nonetheless, I can't help but remember the good times and his obvious ability to inspire his players. His actions later in life will always be a black mark that everyone can judge for himself, and of course history will make its own assessment. Outside of Bear Bryant, though, I can't think of another NCAA Football Coach who has left a bigger mark on the game.