Penn State Officials Acted To Protect Sandusky Amid Child Abuse Allegations
Jerry Sandusky is in jail, but the evidence of the crimes that were committed to protect him continues to mount.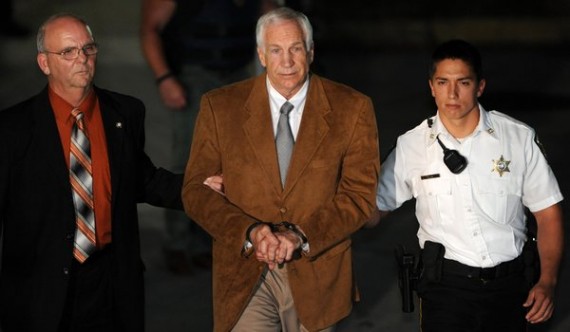 A new set of email messages among top level Penn State officials shows quite blatantly the extent to which they went out of their way to protect Jerry Sandusky when they first became aware of sexual abuse allegations against him:
(CNN) – With convicted serial child sex abuser Jerry Sanduskybehind bars, new questions are surfacing about what Penn State officials knew about a 2001 incident involving the former assistant football coach's encounter with a boy in the shower — and whether they covered up the incident.

Sandusky sexually abused other boys in the years after the 2001 incident and before his arrest.

CNN does not have the purported e-mails. However, the alleged contents were read to CNN.

The messages indicate former Penn State President Graham Spanier and two other former university officials knew they had a problem with Sandusky after a 2001 shower incident, but apparently first decided to handle it using a "humane" approach before contacting outside authorities whose job it is to investigate suspected abuse.

"This is a more humane and upfront way to handle this,' Gary Schultz, who was a university vice president at the time, allegedly wrote.
Paul Campos summarizes the email exchange in the immediate aftermath of McQuerry bringing the incident he witnessed in the Penn State football team's showers to the attention of Head Coach Joe Paterno:
*On February 9, 2001, former PSU quarterback and current graduate assistant coach Mike McQueary meets with Paterno and tells him that on the previous evening he saw Sandusky sexually assaulting a young boy in the showers of the PSU football facility.

*At some point between February 9 and on or about February 19th, Paterno informs Curley of what McQueary has told him.

*On or about February 19th, Curley and Schultz contact McQueary about the incident.

*On February 26th, Schultz writes to Curley to confirm that Curley is aware/approves of a three-part plan to deal with the potential institutional difficulties raised by having Joe Paterno's former defensive coordinator continue to rape little boys on campus. This plan consists of talking to Sandusky "regarding the future appropriate use of the University facility," … "contacting the chair of the charitable organization" [this is Sandusky's Second Mile foundation, which he used to procure victims] and "contacting the Department of Welfare." [The latter step was the minimum legal obligation placed on Penn State officials by Pennsylvania law].
This, of course, is exactly what they should have done and, had they gone forward with this plan then there's a good chance that Sandusky would have come under investigation far earlier than he did and that the boys he abused in the years that followed would have been spared being victimized by a monster. So what happened? Why wasn't there a report made to the Department of Welfare as Schultz and Curley had planned? Well, that's when things get very interesting and very disturbing:
The next evening, February 27, Curley allegedly writes to Spanier; Schultz, who's out of the office for two weeks, is copied.

Curley refers to a meeting scheduled that day with Spanier and indicates they apparently discussed the Sandusky incident two days earlier.

Curley indicates he no longer wants to contact child welfare authorities just yet. He refers to a conversation the day before with Paterno. It's not known what Paterno may have said to Curley.

Curley allegedly writes: "After giving it more thought and talking it over with Joe yesterday, I am uncomfortable with what we agreed were the next steps."

The athletic director apparently preferred to keep the situation an internal affair and talk things over with Sandusky instead of notifying the state's child welfare agency.

"I am having trouble with going to everyone, but the person involved," Curley allegedly continues.

Curley writes he'd be "more comfortable" meeting with Sandusky himself and telling him they know about the 2001 incident and, according to a source with knowledge of the case, he refers to another shower incident with a boy in 1998 that was investigated by police but never resulted in charges against Sandusky.

Curley purportedly writes to Spanier, saying he wants to meet with Sandusky, tell him there's "a problem," and that "we want to assist the individual to get professional help."

In the same purported e-mail provided to CNN, Curley goes on to suggest that if Sandusky "is cooperative," Penn State "would work with him" to tell Second Mile. If not, Curley states, the university will inform both Second Mile and outside authorities.

Curley adds that he intends to inform Sandusky that his "guests" won't be allowed to use Penn State facilities anymore.

"What do you think of this approach?" Curley allegedly writes to Spanier.

About two hours later, the Penn State president responds to Curley in another e-mail and copies Schultz. Spanier allegedly calls the plan "acceptable," but worries whether it's the right thing to do, according to two sources.

"The only downside for us is if the message (to Sandusky) isn't 'heard' and acted upon, and we then become vulnerable for not having reported it," Spanier purportedly writes.

"But that can be assessed down the road. The approach you outline is humane and a reasonable way to proceed," he adds.
There are apparently no email records in which Paterno himself either responded or was copied on, because Paterno never used email during his entire time at Penn State. Nonetheless, it seems clear that he was involved in the discussions with Curley, Schultz, Spanier, and others regarding how to handle the allegations that McQuerry made against Sandusky. From Curley's own email it appears that the decision to report the matter was reversed after he had spoken with Paterno, and we've seen other allegations that Paterno and others were concerned about being "humane" toward Sandusky notwithstanding the allegations against him and the fact that the were all aware of the fact that there had been similar allegations had been made just three years earlier.
Curley and Schultz, of course, are facing trial on charges of perjury before the Grand Jury and failing to report child abuse as required by law. These emails would seem to be fairly damming with regard to that second charge because they seem to show quite clearly that they had initially decided to do exactly what the law required them to do and then, for some reason, decide to take what they called a more "human and reasonable" approach of approaching Sandusky, bringing the charge to his attention, and only report the matter if Sandusky isn't "cooperative." (One has to wonder what they considered "cooperative" because Sandusky clearly didn't stop abusing children after 2001.) Aside from the criminal charges, this would also seem to be very compelling evidence in the civil lawsuits that are already being filed against Penn State, as well as personally against Curley, Schultz, and the state of Joe Paterno, not to mention the investigations of the NCAA, the Department of Education, and former FBI Director Louis Freeh.
When this story first broke, it seemed inconceivable that something like this could go on for so long without anyone doing anything about it. Now, not only doesn't it appear that Penn State did anything about Sandusky, they actually tried to protect him from embarrassment and shame. That is a stain that it will take a long, long time, for the university to live down.