Freeh Report Slams Joe Paterno, Other Penn State Officials, On Sandusky Scandal
The cover-up at Penn State was, if anything, worse than we thought,.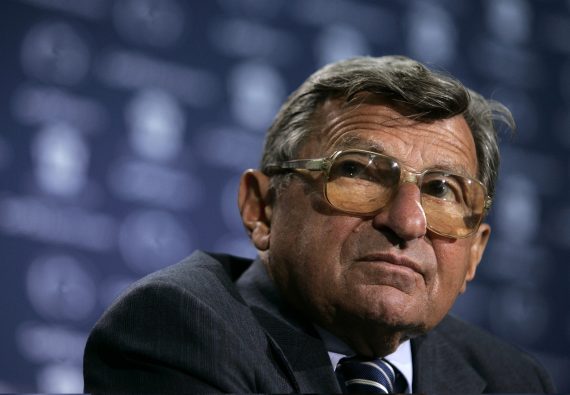 Former FBI Director Louis Freeh's report on how Penn State University handled the sexual abuse allegations made against former Assistant Coach Jerry Sandusky has been released and it is absolutely scathing in its evaluation of the failure of Joe Paterno and other to act properly in response to the charges: 
The most senior officials at Penn State University failed for more than a decade to take any steps to protect the children victimized by Jerry Sandusky, the longtime lieutenant to head football coach Joe Paterno, according to an independent investigation of the sexual abuse scandal that rocked the university last fall.

"Our most saddening and sobering finding is the total disregard for the safety and welfare of Sandusky's child victims," said Louis J. Freeh, the former federal judge and director of the F.B.I. who oversaw the investigation. "The most powerful men at Penn State failed to take any steps for 14 years to protect the children who Sandusky victimized."

Freeh's investigation — which took seven months and involved more than 400 interviews and the review of more than 3.5 million documents — accuses Paterno, the university's former president and others of deliberately hiding facts about Sandusky's sexually predatory behavior over the years.

"The facts are the facts," Freeh said of Paterno. "He was an integral part of the act to conceal."

One new and central finding of the Freeh investigation is that Paterno, who died in January, knew as far back as 1998 that there were concerns Sandusky might be behaving inappropriately with children. It was then that the campus police investigated a claim by a mother that her son had been molested by Sandusky in a shower at Penn State.

Paterno, through his family, insisted after Sandusky's arrest that he never knew anything about the 1998 case. But Freeh's report asserts that Paterno not only knew of the investigation, but followed it closely. Local prosecutors ultimately decided not to charge Sandusky, and Paterno did nothing.

Paterno failed to take any action, the investigation found, "even though Sandusky had been a key member of his coaching staff for almost 30 years and had an office just steps away from Mr. Paterno's."

The investigation also presented evidence that in the wake of the 1998 case, top university officials contemplated the possibility that Sandusky could be a serial pedophile. A second boy, according to notes taken by a university vice president, Gary Schultz, described actions similar to what had happened to the first boy, including Sandusky hugging him from behind in the shower. Schultz wrote in his notes: "Is this opening of Pandora's box? Other children?"

"In order to avoid the consequences of bad publicity," the most powerful leaders of Penn State University, Freeh's group said, "repeatedly concealed critical facts relating to Sandusky's child abuse from the authorities, the board of trustees, the Penn State community and the public at large."

The investigation's findings doubtless will have significant ramifications — for Paterno's legacy, for the university's legal liability as it seeks to compensate Sandusky's victims, and perhaps for the wider world of major college athletics.
The revelation that Paterno had knowledge of the 1998 incident and did nothing about it is only likely to add to the tarnish that his legacy has received since this story broke in November, but its the 2001 incident, when Mike McQuerry reported seeing Sandusky performing a sexual act on a child in the showers at the university is probably where Paterno is most damaged:
For Paterno, one of the most damning implications of the Freeh investigation involves the university's handling of a 2001 report of Sandusky sexually attacking a 10-year-old boy in the football building's shower.

A graduate assistant had witnessed the assault, and reported in person to Paterno the next day. Paterno said he would figure out how to handle the alarming report, and inform his superiors. The Freeh investigation suggests that the university's senior administrators were prepared to formally report Sandusky to state authorities, but that Paterno persuaded them to do otherwise.

After the university's president, Graham B. Spanier, and athletic director, Tim Curley, decided to report Sandusky, the investigation asserted, "the only "known, intervening factor" was a conversation between Curley and Paterno.

It was then decided the "humane" thing to do would be to speak to Sandusky and warn him not to bring children on campus any longer.

"No such sentiments," the investigation said of Paterno, Spanier, Schultz and Curley, "were ever expressed by them for Sandusky's victims."
The report does provide one piece of previously unknown news about the 2001 incident that potentially expands the roster of defendants in any future civil action. In March of that year, Athletic Director Tim Curley went to the Second Mile Foundation, Sandusky's charity, and "shared the information we had" with them. How detailed he might have gotten in that conversation about what Sandusky was accused of doing is unknown, but Freeh's report indicates that the organization essentially decided that the matter was a "non-incident" and took no further action. Considering that Sandusky continued to abuse boys involved in Second Mile for years afterwards, their failure to act exposes the people in charge at the time, and the organization, to civil liability from all of the post-2001 victims at the very least. They may also be potentially liable for the same failure to report child abuse charges that Curley now faces.
What the report makes clear is that Paterno, and the other officials at Penn State, acted in a manner that was designed more to protect the football program and the reputation of Paterno, and to treat Sandusky "humanely," than it was to look out for the children. More importantly, its clear that a child predator was allowed to freely roam the halls of the Penn State athletic department, to use his access to the football program to groom his victims, and to use university facilities to abuse his victims. Indeed, the power of the football program was so great that it prevented people only tangentially related to it from coming forward to report what they saw, as this excerpt highlighted by Ta-Nehisi Coates makes clear:
According to the testimony of witnesses in Gerald A. Sandusky's ("Sandusky") trial in Centre County in June 2012,237 in the Fall of 2000, a temporary University janitor ("Janitor A") observed a man, later identified to him as Sandusky, in the Assistant Coaches' locker room showers of the Lasch Building with a young boy in the Fall of 2000.
Sandusky had the boy pinned against the wall and was performing oral sex on him. The janitor immediately told one of his fellow janitors ("Janitor B") what he had witnessed, stating that he had "fought in the [Korean] War…seen people with their guts blowed out, arms dismembered… . I just witnessed something in there I'll never forget."

On that same night, Janitor B observed two pairs of feet in this same shower at the Lasch Building but could not see the upper bodies of the two persons. He waited for the two to finish their shower, and later saw Jerry Sandusky and a young boy, around the age of 12, exit the locker room holding hands. Janitor B frequently saw Sandusky in the Lasch Building after hours, usually accompanied by one or more young boys.

Janitor B closely followed Penn State football, and knew Sandusky from watching football games. A senior janitorial employee ("Janitor C") on duty that night spoke with the staff, who had gathered with Janitor A to calm him down. Janitor C advised Janitor A how he could report what he saw, if he wanted to do so. Janitor B said he would stand by Janitor A if he reported the incident to the police, but Janitor A said, "no, they'll get rid of all of us."

Janitor B explained to the Special Investigative Counsel that reporting the incident "would have been like going against the President of the United States in my eyes…I know Paterno has so much power, if he wanted to get rid of someone, I would have been gone." He explained "football runs this University," and said the University would have closed ranks to protect the football program at all costs.
This was the culture that four decades of JoePa had created in Happy Valley, and indeed in large segments of Pennsylvania. The fact that it allowed a child rapist to get away with heinous crimes for years should be reason alone for us to think twice about making such God-like heroes out of any man, but most especially about a sports program in an institution that is supposed to be devoted to higher learning.
The big question, of course, is what happens next. This report will be dynamite for those pursuing civil claims against Penn State and the individual parties involved, including Paterno's estate, and it may even lead to additional criminal charges against people who failed to report what they saw over the course of years. As for Penn State football, the NCAA said this morning that they are reviewing the report and it may still be some time before we see what their sanctions might be. At this point, though, the death penalty seems to be the only appropriate punishment for what happened here. Penn State football became a legend but as we've seen it was built on clay and it let horrific crimes go unpunished for years. How anyone can cheer at Beaver Stadium after this is beyond me.
Here's the report in full for those interested: