Penn State Investigation Into Sandusky Scandal Likely To Be "Very Tough" On Paterno
Joe Paterno's legacy is likely to take a lasting and damaging hit when a report on Penn State's handling of the Sandusky mess is released.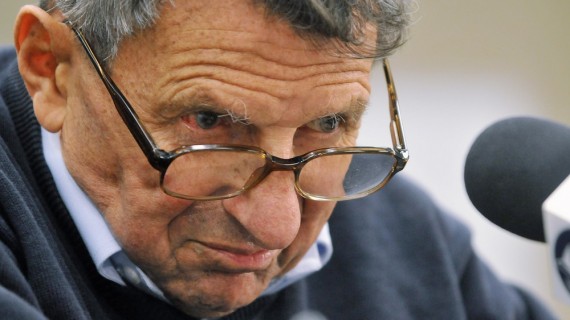 Since shortly after the Jerry Sandusky story broke in November, an independent investigation run by former FBI Director Louis Freeh has been delving into all aspects of the story, including the involvement of Penn State officials in not reporting at 2001 incident of abuse to proper authorities. Now that report is close to being done, and ESPN is reporting that it's likely to be vary hard on the late legendary coach Joe Paterno: (ESPN Video may autoplay when link is opened)
A consulting firm's report offering new information about how Joe Paterno and Penn State senior officials responded to an allegation that Jerry Sandusky had sexually abused a boy inside the football team's showers could be made public as early as next week, several sources said Friday, and is expected to be tough on Paterno.

The report is expected to shed new light on administrators' handling of the Sandusky allegations, and also raise questions about Paterno's leadership of Penn State's vaunted football program, according to several people with knowledge of the inquiry's scope.

"Much of the focus will be on the culture of the football program, with findings that go back more than a decade," said a Penn State official briefed on the inquiry, who spoke on condition of anonymity. "It's going to be very tough on Joe (Paterno)."

The long-awaited report, compiled by Freeh Group International Solutions, the consulting firm led by former FBI director Louis J. Freeh, is the culmination of an eight-month investigation that examined whether university policies and culture were contributing factors to a lack of reports and action about abuse that occurred on campus. Investigators interviewed more than 400 people, including Penn State administrators, faculty members, trustees and former coaches, players and staff from Penn State's football team.

A batch of emails the Freeh Group uncovered — leaked in recent weeks to NBC and CNN and confirmed by ESPN — have raised fresh questions about Paterno's handling of the allegation about an incident involving Sandusky and a young boy in the Penn State locker room showers in February 2001.

The emails shed new light on how former athletic director Tim Curley and former vice president for finance and business Gary Schultz had dealt with the allegation made by former assistant football coach Mike McQueary about the alleged incident involving Sandusky and a young boy in the showers. They also raise questions about the handling of the matter by then-Penn State president Graham Spanier, who resigned last November after Sandusky's arrest.
I wrote about the emails earlier this week and, as I said at the time, while Paterno was not personally involved in the email conversations it was fairly clear that Curly, Schulltz, and Spanier had all decided to change the course of action that they planned to take vis a vis Sandusky after Curley talked to Paterno. Instead of reporting him to the appropriate authorities, as the law requires, they decided to "talk" to him about the situation and only take that step if he was uncooperative, whatever that means. We don't know from the emails what Paterno may have said to Curley, and we may never know unless and until Curley takes the witness stand in his criminal trial or is deposed in a civil lawsuit. It also suggests that he was much more heavily involved in the discussions about what to do about Sandusky than he led the press to believe in the aftermath of his firing, or than his family has insisted since he passed away.
In another interesting development, a report yesterday in the Chicago Sun-Times indicates that, contrary to what we've been told, Paterno did indeed use email and on at least one occasions used it to influence university officials considering disciplining members of the football team:
The late Joe Paterno used e-mail to try to wrest control from Penn State University officials over issues on and off the field, according to emails obtained by the Chronicle of Higher Education.

Previously, Paterno had claimed to never use e-mail. However, the Chronicle's report showed he used email in dealing with a 2007 beating incident involving football players.

During the investigation of convicted child sex abuser Jerry Sandusky, Paterno claimed to have handed over the information he knew from a 2001 on-campus incident involving Sandusky and a 10-year-old boy.

However, Paterno testified he was not involved in the disciplinary action of the former assistant football coach. A CNN report last week refuted that, reporting on e-mails that showed Paterno may have influenced former athletic director Tim Curley from turning the case over to the proper authorities.

Sandusky was convicted last month on 45 of 48 counts of sexual abuse against children, including the 2001 incident.

While dealing with a 2007 disciplinary case that surrounded an off-campus fight involving about two dozen football players, Paterno wrote to university president Graham B. Spanier and Curley using the an email account under the name of assistant coach Sandi Segursky.

"I want to make sure everyone understands that the discipline of the players involved will be handled by me as soon as I am comfortable that I know all the facts," said the April 7, 2007 email, which was signed "Joe."

"This is my understanding as well," Spanier responded.

The Chronicle's story detailed how Paterno oversaw the police investigation and ultimately handed down the punishment for the players involved.
Now it's possible, of course, that Paterno wasn't using email six years earlier when the Sandusky story came to his attention. However, this story raises two important points. First of all, have searches been made of the email of this Sandi Sagursky or any one of Paterno's other assistant coaches for the relevant period for anything related to the Sandusky story? If he used another coach's email in 2007 to communicate with officials, it's possible he did the same thing in 2001. Second, this demonstrates just how involved Paterno was in potential scandal involving the football program. How likely is it that he was completely disengaged from the Sandusky discussions or that he didn't try to influence administrators on disciplinary issues? Given news like this, one has to think that the only reason that Paterno wasn't charged along with Curley and Schultz with failure to report the allegations is because of his age and because he was JoePa.
After the first batch of emails came to light, Melinda Hennenberger asked this:
[F]or more than a decade after Paterno had by his own admission heard all about Sandusky's M.O., the coach did nothing to protect kids, or even enforce the decision that his former assistant coach shouldn't be able to keep bringing kids around.

For the next decade, whenever Paterno saw Sandusky with the boys he continued to troll for through his charity — and continued to ply with access to Penn State's football program — did Paterno not ever think about what he'd been told?

Was he untroubled when he saw Sandusky with other youngsters, sitting on the bench and hanging out on the sidelines during games?

Around Penn State, Paterno is revered still; Joe Pa did nothing wrong and everything he was supposed to do, I was told time and again during Sandusky's recent trial.

Unfortunately, that's an attitude that can only lead to more of the same. That is, to more "humane" treatment of predators at the expense of children. To more misguided Joe Pa worship at the expense of the truth. And to more deference to even such lame excuses as the one about the sacrosanct weekend, during which officials apparently shouldn't have to hear any unwelcome news.
That about sums it up, doesn't it?