Former Penn State Coach Jerry Sandusky Convicted Of Child Abuse
Justice.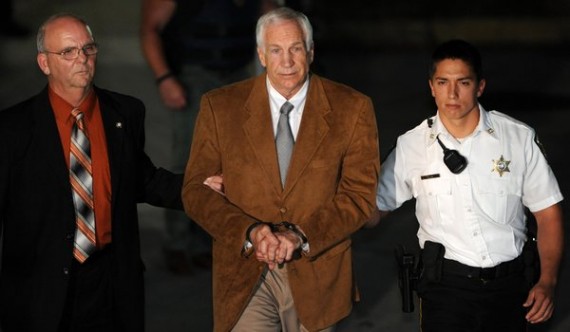 Just over seven months after the allegations against former Penn State Coach Jerry Sandusky became public, and after scandal rocked the Penn State campus that resulted in the firing of legendary coach Joe Paterno, a Centre County, PA jury has convicted Jerry Sandusky of 45 counts of child sexual abuse:
BELLEFONTE, Pa. — Jerry Sandusky, a former Penn State assistant football coach, was convicted Friday of sexually abusing young boys, completing the downfall of a onetime local hero in a pedophilia scandal that shook a proud Pennsylvania community, a prominent American university and the world of major college football.

A jury in Centre County Court convicted Sandusky, 68, of sexually assaulting 10 boys, all of them children from disadvantaged homes whom Sandusky, using his access to the university's vaunted football program, had befriended and then repeatedly violated. The jury, seven women and five men, more than half with ties to Penn State, returned a verdict on the second day of deliberation.

Sandusky stood stoically as the jury foreman read a litany of guilty verdicts, a total of 45 counts in all. Many of the charges, which include rape and sodomy, carry significant prison terms, and it seems likely that Sandusky will spend the rest of life behind bars. Sandusky was taken into custody after the verdicts were read.

The case against Sandusky, even before his trial, had exacted an enormous toll. Joe Paterno, the university's famed head coach who had been alerted to at least one of Sandusky's attacks on a boy, was fired, went into a kind of exile and was dead within months. The university's longtime president, Graham B. Spanier, was dismissed as well, and Penn State officials, alumni and students were forced to confront the disturbing possibility that the interests of big-time college sports had trumped concern for the welfare of vulnerable children.

Sandusky, who had been Paterno's longtime defensive coordinator, had also founded a charity, the Second Mile, to work with troubled youths. In a trial that lasted two weeks, prosecutors asserted that Sandusky had used the charity as his private hunting ground, scouting for potential victims. He gave them gifts and money, invited them to his home, took them to Penn State football games, showered with them at the university's football building and slept with them in hotel rooms on the road.

Eight men testified during the trial, offering graphic accounts of repeated assaults by Sandusky — on the Penn State campus, in hotel rooms or in the basement of Sandusky's home. It was painful testimony, the men telling their horrifying stories in public for the first time. Some wept. Others said, with anger and relief both, that they wanted to move on at last.

In one of the case's final startling chapters, this coming after the case had gone to the jury on Thursday, another alleged victim came forward to assert Sandusky had molested him: it was one of Sandusky's adopted children, Matt, who said he had offered to testify at the trial.

 The verdict against Sandusky will not bring an end to Penn State's problems or reckonings. Lawsuits loom. At least two formal investigations, including one by a former director of the F.B.I. at the behest of the university's board of trustees, are still under way. And two senior university officials, the athletic director and the administrator in charge of the campus police, face criminal charges that they failed to act when informed that Sandusky had assaulted a 10-year-old boy in a university shower in 2001 and then lied about it under oath before a grand jury.

Sandusky's arrest, early on a Saturday last November, registered with seismic force in this insular corner of Pennsylvania known as Happy Valley. He was regarded as a local pillar, a former Penn State standout who had played for Paterno and then spent 30 years on the sideline with him building the Nittany Lions defense into "Linebacker U" and the football team into a national power.

People expressed shock that the man they knew as a committed and selfless coach, a prominent fund-raiser for charity and a gregarious father figure to scores of aspiring football players and ordinary children alike could be capable of such crimes. Many, at least initially, refused to believe it.

But things got worse for Penn State, as charges and revelations were laid out by the state attorney general's office: Sandusky had been investigated by campus police for possible sexual crimes against children as far back as 1998; in 2001, a graduate assistant in the football program had told Paterno and then other school officials that he had seen Sandusky sexually attacking a 10-year-old boy in the football building showers.

No one — not Paterno, not the graduate assistant, not the other school officials — ever reported the attack to police. Sandusky, who had retired two years before but retained an office and privileges on campus, was merely told not to bring take boys onto campus any longer.

The university erupted with upset. Paterno's reputation was badly tainted. The outsize importance of college sports was debated anew, but this time with a wrenching kind of soul-searching.
All of those issues will, no doubt, be debated again in the future. Pennsylvania State University, along with several of the university's administrators, face the prospect of civil lawsuits which will no doubt make their way through the Pennsylvania civil court system for several years to come. In addition to all of that, the Penn State football program, if not its entire athletic program, faces the prospect of NCAA sanctions for not sufficiently supervising the operations of the athletic program and failing to report violations of the law to appropriate authorities. But, to some extent, that is the least important part of this case.
Although  I was only following this case tangentially through news reports, it seemed rather obvious from the beginning that the prosecutions case was not merely iron clad, but impenetrable. Even when the defense did cross-examine the accusing witnesses that were presented (8 out of 10), it didn't seems as thought they did very much to challenge their credibility and, when the prosecution's case ended, one wondered what kind of case the defense could possible put on. Apparently, whatever case that may have been, it didn't taken into account that one of Sandusky's adopted sons would approach prosecutors and accuse his adopted father of molesting him when he was a teenager. That son did not testify, but it was apparently one of the main reasons that Sandusky's attorney's did not put him on the stand.  Even without that particular allegation, though, I cannot believe that there would have been any rational reason for Sandusky's attorney's to advise him that testifying would be in his interests.
The post-trial spin is about what you would expect from defense attorneys who just lost out on 45 out of 48 counts, and based on what we know I cannot believe that any appellate judge is ever going to reverse this verdict. The evidence against Sandusky has been exceedingly clear from the beginning. The question that remains to be answered is what all of this means for Pennsylvania State University.