SCOTUS Ends Affirmative Action
The inevitable has happened. Now for the fallout.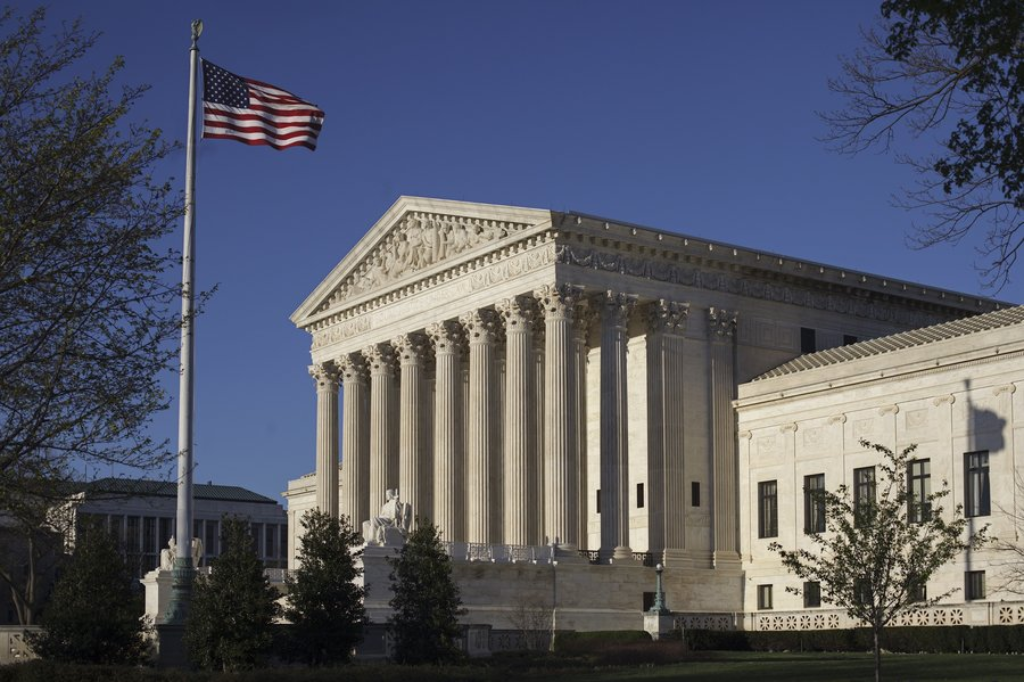 NYT ("Supreme Court Rejects Affirmative Action Programs at Harvard and U.N.C."):
The Supreme Court on Thursday rejected affirmative action at colleges and universities around the nation, declaring that the race-conscious admissions programs at Harvard and the University of North Carolina were unlawful and sharply curtailing a policy that had long been a pillar of higher education.

The vote was 6 to 3, with the court's liberal members in dissent.

"The Harvard and U.N.C. admissions programs cannot be reconciled with the guarantees of the equal protection clause," Chief Justice John G. Roberts Jr. wrote for the majority. "Both programs lack sufficiently focused and measurable objectives warranting the use of race, unavoidably employ race in a negative manner, involve racial stereotyping and lack meaningful end points."

Justice Sonia Sotomayor summarized her dissent from the bench, a rare move that signals profound disagreement, and said that affirmative action was crucial to countering persistent and systematic racial discrimination.

"The court subverts the constitutional guarantee of equal protection by further entrenching racial inequality in education, the very foundation of our democratic government and pluralistic society," she said in her written dissent.

[…]

In dissent, Justice Sotomayor wrote that the majority had abandoned principled adjudication.

"At bottom," she wrote, "the six unelected members of today's majority upend the status quo based on their policy preferences about what race in America should be like, but is not, and their preferences for a veneer of colorblindness in a society where race has always mattered and continues to matter in fact and in law."

The chief justice wrote that admissions officers could sometimes still take account of race, including in the college essay. "Nothing in this opinion should be construed as prohibiting universities from considering an applicant's discussion of how race affected his or her life, be it through discrimination, inspiration or otherwise," he wrote.

The point, Chief Justice Roberts said, was that applicants must be assessed individually. "In other words," he wrote, "the student must be treated based on his or her experiences as an individual — not on the basis of race."

Justice Sotomayor said that was thin gruel.

"This supposed recognition that universities can, in some situations, consider race in application essays is nothing but an attempt to put lipstick on a pig," she wrote.

But she acknowledged that the majority had left colleges and universities with some tools to admit students of different backgrounds, notably by focusing on socioeconomic factors.

The chief justice wrote that educational diversity, the idea that students of different backgrounds learn from one another, is a commendable goal. But he added that such a goal resists the demanding judicial scrutiny that is required when race is a factor because it cannot be measured.
While there is a lot of handwringing over this decision, it was simply inevitable. Racial preferences in college admissions have been on life support since Regents of the University of California v. Bakke was decided—way back in 1978. Every related decision since then has further limited how race could be used until, finally, we got to this: race per se can't be used at all but individual life experience—of which race is inevitably a part—can.
Ruling a quarter century after Bakke, Sandra Day O'Connor warned, "We expect that 25 years from now, the use of racial preferences will no longer be necessary to further the interest approved today." The six justices in the majority moved the timetable up five years.
As a matter of Constitutional law, I think they were right to do so. As a matter of public policy, coming three years after massive protests across the country under the banner of Black Lives Matter, it's obvious that we have not reached O'Connor's hoped-for state. Nearly seven decades after Brown v. Board of Education and six after the Civil Rights Acts, race still very much matters in America.
The impact of the decision is debatable and indeed being debated.
UC Berkley Law dean Erwin Chemerinsky ("The Supreme Court's ultimate 'judicial activism': striking down affirmative action in college admissions") ignores the clear lineage of the Court's previous rulings, focusing only on the grudging allowance for diversity, before getting to this:
The experience in California shows what could happen at universities all over this country. Proposition 209 had an immediate and devastating effect on diversity in the University of California. The number of Black and Latino first-year students fell by 50% in the years immediately after the ballot measure was passed. It took UCLA 19 years, until 2015, to reach its pre-Proposition 209 levels of diversity.

But the UC system — and state institutions in states like Michigan and Washington that also abolished affirmative action — have found ways to achieve diversity through concerted efforts. There still can be aggressive outreach and recruitment of students to form a diverse campus community.

Also, Roberts explicitly wrote, "Nothing in this opinion should be construed as prohibiting universities from considering an applicant's discussion of how race affected his or her life, be it through discrimination, inspiration, or otherwise."

This appears to allow admissions decisions to examine the diversity of experience, which includes the importance of race, in the applicant's life. And as Sotomayor wrote, universities may consider other factors — like socioeconomic status — that may yield diversity. But the court left unclear whether any factors used in admissions decisions to achieve diversity are constitutional if they are done with the purpose and effect of increasing access for minority applicants.

The immediate impact of Thursday's decision cannot be overstated. At least in the short term, there will be a dramatic change in admissions decisions and students of color will be harmed.
NPR's Emma Bowman goes into greater detail on that history ("Here's what happened when affirmative action ended at California public colleges") but notes that the initial drop-off wasn't the end of the story:
Faced with plummeting minority enrollment, admissions offices began a years-long effort to figure out ways to get their numbers back up.

Admissions offices pivoted to a more holistic approach, looking beyond grades and test scores. Starting in the early 2000s, the UC system implemented a couple of initiatives to increase diversity: The top-performing students graduating most high schools in the state were guaranteed admission to most of the eight UC undergraduate campuses. It also introduced a comprehensive review process to "evaluate students' academic achievements in light of the opportunities available to them" – using an array of criteria including a student's special skills and achievements, special circumstances and location of high school.

In 2020, the UC system eliminated standardized test scores as an admission requirement, nixing a factor that advocates say disadvantages underserved students.

However, the effort to boost diversity has come with a heavy price tag. Since Prop 209 took effect, UC has spent more than a half-billion dollars on outreach programs and application reviews to draw in a more diverse student body.

It's taken 25 years of experimentation through race-neutral policies, for UC schools have begun to catch up to the racial diversity numbers lost in the wake of the affirmative action ban, says UCLA vice chancellor Chang.

"There was no magic bullet. Some things worked better than other things. And this is also work that doesn't happen overnight," Chang said.

Still, the California schools are unable to meet their diversity goals systemwide. Chang says his school is not where it wants to be. It still enrolls far fewer Black and Latino students than their share of California high school graduates — a problem it didn't have before the affirmative action ban.

As with the UC system, experts think that across the country, similarly competitive universities will be most affected by the Supreme Court's ruling.

Gabrielle Starr, president of Pomona College, a small Southern California school that wasn't subject to the state ban, fears the selective, private university will lose its racial diversity under the nationwide affirmative action ban.
Tyler Austin Harper, a Black environmental studies professor at Bates College, takes to the NYT op-ed pages ("I Teach at an Elite College. Here's a Look Inside the Racial Gaming of Admissions.") to share this perspective:
Let me be clear that I am not an opponent of affirmative action. I don't think I would have gotten into Haverford College as an undergraduate if it had not been for affirmative action, and the same is probably true of my Ph.D. program at New York University and the professorship I now hold at Bates College. I believe that affirmative action works, that it is necessary to redress the historical evils of chattel slavery and its myriad afterlives and, above all, that it is a crucial counterbalance against the prevailing system of de facto white affirmative action that rewards many academically mediocre (and wealthier) students for having legacy parents or for being good at rowing a boat.

Yet I also believe that affirmative action — though necessary — has inadvertently helped create a warped and race-obsessed American university culture. Before students ever step foot on a rolling green, they are encouraged to see racial identity as the most salient aspect of their personhood, inextricable from their value and merit.

Many prestigious institutions have themselves racially gamified the admissions process, finding ways to maximize diversity without making dents in their endowments. For example, some colleges and universities boost diversity statistics on the cheap by accepting minority students who can pay full freight. And even purportedly need-blind institutions seem to have a remarkable track record of recruiting minority students who don't need financial aid. (By some estimates, over 70 percent of Harvard's Black, Latino and Native American students have college-educated parents with incomes above the national median.)

Even though elite institutions haven't always lived up to the spirit of affirmative action — giving a leg up to those who need it most — the present system has managed to secure some racial diversity in higher education, including for working-class minority applicants. (I was one of these students.) In the world after affirmative action, however, our unhealthy system of racial gamification will intensify without any of the benefits of racial justice and real structural redress that affirmative action afforded.
Matt Yglesias weighs in with "19 thoughts on affirmative action," some of which are from associates. The most interesting:
Milan's take: Many defenders of affirmative action still, implicitly, view it as a reparations program, with the "diversity rationale" being a required legal fig leaf. But as a reparations program, it doesn't make sense. For one, the numbers show that burden of adjustment is falling on Asian-Americans. To put it bluntly, we weren't the ones doing slavery or Jim Crow, and it feels unfair that we are being asked to pay for someone else's father's sins. It also doesn't help most Black and Hispanic kids, because the vast majority do not attend highly selective colleges.

Maya's take: As a Harvard student, I am deeply saddened by this ruling. I think college students learn just as much from their peers as they do from their professors. Harvard's race-conscious admissions allowed students with diverse backgrounds to learn from each other's perspectives. In my classes, we had discussions about race, identity, and oppression that would have been intellectually impoverished without the presence of Black, Hispanic, and Native American voices. I am concerned that by reducing diversity in the classroom, this Supreme Court decision will worsen the quality of education at Harvard and universities around the country.

As a person who benefitted from affirmative action in college admissions, I'm struck that one of the key flaws of the program is that it would be considered an insult to say that I benefitted from affirmative action. That strikes me as a really deep conceptual problem with this approach. You don't see people saying "look at all these great affirmative action success stories" because it's considered demeaning and insulting to characterize a person that way.

Because progressives are uncomfortable with straightforwardly defending affirmative action, they often pivot to whataboutism regarding admissions benefits that primarily benefit white students — legacies, athletes, donors' kids, people from rural states. And there are a lot of good criticisms of those programs. But I think one of the biggest is that they are all ways of assuring that the burden of adjustment related to affirmative actions falls, unfairly, on Asians, while ensuring the most privileged strata of white society are insulated.

[…]

In the real world, Harvard and Yale and Princeton and Stanford make decisions based on what they think is good for Harvard and Yale and Princeton and Stanford. They think it would be a "bad look" for Harvard and Yale and Princeton and Stanford to have very few Black and Hispanic students, and they are probably correct about that. So they have crafted admissions policies to avoid that outcome.

It's notable that Harvard and Yale and Princeton and Stanford don't mind if one of their Hispanic admits is a quarter-Cuban guy with light skin who grew up in an English-speaking household in Greenwich Village and went to Dalton. The point is to avoid the "bad look" by putting something down on the official diversity numbers.

For years, there's been a move among Harvard students and faculty who are descended from people held in slavery in the United States prior to the Civil War to get the university to say how many of its Black students are Generational African-Americans as opposed to descendants of recent immigrants from Africa and the Caribbean. The university keeps refusing to do this, again because the priority is to avoid the "bad look," not to achieve any particular social justice goal.

[…]

When my son was five, he asked if the weakest students enroll at the best colleges because they're the ones who need the most help. That is, of course, not how it works. But "the smarter you are at age 18, the more educational resources you should receive" is not an obviously correct allocation of social resources. I think if you're concerned about social justice, you should just not give your money to Harvard and Yale and Princeton and Stanford and should instead give it to an institution that educates more students from modest backgrounds.

I think professors at top universities face a conceptual problem in that they want to affirm values like "diversity, equity, and inclusion," but the whole point of top universities is to be elitist, hierarchical, and exclusionary. I'm not 100 percent sure what to tell people in this situation. But if you want to be equitable and inclusive, go teach in a community college or a public high school. If you want to cultivate excellence among a social elite, then own up to that as a mission in life. I don't think there's one right thing to do, but it's deeply confusing to try to do both of them simultaneously.

[…]

To the extent that you take seriously the educational benefits of diversity, ending affirmative action will redistribute diversity away from the most selective schools to a set of somewhat-less-selective schools which seems … fine.

To the extent you worry about Black and Hispanic underrepresentation in selective colleges in general and the downstream consequences of that for representation in skilled professionals generally (and I think we should worry about this), you really do have to care about the pipeline problem, embrace the fact that K-12 school quality matters, and read my ongoing education reform series. More phonics!
Matt and company make some strong points, not the least of which is that we're really talking about a handful of elite schools. The overwhelming number of American colleges and universities are not selective, admitting pretty much any qualified applicant. The Harvards, Berkeleys, and UNCs of the world will just have to put in more effort to ensure that their student bodies are diverse—a goal they will almost certainly continue to pursue.
UPDATE: David French's column "Harvard Undermined Itself on Affirmative Action" is worth a read. Beyond the titular point about Harvard's active discrimination against Asian applicants, he notes,
Where does this leave the law? The top-line answer is simple, but the consequences are complicated. The court struck down the use of race as a factor in college admissions, but it left in place a number of alternative admissions measures that can both increase diversity and address real injustice. First, as Justice Thomas explains, "Even today, nothing prevents the states from according an admissions preference to identified victims of discrimination." In such a case, the preference is related to a specific injustice.

Justice Thomas provided additional examples of acceptable preferences: "If an applicant has less financial means (because of generational inheritance or otherwise), then surely a university may take that into account. If an applicant has medical struggles or a family member with medical concerns, a university may consider that too. What it cannot do is use the applicant's skin color as a heuristic."

Again, these are all individualized determinations, but those individualized determinations would still have systemic effects. As Justice Ketanji Brown Jackson eloquently argues in her dissent: "Gulf-sized race-based gaps exist with respect to the health, wealth and well-being of American citizens. They were created in the distant past, but have indisputably been passed down to the present day through the generations." She is exactly right, but those gulf-sized gaps can be addressed with race-neutral policies targeted at wealth, income and in some circumstances health.

In other words, because of past injustice, race-neutral policies can have race-disproportionate outcomes without engaging in invidious discrimination against innocent applicants. To treat all economically disadvantaged kids the same, regardless of race, results in both systemic change — Black and Latino youth would benefit disproportionately — and individual fairness. Moreover, by preserving the ability to consider specific accounts of racial discrimination, schools retain the ability to provide advantages to people who've confronted concrete acts of racial injustice.

The idea that schools can attain real diversity without engaging in racial discrimination in admissions is no mere theory. There are, in fact, specific examples of state university systems that have managed to become more diverse without engaging in race-based affirmative action. As Justice Thomas notes in his concurrence, both California and Michigan prohibit race-based affirmative action in their public universities, yet state schools in both states have boasted of enrolling extraordinarily diverse classes of students.

The consequences of the Supreme Court's Harvard decision will reverberate throughout American law. There is no longer any such thing as "good" racial discrimination. There can be redress for actual discriminatory acts, but the idea that race by itself can be utilized as a proxy for achieving social progress is now almost certainly wiped away. Programs designed specifically around the race of the participants are going to face renewed scrutiny.
I agree with all of that. The problem is that, if there's such a thing as structural racism—and I think there is—then race-blind measures will explicitly not correct for it. Admitting more poor applicants will surely help Black applicants, even disproportionately. But that only corrects for the poverty, not for the other structural barriers to performing well in school and on standardized tests.