Divided Supreme Court Hears Arguments On Affirmative Action In University Admissions
A divided Supreme Court heard argument today in a case involving affirmative action in college admissions that is before the Court for the second time in two years.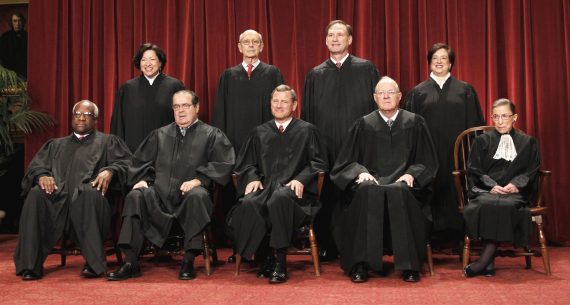 Today, the Supreme Court revisited the issue of racial preferences in admissions at public college and universities, and while there appears to be a majority on the court that is skeptical of the Constitutionality of the practice there is yet again a possibility that the Court could end up punting on a case that is already before the Court for the second time:
WASHINGTON — A majority of the Supreme Court justices seemed unpersuaded on Wednesday that an affirmative action plan at the University of Texas was constitutional. But the member of the Supreme Court who almost certainly holds the crucial vote, Justice Anthony M. Kennedy, devoted almost all of his questions to exploring whether the case should be returned to the trial court to allow the university to submit more evidence to justify its use of race in deciding which students to admit.

By the end of the unusually long and tense argument, Justice Kennedy indicated that the Supreme Court might have all the evidence needed to decide the case. That could mean that the Texas admissions plan is in peril and that affirmative action at colleges and universities around the nation may be in trouble as well.

It was the court's second look at the admissions program at the University of Texas, Austin. The last time, in 2013, the court avoided giving a direct answer about the constitutionality of the program used by the university, and returned the case to an appeals court for reconsideration.

The Supreme Court's decision to revisit the case this term struck many supporters of affirmative action as an ominous sign, one suggesting that a 12-year-old societal compromise was in peril.

In 2003, in Grutter v. Bollinger, the court said that public colleges and universities could not use a point system to increase minority enrollment but could take race into account in vaguer ways to ensure academic diversity. Though the usual constitutional rule is that the government cannot classify people by race, the 2003 decision said the court would make a limited exception for public colleges and universities for roughly 25 years.

The Grutter case was decided by a 5-to-4 vote, with Justice Sandra Day O'Connor writing for the majority. Diversity, Justice O'Connor wrote, encourages lively classroom discussions, fosters cross-racial harmony and cultivates leaders seen as legitimate. But critics say there is only a weak link between racial and academic diversity.

Justice O'Connor retired in 2006 and was replaced by Justice Samuel A. Alito Jr., who is more conservative.

The Grutter decision allowed but did not require states to take account of race in admissions. Several states, including California and Michigan, forbid the practice, and public universities in those states have had a drop in minority admissions. In other states and at private institutions, officials generally look to race and ethnicity as one factor among many, leading to the admission of significantly more black and Hispanic students than basing the decisions strictly on test scores and grades would.

The new case, Fisher v. University of Texas, No. 14-981, was brought by Abigail Fisher, a white student who says the University of Texas denied her admission in 2008 because of her race. The case has idiosyncrasies that may limit its reach.

In Texas, students in roughly the top 10 percent of high schools are automatically admitted to the University of Texas, Austin. That program does not directly consider race but increases racial diversity largely because many high schools in the state are racially homogeneous. Ms. Fisher, who has since graduated from Louisiana State University, just missed that cutoff at her high school in Sugar Land, Tex., and then entered a separate pool of applicants admitted under the system that is commonplace at most colleges and universities, where race is considered as one factor among many.

The basic question in the case is whether the university was entitled to supplement its race-neutral Top 10 program with a race-conscious holistic one.

When the court last considered Ms. Fisher's case in 2013, it deferred conclusive action in what appeared to be a compromise decision.

Justice Anthony M. Kennedy, writing for the majority, said the federal appeals court in New Orleans had been insufficiently skeptical of the Texas program.

Colleges and universities, Justice Kennedy wrote, must demonstrate that "available, workable race-neutral alternatives do not suffice" before using race in admissions decisions. The case was sent back to the appeals court. In its second encounter with the case, a divided three-judge panel of the United States Court of Appeals for the Fifth Circuit, in New Orleans, ruled that the Texas admissions plan passed constitutional muster.
Lyle Denniston analyzes today's argument:
The mystery of why the Supreme Court chose to take a second look at the challenge to the University of Texas at Austin's consideration of race in choosing new students was partly solved in a prolonged hearing on Wednesday morning.  The case, it would appear, now comes down to three options: kill affirmative action nationwide as an experiment that can't be made to work, kill just the way it is done at the Texas flagship university because it can't be defended, or give the university one more chance to prove the need for its policy.

The Court bored deeply into the details of the Texas policy, in a hearing lengthened by more than a half-hour beyond the scheduled sixty minutes, and marked by heated exchanges and deep emotions, especially when discussing the academic skills of blacks and Hispanics as university candidates.

Because the first two options that seemed to emerge would be momentous rulings, it may be that the Court would not want to do either with only an eight-member Court.  Justice Elena Kagan, because of her past involvement with this very case while a government lawyer, is not taking part, and a shortened bench might not want to act so boldly.  But even the Justice who talked most about another chance for the university — Anthony M. Kennedy — did not seem entirely convinced that it would make a difference.

If the Court, after weeks of private deliberation, ultimately cannot assemble a clear five-Justice majority among the eight who will decide, that could lead to a simple order by an evenly divided Court with no opinion but with the practical effect of upholding the Texas program as is.  That would provide no guidance for other public colleges and universities.  Because no faction among the Justices would seem to want that, there is likely to be a strenuous effort to find a common ground — as there was last time, two years ago, when a seven-to-one decision returned the case to lower courts for another look, with modest new guidance.

There was no doubt on Wednesday that there are three and probably four Justices who have grown deeply skeptical, if not hostile, to affirmative action in general.  That would include, for sure, Justices Samuel A. Alito, Jr., Antonin Scalia, and Clarence Thomas.  (Although Thomas did not ask any questions today, his views on the issue are well known.).  A fourth could be Chief Justice John J. Roberts, Jr., who openly fretted about whether the time would ever come when race would no longer be used in affirmative action on college campuses.  He noted that, twelve years ago, the Court had predicted that there would be no need to use race in college admissions within twenty-five years, but about half of that time is now gone.

Equally, there was no doubt that there are three Justices clearly on the university's side — Justice Ruth Bader Ginsburg, who would have upheld the plan two years ago and was the lone dissenter in that ruling, and Justices Stephen G. Breyer and Sonia Sotomayor.  Sotomayor was a dogged questioner of the attorney challenging the Texas plan, Bert W. Rein of Washington, D.C.  She was so excitedly involved that, twice, the Chief Justice cut her off in order to let Rein finish a thought.

(…)

One of the constitutional arguments that the challengers are now emphasizing anew, and pressed again on Wednesday, was that the university has been engaging in racial stereotyping by disparaging the academic skills of minority students who graduated in the top ten percent of racially segregated schools in Texas.  Both Justice Alito and Justice Scalia, in efforts to defend the top ten percent plan's success, reacted negatively to that perception of the university's justification — a justification which the university denies that it has.

But Scalia's arguments became quite clumsy, and raised some eyebrows, when he suggested that maybe the University of Texas needs fewer minority students, and he suggested that many of them find that the classes are "too fast" for them at such high-rank institutions, and thus prefer to go to lower-ranked, "slower-track schools."

Garre, the university's lawyer, responded by reminding Scalia that the Supreme Court had rejected that very type of argument a dozen years ago in the last major ruling to uphold a college affirmative action plan, for the University of Michigan Law School. "Frankly," Garre said, "I don't think the solution to the problems with student body diversity can be to set up a system in which not only are minorities going to separate schools, they're going to inferior schools. . . . Now is not the time and this is not the case to roll back student body diversity in America."
The remainder of Denniston's analysis is too long and detailed to be fairly exerepted, so I recommend reading it in full if you're interested in how the argument went today. To summarize it briefly, though, it does appear that Justice Kennedy, who will likely be the decisive vote in this case no matter which way it goes, may still be reluctant to lower the final hammer on racial preferences in public education as many conservatives are hoping this case will. Because of this, he appeared to at least be exploring the idea of remanding the case, this time to the trial court, to allow the University of Texas to present additional evidence and argument in favor of the justifications it has put forward for the racial preferences program both in this case and the one that preceded it. In order for that to happen, of course, Kennedy would need to get the support of at least four other Justices who would support him in ordering a remand, and he might potentially find that in the four liberal Justices who would prefer to see the program upheld but also recognize that, if Kennedy went with his conservative instincts he would end up voting with Roberts, Scalia, Thomas, and Alito and that would likely result in an opinion that, at the very least would severely restrict the ability of public universities to use race-based preferences of any kind in their admissions processes.
As I always repeat after oral argument in any case, it is important not to draw any conclusions from the way today went because it may not necessarily indicate what individual Justices, never mind a majority of the Court, is actually thinking.  Nonetheless, as I've said before, this is an issue that the Supreme Court has been dealing with for more than thirty-five years now, and while it has largely danced around the issue, it appears that the Justices have come to the point where they have to confront the issue directly whether they'd like to or not:
The dancing started with Regents of the University of California v. Bakke in 1978. While the Court did not fully reject the idea of race-based admissions policies in Bakke, it also didn't completely approve it either, a mixed holding that seemed to suggest that universities could have policies that took race and ethnicity into account but that anything that resembling quotas. The problem was that the opinion wasn't very specific about where the difference between permissible race conscious and impermissible quotas might actually lie. What followed theBakke decision was a long era in which admissions authorities tried to determine what exactly is acceptable under the 14th Amendment's Equal Protection Clause which, as a general rule, bars race-based discrimination by government entities, including public universities. The Court didn't provide much guidance on the issue in the intervening years until a 2003 case called Grutter v. Bollinger  where the Court upheld an affirmative action policy in place at the University of Michigan Law School that used race as a factor with the purported goal of increasing class diversity. The decision still didn't necessarily resolve many of the questions left by Bakke and it especially left many conservatives unsatisfied to the point where many hoped that the opportunity to deal with the issue head-on would finally arrive once Justice Sandra Day O'Connor, who was the deciding vote in Grutter, retired.

(…)

One anticipates that the Justices won't be able to punt this case as they did in 2013, so there's going to be some kind of ruling on the merits. In that respect, it's important to note that Justice Kagan will once again not be participating in the consideration of this case given the fact that she was involved with the Federal Government's handling of it when she served as Solicitor General before being elevated to the Court. Strictly from a nose counting perspective, this would seem to be bad news for the University of Texas since Kagan would be expected to vote with Justices Ginsburg, Sotomayor, and Breyer on the underlying issues in these cases and Justice Kennedy has previously expressed skepticism over race-based admissions programs as evidenced by the fact that he was in the minority in Grutter that would have struck down the University of Michigan's program. This is the same dynamic that existed the last time the Court heard the case, of course, so its unclear what that means going forward, but it seems likely that a decision that restricts Grutter or even overturns it outright is not beyond the realm of possibility.
While it's still early in the term, it's likely that this is a case that the Justices will be debating back and forth for some time as they try to craft an opinion. Because of that, I would not expect an opinion before we get closer to the end of the term in June. The only way we'd be likely to get a decision earlier, I would think, would be if the Court decided to punt the case back to the District Court yet again, but given the fact that these Justices know that the case would ultimately be back before them for a third time sometime in the next two or three years they may just be eager to get it over with already and issue a final decision. So, stay tuned.
Here's the transcript of today's oral argument: