Dear Birthers: STFU, GBTW
A conspiracy theorist is never troubled by facts.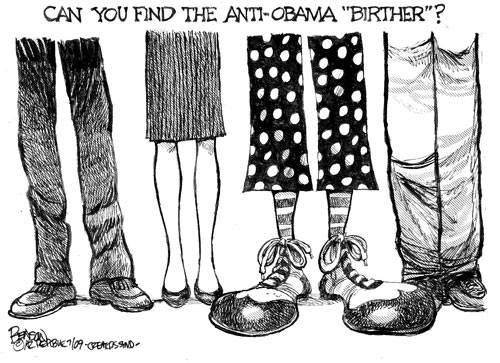 The vexatious Birther movement has been trying to crowd out rational commentary for some three years. And it should, in a sane world, have died Wednesday–not with a bang but with a whimper.
But a conspiracy theorist is never troubled by facts. Ace has done yeoman's work explicating this phenomenon:
What makes a "conspiracy theory" different from an actual theory of a conspiracy isn't the conspiracy part. It's the inversion of the relationship between premise and conclusion.

When we say something is rational, we usually mean that there are one or more well-founded premises which, taken together, fairly imply a conclusion. That conclusion need not always be logically inevitable — outside of mathematics and computer programming, it rarely is inevitable, or definite. Usually it's a fuzzier thing — the premises tend to support the conclusion. A probabilistic thing more than a mathematical, binary necessity. But the conclusion must at least be fairly derived from the premises. It must at least be likely or at least plausible.

We say conspiracy theories are irrational because they do not observe the rules of rational, reasonable, fair deduction and inference. In some cases, the premises are simply false and easily provable as such, and yet the conspiracy theorist insists on a different set of non-existent "facts" which, if true in the hypothetical, would support his conclusion. And/or: The conspiracy theorist makes unfounded, implausible leaps from premise to conclusion.

But both of these irrationalities are caused by the same irrationality: For the conspiracy theorist, premises to (sic) not lead to conclusions. Irrationally, conclusions now lead back to premises, invented on the fly or discovered by wishcasting….

In a conspiracy theory, with its irrational inversion of the relationship of premise and conclusion, premises do not grant evidentiary support to a conclusion; the conclusion, instead, grants evidentiary support to the conclusion. If the premise is consistent with the conclusion, it is asserted as true; if the premise is inconsistent with the conclusion, it is asserted that it must be false.

It must be. It must be. We know the conclusion is absolutely true, therefore any and all premises which tend to undermine it must either be false, faked, or forged.
It was not unreasonable, prior to this week, to wonder why President Obama didn't simply put this nonsense to rest when Hillary's supporters first bedunged the public discourse with it. One could speculate that, perhaps, there was some embarrassing detail included in it that Obama simply didn't wish to make public. Or one could–indeed, still can–surmise that his handlers found Birther loonies politically useful and therefore saw no reason to stamp it out before now. Or one could simply conclude that he wanted to preserve his privacy and not kowtow to nutjobs (another premise that remains operative).
We now know that there's nothing on his "Long Form Birth Certificate" he'd have ever had any reason to want to hide. And, of course, we now know that the document conclusively establishes what most of us never doubted in the first place: That the President was, in fact, born in the United States. Even if one was inclined to skepticism before, that's over now.
Well, for those of us who are sane, anyway. But–pace tua, Ace–it was always inevitable that the dyed-in-the-wool Birthers would find some sort of handwavium that would enable them to hold onto their cherished delusion (just as JFK conspiracists, faked moon landing whack jobs, 9/11 Truthers, and Andrew Sullivan did before them). And, as surely as the Sun rose in the east Wednesday morning, they had done so before it set Wednesday night:
Naturally, it didn't take long before this facile dodge had been debunked. National Review did so the same day. And now Fox News has taken the time to deflate it, as well.
I've mocked and derided Birthers since they first appeared on the scene. Almost two years ago I called for the Right to "expel them — noisily and unequivocally." While they were, until The Donald came along, largely relegated to the fringes, the Right's opinion leaders didn't go anywhere near far enough to cast them out. Ann Coulter (also in July, 2009) tried. And Glenn Beck has been equally dismissive. National Review and a few other mainstream publications tried to quash "this red-herring discussion." Charles Krauthammer was brutal on Trump's descent into this morass. By contrast, Rush, to his eternal shame, fanned the flames.
Well, enough is enough. I don't care how fervently one wants to believe that President Obama was born in Kenya. The much-demanded Long Form Birth Certificate is a matter of public record. Anyone persisting in pushing it is hereby declared persona non grata. Find another hobby.

—
I anticipate a slew of comments about how Birthers are, like, totally mainstream in the GOP. No need to waste your time if you're inclined to submit one such. Lest there be any doubt, I mean for this post to be taken as unequivocally castigating the Right's opinion leaders for their dereliction in not smothering the Birther movement in its crib when it crossed over from Hillary's camp. But inaction doesn't equate to assent to their lunacy, no matter how nutty you think Bachmann is. So any such pablum will be ignored.