Donald Trump: Crazy, Cynical, Or Both?
Donald Trump, who may or may not be running for President, is continuing his strange obsession with the birther myth, and reminding Republicans that two years of silence in the face of lunacy may come back to bite them.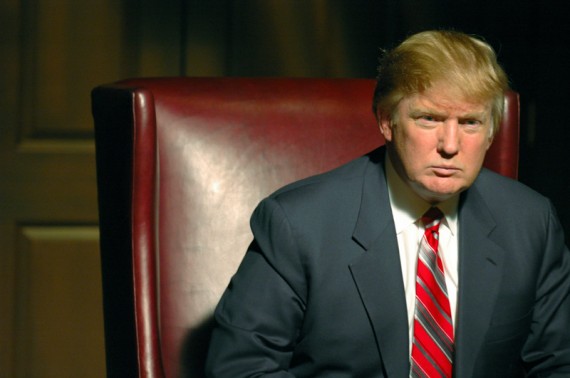 Donald Trump's odd obsession with the long-debunked idea that Barack Obama was not born in the United States, or is otherwise in eligible to be President, is taking some pretty bizarre turns now:
He off-handedly questioned President Obama's birthplace last week – a comment that drew strong rebukes from some quarters – but now business mogul Donald Trump says he's more concerned than ever that the president was, in fact, not born in the United States.

Trump – who, however improbably, claims to be considering a presidential bid – said Monday that since his first public statement on the issue last week, "a lot of facts are emerging" that are making him question more seriously where Obama was born.

"I am really concerned," Trump said during an appearance on Fox News. "You have no doctors, you have no nurses … that remember."

"I brought it up just routinely, and all of the sudden a lot of facts are emerging, and I am starting to wonder myself whether he was born in this country," he exclaimed.
Video:
Trump also said today that someone should investigate Hawaii Governor Neil Abercrombie, who has said on more than one occasion that he personally knew Obama as a child growing up in Hawaii.
All of this leads David Frum to ask a question:
Is Donald Trump crazy? Or does he just hold a very, very, very low opinion of the Republican primary voter?
Is it possible that the answer is "both," and that this is really nothing more than Trump's latest way of being outrageous, garnering media attention, and keeping his name in the media? After all, it certainly can't be a coincidence that the fourth season of The Celebrity Apprentice is garnering higher ratings than previous versions of the show have in the past. It doesn't take much thinking to realize that Trump, who has been a master of self-promotion for decades now, is using all this speculation about whether or not he'll run for President to feed the ratings of his show, and his bizarre attention to the birther issue is part of that. He may not need the money, but the attention, and the ratings all feed his monstrously large ego, and that's got to be worth something.
And, at the risk of opening up a can of worms that should have been closed a long, long time, ago, someone ought to inform Trump that the evidence that Barack Obama was born in Hawaii is, in a word, overwhelming. We've got the Certification of Live Birth, which is clearly genuine. That COLB is the only document that the State of Hawaii issues to verify birth records. In addition to the COLB, we've got contemporaneous birth announcements from two Honolulu newspapers in August 1961 of a son born to Mr. and Mrs. Barack Obama. That's it, case closed. Barack Obama was born in the United States. He's a natural born citizen. Now, can we finally, move on from this thing?
I'm left with one final thought, though, as the birther myth began to flourish in the early months of Barack Obama's Presidency, there were several commentators who took note that the movement could pose a problem for the GOP in the coming years:
The birther movement may be premised on a fictional belief, but it is savvy: birthers now wear the term "birther" as badge of honor, as if they were a persecuted minority — which, come to think of it, is one mechanism for solidarity in the face of evidence to the contrary. ("Hitler had the "Untermenschen," Pol Pot had the "Intelligentsia," and now Obama has the "Birther.") The most prominent birthers are Alan Keyes, the former presidential candidate and Obama Senate challenger; Orly Tait, a wonderfully named lawyer from California; Phil Berg, a Democrat; and Michael Reagan, son of Ronald Reagan, and a prominent radio talk show host. This is, at once, a fringe movement and something greater. It's fringe because no important Republicans believe it, and most are offended by it. It's greater because some fairly prominent local lawmakers are beginning to sign birther petitions.

At least nine members of Congress have cosponsored a birther bill that would require prospective presidents to affirm their U.S. citizenship. What we don't know is how widespread the belief is among Republicans — and even if the belief is confined to a narrow minority, whether the belief will spread as Republicans begin to pay closer attention to electoral politics in 2010 and 2012. In the same way that Democrats in 2004 always got a stolen election question (which, to be fair, was at least closer to reality than the birther's claims), Republican presidential candidates need to figure out how to diffuse angry birthers who are bound to show up and demand their attention. …. The buried lede to this post: Rush Limbaugh claimed today that Obama "has yet to prove that he's a citizen." Republicans have to be extra careful. If they give credence to the birthers, they're (not only advancing ignorance but also) betraying the narrowness of their base. If they dismiss this growing movement, they might drive birthers to find more extreme candidates, which will fragment a Republican political coalition
Or, to the extent that they're seen pandering to lunatics, the movement could harm the GOP in the eyes of general public. Republicans who would admit the birthers were crazy behind closed doors, however, refused to say much of anything in public. Now, two years later, it seems like these predictions are coming true, and that every candidate that runs for President is going to have to answer that embarrassing debate question about Barack Obama's citizenship. Regardless of which way they answer, they're going to look profoundly silly.