Mike Huckabee And The Mystery Of The Destroyed Hard Drives
Why did then-Governor Mike Huckabee's office destroy all its office hard drives shortly before leaving office?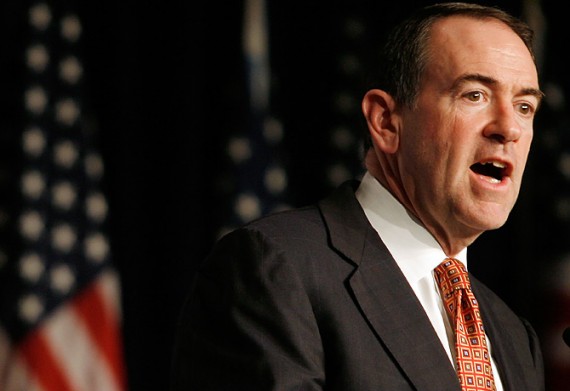 Somewhat missed amidst all the coverage of the budget talks, Libya, and the Japan earthquake, was an interesting revelation about Mike Huckabee's final days in office as Governor of Arkansas:
There's a Mike Huckabee mystery that won't go away.

Send a public records request seeking documents from his 12-year stint as Arkansas governor, as Mother Jones did recently, and an eyebrow-raising reply will come back: The records are unavailable, and the computer hard drives that once contained them were erased and physically destroyed by the Huckabee administration as the governor prepared to leave office and launch a presidential bid.

In 2007, during Huckabee's campaign for the GOP presidential nomination, the issue of the eradicated hard drives surfaced briefly, but it was never fully examined, and key questions remain. Why had Huckabee gone to such great lengths to wipe out his own records? What ever happened to a backup collection that was provided to a Huckabee aide?
To say it surfaced briefly in 2007 is, I think, an understatement. I followed the 2008 Presidential campaign fairly well, and I can honestly say that I don't recall this story coming up at all. We heard about Huckabee's flip-flops on taxes. We heard about his pardon of a murdered who subsequently murdered police officers in Seattle, Washington. But this story? It certainly didn't get widespread coverage  in the national media, and it certainly seems to deserve it.
Here we are once again on the precipece of another Presidential campaign, with Huckabee now the seeming frontrunner in the race for the GOP nomination, and still anyone who wants to find information that should be publicly available from the twelve years he served as Governor runs into a brick wall:
In February, Mother Jones wrote to the office of Arkansas Gov. Mike Beebe seeking access to a variety of records concerning his predecessor's tenure, including Huckabee's travel records, calendars, call logs, and emails. Beebe's chief legal counsel, Tim Gauger, replied in a letter that "former Governor Huckabee did not leave behind any hard-copies of the types of documents you seek. Moreover, at that time, all of the computers used by former Governor Huckabee and his staff had already been removed from the office and, as we understand it, the hard-drives in those computers had already been 'cleaned' and physically destroyed."

He added, "In short, our office does not possess, does not have access to, and is not the custodian of any of the records you seek."
According a memo [PDF] obtained during the course of a lawsuit filed under Arkansas's version of the Freedom Of Information Act, it was confirmed that all the hard drives were in fact destroyed and, interestingly, that a backup copy of all the data on those drives was given to Brenda Turner, Huckabee's last Chief Of Staff as Governor, who now lives in Arkansas selling Christian-themed greeting cards.  \
So, what could have been on these hard drives? Well, that's hard to say of course, but there are plenty of possibilities:
The records could provide details on any number of unsettled controversies involving a governor that faced at least 15 ethics complaints concerning, among other things: his failure to report gifts and outside income, his alleged use of state funds and resources for political and personal purposes, and the pardon of a convicted murderer and rapist who went on to kill again once released.

A former high-ranking Arkansas Republican who was once close to Huckabee and who requested anonymity told Mother Jones that the destruction of the hard drives puzzled him. "I don't know what that was about, if they had things to hide or not," he says. But, he adds, the episode fits with Huckabee's general reticence when it comes to public disclosure. "Huckabee just absolutely doesn't trust anybody. In my experience, if you don't trust people, it's because you're not trustworthy. We see the world through our own eyes."

Huckabee's aversion to public disclosure extends beyond his gubernatorial papers. He and his handlers have also taken steps to block access to videotapes of his sermons, spanning his 12 years as a Southern Baptist minister before he entered politics. During the 2008 campaign, Mother Jones reported that Huckabee's campaign had refused to make the sermons public—and that, according to an official at one of the churches he'd led, much of the archival material relating to Huckabee's tenure had been destroyed.
It sounds positively Nixonian, actually. A man so paranoid and secretive that he literally destroys the evidence of his past.
Now, I have no idea if the destruction of the hard drives was legal. Under Federal Law, it clearly wouldn't be; the Presidential Records Act essentially requires every pieces of paper, every message, every email created in the West Wing be preserved and turned over to the National Archives. These documents end up being shared with Presidential Libraries, but except for purely personal communication, there isn't a piece of paper that crosses the President's desk that doesn't become the property of the United States Government. Destroying hard drives at the end of a Presidential Administration would be unthinkable, at least before the information contained on them was properly archived.
Huckabee responded to the allegations last week by saying there's nothing to them. But, with his personal papers gone to a university that has yet to make them public after four years and the hard drives destroyed, we really only have his word on that one. There may be nothing here, but when you're destroying hard drives people are going to raise their eyebrows.