Fast And Furious: Incompetence Is Always More Believable Than A Conspiracy Theory
The conspiracy theories regarding Fast And Furious are simply not believable, but that doesn't mean the matter shouldn't be investigated.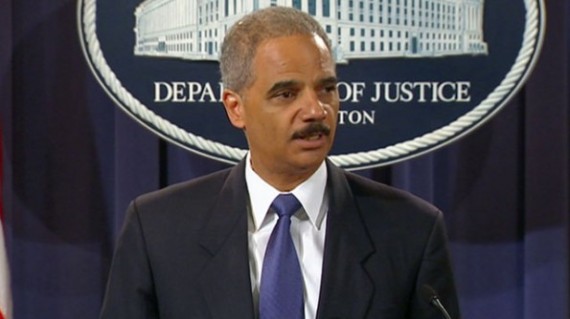 A common theme among many, but by no means all, conservative commentators regarding the fiasco known as Operation Fast & Furious is that it was part of some vast, sinister conspiracy on the part of the ATF, the Justice Department and apparently the Obama White House to create the political climate necessary for increased restrictions on gun rights. You can find a good example of this theory in a PJ Media piece by Bob Owens written about three months ago:
We know for a fact that Operation Fast and Furious was designed by the Obama administration to put American weapons in the hands of Mexican cartels to kill Mexican citizens, and that the guns recovered in those deaths would be used to call for more gun control.

Hundreds died in a plot that appears to have been designed to impose gun control. It's past time for the appointment of an independent prosecutor, and to press for criminal charges against those responsible for the carnage that has resulted from the deadliest scandal in U.S. government history.
Townhall's Katie Pavlich, who has written a book about the Fast & Furious story, has also advanced this theory:
As allegations surrounding Operation Fast and Furious continue to heat up, many major media outlets continue to call the fatal program "botched," which is a factually incorrect characterization.

The Merriam-Webster dictionary defines botched as: to foul up hopelessly, to put together in a makeshift way.

The only thing botched about Operation Fast and Furious is that the American public found out about it. Fast and Furious was carried out exactly as planned: allow straw purchasers to transfer guns to cartels, let those guns get trafficked back to Mexico and see where they end up. There was no plan to trace these guns and no plan to inform the Mexican Government of the operation, either.

Tactics used during Fast and Furious seem like mistakes, but in fact were just part of the strategy and process of Fast and Furious. Calling the program botched implies the Obama Justice Department didn't intentionally allow 2000 high powered guns, including AK-47s and .50-caliber sniper rifles, to walk into the hands of ruthless drug cartels without proper tracing mechanisms. The opposite is true. This was the intention of the program, not an operational mistake in the process.

(…)

To further prove Fast and Furious wasn't botched in its implementation, ATF Phoenix Field Division Supervisor at the time, William Newell, described in emails that guns showing up at crime scenes in Mexico was proof the operation was working.
Pavlich doesn't go quite as far as Owens does in specifically saying that the operation was designed to essentially manufacture evidence that could be used to justify renewed restrictions on gun sales and ownership. The problem with these theories, though, is that there simply isn't any evidence to support the leaps of logic that one must make to go from the facts of Operation Fast & Furious as we know them to a conclusion that Eric Holder and others were consciously involved in dumping thousands of weapons into Mexico for the purpose of gaining a political advantage in the United States. There are no smoking gun emails, for example, nor have any of the ATF Whistleblowers who have one an admirable job of coming forward and revealing the truth about this program said anything close to what the conspiracy theorists want us to believe. Indeed, there's not even any evidence that gun control has been a significant agenda item for the Obama Administration. The one time in Obama's Presidency when there was arguably the best political ground for such an agenda to be pushed was in the immediate aftermath of the shooting of Congresswoman Gabby Giffords and, even then, the Administration did nothing. Are we supposed to believe that they crafted some intricate conspiracy theory to achieve a policy goal that quite obviously wasn't really all that important to them?
The one piece of evidence I've found that seems to support some connection between Fast And Furious and ATF's efforts to restrict gun sales comes in a December 7, 2011 piece by CBS News's Sharyl Atkinson, who recently won an Edward R. Murrow Award for her coverage of this story:
Documents obtained by CBS News show that the Bureau of Alcohol Tobacco, Firearms and Explosives (ATF) discussed using their covert operation "Fast and Furious" to argue for controversial new rules about gun sale

ATF officials didn't intend to publicly disclose their own role in letting Mexican cartels obtain the weapons, but emails show they discussed using the sales, including sales encouraged by ATF, to justify a new gun regulation called "Demand Letter 3". That would require some U.S. gun shops to report the sale of multiple rifles or "long guns." Demand Letter 3 was so named because it would be the third ATF program demanding gun dealers report tracing information.

On July 14, 2010 after ATF headquarters in Washington D.C. received an update on Fast and Furious, ATF Field Ops Assistant Director Mark Chait emailed Bill Newell, ATF's Phoenix Special Agent in Charge of Fast and Furious:

"Bill – can you see if these guns were all purchased from the same (licensed gun dealer) and at one time. We are looking at anecdotal cases to support a demand letter on long gun multiple sales. Thanks."

(…)

On Jan. 4, 2011, as ATF prepared a press conference to announce arrests in Fast and Furious, Newell saw it as "(A)nother time to address Multiple Sale on Long Guns issue." And a day after the press conference, Chait emailed Newell: "Bill–well done yesterday… (I)n light of our request for Demand letter 3, this case could be a strong supporting factor if we can determine how many multiple sales of long guns occurred during the course of this case."
Now, the fact that the ATF would try to use a program where it was creating its own straw sales (under circumstances where ATF agents were assuring gun dealers that the sales were completely legal) in order to justify increased regulation is more than a little disturbing, but it's a far cry from what's reported here to the assertion that the program was designed for the purpose of manufacturing facts that would make the political case for gun control. That's not what the incident's reported here demonstrate at all. The July 2010 email occurred after the program was well underway, and the January 2011 incident occurred after Brian Terry had died and when the entire operation was already beginning to fall apart. At most this tells us the ATF was trying to make the best of a bad operation, more likely it's another demonstration of how blunder-headed the people who designed the operation actually were. What it isn't, though, is proof of a conspiracy that supposedly started in 2009.
There's an old saying that one should never attribute to malice that which is adequately explained by stupidity. It's known as Hanlon's Razor, although it had apparently been stated by many authors long before the person who is given credit for its is said to have uttered it. Whatever its origins, though, it is always something worth keeping in mind in these situations. Especially when one is dealing with government, there is always a temptation by partisans to see conspiracy where it doesn't really exist when the truth is that the situation that they complain of can be explained far more easily by incompetence, bad decision making, and bad crisis management. It's far easier to believe, for example, that a combination of bureaucratic inertia and inter-agency turf wars caused law enforcement and intelligence officials in 2000 an 2001 to miss the warning signs of the September 11 attacks than it is to believe that American political officials either knew the attacks were going to come and let them happen or were actually involved in planning the attacks themselves. Similarly, it is far easier to believe that ATF officials and agents put together a badly designed and badly executed "sting" operation than that the White House and the Attorney General came into office and immediately began concocting a massive conspiracy to make it possible for them to pass increased gun regulations. Unless there's clear evidence supporting a conspiracy theory, and in this case as in nearly all the others, there simply isn't it's best to assume that what you're seeing is an example of government incompetence. It is, after all, quite a common phenomenon.
None of this means, of course, that Fast and Furious should not be thoroughly investigated. Both because of the deaths of two American agents and the impact the Fast & Furious weapons have had inside our neighbor Mexico, Congress has a right and indeed a duty to find out what went on here. If there is evidence that crimes were committed either in execution of the operation or in the aftermath when people likely went into CYA mode, then those matter should be turned over to law enforcement and prosecuted if that is appropriate. There's no need, however, to jump to conclusions about conspiracies when there simply isn't evidence to support the same. Such an attitude detracts from the goal of finding out what went on here, and tends to discredit the people who are concerned with getting to the bottom of the story even if they don't believe that what they'll find is the "smoking gun" memo some on the right seem to be convinced exists somewhere.
H/T: David Frum