Debunking The Fast & Furious Gun Control Conspiracy
There's no evidence that Fast & Furious, whatever it was, was a conspiracy to lobby for tighter gun control laws.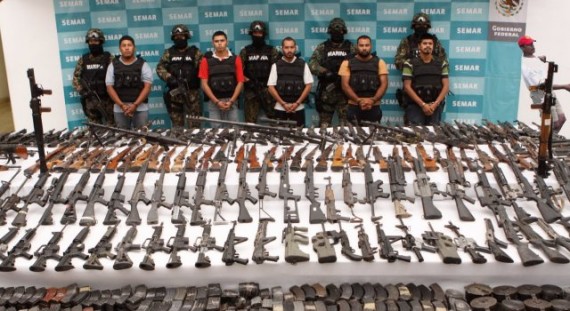 One of the persistent ideas that has driven interest in the Fast & Furious story among many on the right is the idea that the entire operation was created by forces within the Obama Administration as an operation designed not to catch Mexican drug gangs illegally buying guns in the United States, but to essentially manufacture evidence that could be used to push for additional gun control legislation. This theory has circulated within the conservative blogosphere for months now, but achieved much more prominence this weekend when House Government Oversight and Reform Committee Chairman Darrell Issa suggested on ABC's News's This Week that this theory may in fact be true: (video and transcript of Issa's comments at the link)
This morning on "This Week," Rep. Darrell Issa, R-Calif., continued pressing a conspiracy theory that the botched "Fast and Furious" operation could have been part of a larger plan by the Obama administration to push through tougher gun laws in the United States. But Issa had no firm evidence to back the claim, and said he could not be certain that gun control efforts were ever an original aim of sending guns across the border.

"Here's the real answer as to gun control.  We have e-mail from people involved in this that are talking about using what they're finding here to support the — basically assault weapons ban or greater reporting. So chicken or egg?  We don't know which came first; we probably never will," Issa said this morning on "This Week." "We do know that during this — this 'Fast and Furious' operation, there were e-mails in which they're saying we can use this as part of additional reporting or things like assault weapons ban.  So the people involved saw the benefit of what — what they were gathering.  Whether or not that was their original purpose, we probably will never know."

Issa's response came after I challenged him on comments he made in April at an NRA convention to NRA News' "Cam & Company" program, where he said, "Could it be that what they really were thinking of was in fact to use this walking of guns in order to promote an assault weapons ban? Many think so. And they haven't come up with an explanation that would cause any of us not to agree."
PJ Media's Bill Whittle argues passionately in favor of this hypothesis in a recent video, and Investors Business Daily lays out its argument in favor of the theory in an Editorial which cites evidence of emails exchanged between Arizona ATF officials that discuss using Fast & Furious "evidence" in a White Paper that was being prepared on the issue of the need to tighten rules applied to gun dealers. As I noted in a post I wrote last week, though, all of those email were exchanged after Fast and Furious had already been in effect for nearly a year, and several were changed just before the program was shut down completely in the wake of the death of Border Patrol evidence Brian Terry. While it's somewhat disturbing that the ATF may have been trying to use "evidence" from their own blown operation to make a case for gun control when said evidence really provided no such support is disturbing, it isn't proof that the entire program was designed as essentially a political and law enforcement Potemkin Village for the purpose of manufacturing such "evidence."
Power Line's Paul Migrenhoff points out some of the logical flaws in the conspiracy theory argument:
First, Fast and Furious does not appear to have been the brainchild of President Obama or Attorney General Holder. Rather, the program reportedly was formulated by the ATF in Phoenix in response to an edict from Washington to focus on eliminating arms trafficking networks, as opposed to capturing low-level buyers, as had occurred under traditional interdiction programs. If Fast and Furious had been the product of a conspiracy by the administration to promote gun control legislation, the program would have come from the top down, not from the bottom up.

(…)

Second, Obama and Holder probably would not have believed that increased violence in Mexico could lead to tougher regulation of guns in the U.S. Americans simply don't care enough about Mexico to alter domestic policy based on what occurs there, especially when it comes to an issue as passionately and endlessly argued as gun control. Americans view violence in Mexico the way they viewed violence in Colombia – unfortunate, typical, and not our problem at any fundamental level.

It was always possible that a few Americans, especially some involved in law enforcement, would be killed with guns that were part of Fast and Furious. But in this event, the probable consequence is what we have witnessed – major embarrassment for the administration, not an effective vehicle for advocating more gun control. On balance, it seems unlikely that the administration would come up with a program this risky in the pie-in-the-sky hope of incresing gun control.

Why, then, was the program implemented? As noted, considerable frustration existed over attempts to deal with gun running through interdiction at the point of sale because this form of enforcement resulted in the apprehension of only the small fry. Those who came up with Fast and Furious probably hoped that if guns followed their natural course into Mexico, they would lead to much more important players. Wire taps and other surveillance of Mexican cartel bosses would assist in nailing these players, or so the thinking went.

It was a very bad idea, poorly executed. But, as conservatives should understand better than most, the government frequently implements very bad ideas and does so incompetently. In any case, trying to apprehend cartel bosses through Fast and Furious strikes me as less foolish than intentionally increasing shootings in Mexico to enhance the cause of gun control in the U.S.
This strikes me as largely correct. If this was a conspiracy theory, it was an incredibly poorly designed one from Day One and it depended on Americans giving much of a crap about Mexicans killing Mexicans, which honestly doesn't seem to be very likely. More importantly, though, and as I argued myself last week, it is far more plausible to believe that what happened in Fast & Furious operation was the result of a group of people with a bad idea who put together a bad plan that was badly executed. You don't need to look very far to find examples of other badly executed government operations than that it was part of some nefarious political conspiracy. Indeed, the extent to which this seems to occur on a regular basis, and to which the details of said operations inevitably leak out at some point, makes it hard to believe that a true nefarious conspiracy could ever really be executed by American political officials. Watergate was arguably such a conspiracy, but it was so incompetently handled that its main even was referred to, quite correctly, as a "third-rate burglary." The remarkable thing about conspiracy theorists, most of whom tend to be very anti-government, is that they seem to ascribe far more competence and ability to keep a secret to government officials than available evidence would suggested is warranted.
There's another reason that the conspiracy theory story falls apart, and  it's an issue for which the advocates of the theory don't seem to be able to provide an answer. From the time he was a candidate all the way through the first three years of his Presidency, there's not been any evidence that the Obama Administration placed any real priority on trying to strengthen gun control laws. If Fast & Furious really was part of a conspiracy to tighten those laws, then where was the legislation that would have been waiting to be pushed once the "evidence" started coming out? Even during the two years when Democrats controlled both Houses of Congress and the White House, there was no serious effort to push any such legislation. Mostly, this is because there just isn't a political constituency for gun control like there was during the first two years of the Clinton Administration when things like the Brady Bill and the Assault Weapons Ban were passed.  Indeed, many Democrats lost their jobs in 1994 because of their votes on those bills, and the GOP took over Congress, so it strikes me as unlikely that Democrats would want to kick that hornet's nest again any time soon.
As I've said several times when I've written about this story, there are legitimate questions about Fast & Furious that deserve an answer. It's the proper role of Congress to ask those questions and the Administration's reticence to cooperate fully in that investigation dis-serves the public and only serves to reinforce the notion of some that they have something to hide. At the same time, though, Issa does the investigation no favors by pandering to the conspiracy theorists. As Joe Friday used to say, Congressman, just the facts, that's all you need to be looking for. The rest is a waste of time.